Butane camping stoves vs propane: which is best?
We chew over the question of butane camping stoves vs propane to help you understand the differences and make the best choices for your overnight adventures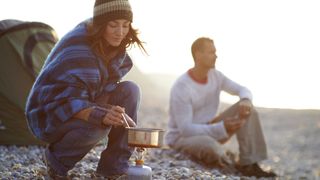 (Image credit: Mike Harrington)
For gear junkies, shopping for a new camping stove can take you down a long, deep rabbit hole. You want a hot meal after a long day of hiking but you don't want to carry a lot of weight and while you need something that packs down small in your backpack, you certainly don't want it blowing over in the breeze and spilling your mac n cheese on the ground. Then there's the question of the different types of fuel. Do you want propane or butane? And are they interchangeable? We chew over the the advantages and disadvantages of butane camping stoves vs propane to help you choose the best one for your overnight adventures.
First, when it comes to choosing a camping stove, there are lots of features to consider like size and weight, but it's important to know that butane and propane fuel are not interchangeable, as the attachments on the stoves will be different. So, once you've chosen a camping stove, you're committed to the fuel that it's compatible with. So in this article, we're looking specifically at the differences between butane and propane fuel to help you decide on which stove is best for your needs.
Butane camping stoves vs propane: weight
Of course, if you're car camping then weight isn't too important, but naturally if you're backpacking or even ultralight camping, every ounce in your pack matters. Now, gases aren't known for being particularly heavy and while propane is slightly lighter, it's not really the weight of the gas that matters for backpacking so much as the container it comes in.
Propane is stored at high pressure, which requires a very tough canister, usually made of stainless steel. Even a small canister meant for backpacking can weigh from seven ounces to more than a pound. Butane, meanwhile, is stored at low pressure and it's safe to store in an aluminium canister which is considerably lighter. Some butane fuel for backpacking even comes in a canister that looks like a small bottle of hairspray and doesn't weigh much more than an ounce. Of course, these two examples contain different amounts of fuel, but basically if you're looking to keep things light, you'll want to go with butane.
Butane camping stoves vs propane: cost
Comparing the two cost-wise is a bit like comparing apples and oranges since they come in different sizes containing differing amounts of fuel and gas prices vary according to the market. But setting aside the fluctuating costs of gas and simply looking at the question of retail price from a camping perspective, a glance at the pricing of the two in most major outdoor retailers generally shows propane to be a bit cheaper. When you're holding a canister of each type of fuel in each hand, the price differential might seem largely negligible i.e. within a dollar. But if you're thru-hiking and really working with a tight budget? You might want to consider propane.
Also, while the canister that the fuel comes in will be more expensive for propane, it may also be refillable, whereas butane refills are harder to come by so you're paying for a new canister each time.
Butane camping stoves vs propane: energy performance
We're basically including this category to let you know that you can ignore it. The different densities of each fuel mean they behave differently and in different amounts and at different temperatures, one may be more efficient than the other. Overall though, while it might matter for large-scale industrial purposes, when it comes to using them with a camping stove, the difference isn't big enough for this to sway your decision one way or the other and here, other factors come into play like your stove and outside temperature. If you're looking for really good energy performance, you're better off looking at the stove in question than the fuel required.
Butane camping stoves vs propane: availability
Both butane and propane are widely available at camping and outdoor stores, though you'll usually see more propane on the shelves than butane because it's better for all-seasons and therefore most brands have focused on making it more compatible with different types of stoves. Propane therefore has the slight edge but if you're committed to butane, you shouldn't have a problem finding refills for your burner.
Butane camping stove vs propane: sustainability
Speaking of refills, if you're car camping and carrying a big canister of propane, you'll be able to refill it at many gas stations and grocery stores which is much cheaper than buying a whole new canister and better for the environment. Butane canisters, on the other hand, are not designed to be refilled so you'll buy a new one each time and generate more waste.
Swipe to scroll horizontally
Butane camping stoves vs propane

| Header Cell - Column 0 | Butane | Propane |
| --- | --- | --- |
| Weight | Comes in a lightweight, aluminium canister | Comes in a heavy, stainless steel canister |
| Cost | Usually slightly more expensive | Usually slightly cheaper, especially if you can refill the canister |
| Energy performance | Depends on factors like the stove and outdoor temperature | Depends on factors like the stove and outdoor temperature |
| Availability | Widely available, though there may be less options than propane | Widely available, lots of options |
| Sustainability | You buy a new canister each time that usually cannot be recycled | You may be able to keep your canister and refill it, it it's larger |
Butane camping stoves vs propane: the verdict
Looking at butane camping stoves vs propane, it's clear that which is best depends on what you need it for. If you're going backpacking and looking to keep things ultralight, butane is the clear winner, but if you're expecting extremely cold temperatures or high altitude, propane is obviously the way to go. One solution is to have two camping stoves and take the best one for the trip in question, but if you're looking for an all-rounder, you'll probably want to go with propane since it's the most functional under different conditions.
Finally, there are other ways to cut down on weight, such as what kind of food you carry. Check out our article on meal planning for backpacking to get some lightweight menu ideas for your next trip.
All the latest inspiration, tips and guides to help you plan your next Advnture!
Julia Clarke is a staff writer for Advnture.com and the author of the book Restorative Yoga for Beginners. She loves to explore mountains on foot, bike, skis and belay and then recover on the the yoga mat. Julia graduated with a degree in journalism in 2004 and spent eight years working as a radio presenter in Kansas City, Vermont, Boston and New York City before discovering the joys of the Rocky Mountains. She then detoured west to Colorado and enjoyed 11 years teaching yoga in Vail before returning to her hometown of Glasgow, Scotland in 2020 to focus on family and writing.