Child-friendly summits: mini mountains for mini explorers
We reveal six of our favorite child-friendly summits: glorious hikes for the whole family, with three in the US and three in Britain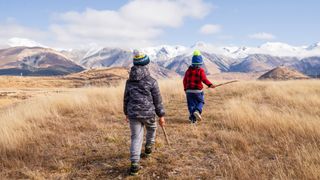 (Image credit: Getty)
There are many superb child-friendly summits just waiting for your burgeoning adventurers to discover this summer. The gift of true adventure is one of the most priceless you can give. Imagine the sense of achievement and satisfaction you get on a mountain summit and then multiply it by a child's sense of wonder and you're somewhere close to how your little one will feel when they conquer their first peak.
However, it can be tough to choose the right route for their first tastes of outdoor adventure. Too tame and they'll be bored, too difficult and you risk putting them off any future excursions. The balance between drama and accessibility is exactly what the hikes we feature here provide. They're all glorious routes that you won't forget in a hurry – and for the right reasons, that is.
We've chosen six classic routes: three in the US and three in Britain for your kids to get their hiking boots stuck into. Of course, you'll still need the usual rewards and bribes. If you're unsure what we're getting at here, you might want to brush up on some tips for family hiking to ensure you put your best foot forward.
Whether your little adventurer is old enough to make it up under their own steam, or you need to call in the help of one of the best child carriers, these hikes provide unforgettable views and a mountain experience in easily attainable packages.
New York: Sleeping Beauty Mountain
This is a relatively easy hike in the Adirondacks that features glorious views of Lake George and the surrounding peaks. The tree-covered Sleeping Beauty Mountain's name will undoubtedly pique the kids' interest and there a plenty of different ways to approach its craggy top. Although the true summit's views are blocked by trees, there's a nearby overlook that reveals the finest vista.
For a short loop, begin from the Dacy Clearing Trailhead, which is located at the end of a rough dirt road. If the road is closed or your don't fancy the drive, there's the option of starting from the Hog Town parking area and hiking up the dirt road to begin. However, this approach makes the hike more strenuous. Once up, the trails are well-trodden and easy to follow.
Virginia: Hawksbill Mountain
Rising high and proud on the border between Madison County ad Page County in Virginia, Hawksbill Mountain is a fine sight. At 1,234 metres above sea level, it's the highest point in Shanandoah National Park and boasts a gorgeous panorama from the summit's observation platform across the Shenandoah Valley, Blue Ridge Mountains and the Virginia Piedmont.
The Upper Hawksbill Trail starts from the Skyline Drive road and ascends the final 120 metres to the summit on a 3.4km round trip. This hike is particularly beautiful in fall, while the resident peregrine falcons are something to get the kids to look out for. There's a day-use shelter (Byrd's Nest Shelter #2) near the top that can be used for a picnic.
Montana: Storm Castle
This is one for the older children, taking on a winding trail that gains access to a spectacular limestone outcrop. If you need a peak with a dramatic name to get the kids excited, surely 'Storm Castle' is it. It's easy to see how it got its name too, standing like an ancient fort on the top of a wooded hillside in Montana's Gallatin County.
A series of switchbacks make the ascent more manageable than it looks, taking you up through lovely woodland. The path is rocky and can be loose at times, which is why it's not a hike for smaller children. Towards the top, the route arcs around the back of Storm Castle, before popping out on its top. The views are excellent, particularly back towards Garnet Mountain, to the south.
Just be aware the region is notorious for ticks in spring, so check your kids and any pets thoroughly after your hike.
Scotland: Ben A'an
Ben A'an is perhaps the perfect mountain in miniature, giving kids and adults an unforgettable bitesize experience of the Scottish Highlands. It's just as enthralling for us grown-ups too: Advnture writer Julia Clarke chose the route in our My Favourite Hike Series.
Nestled in the beating heart of the Trossachs, it's just a short drive from the tourist town of Callander. The hike begins from the parking by the shores of Loch Achray and ascends through beautiful woodland before popping up onto the prominent summit.
The very top is a lovely little pyramid of rock that offers a simply jaw-dropping view along Loch Katrine and towards often snow-capped mountains. Just opposite, the hulking presence of Ben Venue is another wonderful sight. Its a scene of Highland magnificence that's not often so easily won as it is on this little hike.
England: Catbells
Catbells, which rises as an attractive hump above beautiful Derwent Water, has long been established as a Lake District family favourite. The little hill (or fell, a Viking word for hill that's widely used in northern England) has a magical quality about it and the views from its distinctive summit are sublime.

Undoubtedly the finest and most exciting way to approach Catbells is by taking a boat across Derwent Water from the tourist town of Keswick. This adds an extra element of excitement for the little ones. From the jetty at Hawse End, it's a relatively short hike to the summit, with the occasional easy little scramble – just enough to keep the thrills at an appropriate level.
Wales: Mynydd Pen-y-fâl (Sugar Loaf)
Children (as well as adults if I'm anything to go by) are excited by what they can see. It's all very well trying to whip up enthusiasm for climbing a hill but if they can't see the thing, they may not get that enamoured with the idea.
Rising prominently above the surrounding landscape to a tidy conical summit, the sight of Sugar Loaf (or Mynydd Tal-y-fân in Welsh) is bound to get the motivation going.
Despite appearances, it's not a difficult objective but for the steep but not sustained final pull to its lofty summit. From the top, your reward is a glorious panorama of the Bannau Brycheiniog (Brecon Beacons) National Park, including the vast sprawl of the dramatically titled Black Mountains.
The hike should take between 2 and 4 hours, easily fitting into an afternoon. The nearby town of Abergavenny has plenty of places to refuel afterwards too.
All the latest inspiration, tips and guides to help you plan your next Advnture!
Alex is a freelance adventure writer and mountain leader with an insatiable passion for the mountains. A Cumbrian born and bred, his native English Lake District has a special place in his heart, though he is at least equally happy in North Wales, the Scottish Highlands or the European Alps. Through his hiking, mountaineering, climbing and trail running adventures, Alex aims to inspire others to get outdoors. He is currently President of the London Mountaineering Club, training to become a winter mountain leader, looking to finally finish bagging all the Wainwright fells of the Lake District and hoping to scale more Alpine 4000ers when circumstances allow. Find out more at www.alexfoxfield.com