The best child carriers 2023: lug your kid around in comfort
We've tested half a dozen of the best child carriers, including throne-like backpacks and a quality soft-structured carrier suitable for newborns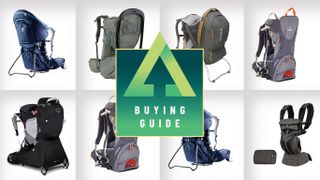 (Image credit: Future)
Having one of the best child carriers is a godsend when it comes to the first months and years of your child's life. The ability to sherpa the little one around opens up adventures big and small, allowing you to access places that the stroller simply won't be able to go. Not only this, carrying baby around is also great exercise at a point in life when finding time to escape to the gym or head out for a run is likely to be tricky.
Taking the little one out on a hilly hike or a walk in the park is a delight in all of the carriers selected here. Our roundup of the best child carriers features two different styles, with five backpack carriers for when baby gets a bit older and an excellent soft structured carrier that's suitable for newborns.
Fundamentally, backpack carriers work in the same way as the best hiking backpacks, with a harness system for comfort when hauling a heavy load. They usually feature plenty of storage for all the nappies, toys and snacks too. Meanwhile, soft structured carriers are ideal in the early months, especially when baby needs a nap.
For more on the difference between the two, see our guide at the bottom of the page. Whatever you opt for, having one of the best child carriers will make a huge difference for both you and the little one.
The best child carriers
The best backpack child carriers
An all-singing, all-dancing carrier with excellent design features and everything you could possibly need
Specifications
Age range:
6 months and up
Weight limit:
18kg / 40lbs (child's weight)
Materials:
210D Bluesign Nylon Diamond
Accessories included:
Integrated sunshade (UPF 50+), raincover, mirror
Reasons to buy
+
Comfortable
+
Innovative buckle system
+
Fully-featured
+
Excellent storage
+
Lots of nice little touches
Reasons to avoid
-
More expensive than competition
-
Heavier than most
-
Bulky
A peerless child carrier that includes everything you need from the get-go. It's up there with the most comfortable carriers we've tested and has plenty of storage for toys, nappies, food and even an adult's bits and bobs! With an innovative pop out sunshade and easy to attach rain cover, it's got every scenario covered.
It's feature rich and has loads of thoughtful design features, such as the elasticated harness straps that make securing your child a breeze, the safety whistle on the chest strap and the attachment loops for toys. Storage is another strength, there's loads of options, two main zippered compartments, another three zippered pockets and five mesh pockets. This allows you to have everything separate and organised for feeding and changing time, while stowing stuff on the go is easy.
It's heavier than most, so isn't the ideal option for hillwalking and there's no getting away from the price, which is steeper than most of the competition. However, with the Poco Plus you've pretty much got all bases covered. A superb backpack carrier.
Read our full Osprey Poco Plus review
A stylish, innovative and award-winning child carrier with a particularly comfy seat for the little one
Specifications
Age range:
6 months and up
Weight limit:
22kg / 48.5lbs (child plus items in storage)
Materials:
70D Bluesign approved Nylon
Accessories included:
Sunshade (UPF 50+)
Reasons to buy
+
Very comfortable
+
Great capacity
+
Classy looks
+
Comfortable sitting position for child
+
Removable, washable parts
Reasons to avoid
-
Expensive compared to most
-
Raincover sold separately
An excellent backpack carrier with an impressive amount of storage for everything you need for a day out with the little one. It's unique sitting position is something baby really seems to enjoy and the carrier is also very comfortable for adult. The way the seat supports little one's legs means there's no need for foot stirrups. Instead, their legs hang slightly out to the side of the carrier.
A whopping 26 liters of storage is enough for everything you need for the little one and your own items too. The main compartment is designed to be accessed from the side, meaning you can get into it while wearing the carrier, while the other large compartment is at the bottom on the back. As usual, there are two zippered hipbelt pockets too.
There's a sunshade, which is lightweight, minimal but provides plenty of shade. It's not built into the pack as on other carriers but is a separate little unit that twists and folds up tidily, stowing away in the main compartment.
It's a shame the raincover is sold separately. When added, the whole package is also very expensive. However, this is a classy child carrier that's supremely comfortable for all involved.
Read our full Thule Sapling review
A quality child carrier that's lighter than most and boasts great storage too – and all at a great price
Specifications
Age range:
6 months and up
Weight limit:
22kg / 48.5lbs (child, gear and pack)
Materials:
75D Poly x 140D Nylon Blend / Aluminum Frame
Accessories included:
Sunshade
Reasons to buy
+
Relatively lightweight
+
Great capacity
+
Excellent value
+
Good looks
+
Very comfortable
Reasons to avoid
-
Rain cover sold separately
-
Harness fiddly when fitting to child
A very well-designed and practical carrier at an unrivalled price point. It's not quite as fully featured as some, doesn't include a raincover and its harness could be less fiddly, but this is a great product that can be easily adapted to the wearer. Its lightweight design also makes it a good choice for more strenuous outings.
An aluminium frame – or 'roll cage' as Kelty call it – provides the stability, with a kickstand that clicks back into place while you carry. This, alongside a 5-point safety harness, makes it feel very safe and secure. For summery jaunts, there's an integrated sunshade for keeping those harmful UV rays off your precious cargo. It's ingeniously tucked away down the back of the pack in its own zippered pocket and springs into life when pulled out.
Storage wise, there's a whopping 26 liters to play with. Most of this is contained in the two large main compartments, found on the back of the pack. The top compartment has internal mesh pockets with a little stretch for keeping items you might want to keep separate. Other than this, there's just the two zippered hip belt pockets.
Read our full Kelty Journey Perfectfit Signature review
A luxurious moveable throne with a different approach to storage than most
Specifications
Age range:
9 months and up
Weight limit:
24kg / 52.9lbs (child plus items in storage)
Capacity:
12L + 10L in integrated daypack
Materials:
PFC-free 420D and 210D Nylon, PU coating, 600D polyester thread
Accessories included:
Sunshade, rear view mirror, 10L daypack
Reasons to buy
+
Luxurious seat for baby
+
Plush drool pad
+
Lots of storage pockets
+
Integrated sunshade and daypack
+
Mountain-ready good looks
+
Folds in for easy transportation
Reasons to avoid
-
Not great capacity unless daypack is used
-
Raincover sold separately
-
Doesn't feel as stable as some
-
Awkward kick stand
-
Surprisingly heavy
There's a lot to admire in the Kid Comfort Pro, particularly the luxury that has been afforded to the little one and the quality of its fabrics and components. The child's seat and drool pad are particularly plush, while all of Deuter's backpack expertise has gone into the harness, making for a comfortable carry. The sunshade is impressive, unzipping and folding out in a concertina style to provide a protective canopy.
At first glance, there's not a great deal of storage. You only get 12 liters in its two main compartments and its two elasticated mesh side pockets, which doesn't seem like enough. However, hiding in plain sight in its bottom compartment is a cute little 10-liter daypack, which can be worn separately or clipped onto the chest strap.
The storage isn't ideal though and there are a couple of other issues. The kickstand is awkward to pull out and retract on the move, while the carrier doesn't feel quite as stable as some, due to the way it hinges between the backpanel and the seat area. Having said all of that, it's still a great carrier with some really nice touches.
Read our full Deuter Kid Comfort Pro review
A budget-friendly, lightweight child carrier with great storage and a number of nice touches
Specifications
Age range:
6 months to 3 years
Weight limit:
20kg / 44lbs (child and storage items' weight)
Accessories included:
Sunshade, viewing mirror
Reasons to buy
+
Good price
+
Lightweight
+
Good storage options and capacity
+
More portable than most
Reasons to avoid
-
Less robust than some
-
Materials feel cheap
-
Not as comfortable as premium options
The Cross Country S4 is a good child carrier option for those not looking to spend too much, though it does fall short compared to more premium models. It doesn't feel as robust and isn't as comfortable, while some of its components and materials feel a little cheap. Having said all that, it's got great storage capacity, is very portable and is still a safe way to sherpa your little one around.
With its bright drool pad featuring a dozen colorful animals, the Cross Country has a more playful aesthetic than most. Aside from a raincover, it seems to have everything you'd need for taking the little one out and about, boasting 20 liters of storage in its spacious main compartment, front zippered pocket, its two side pockets and its hipbelt pockets. It also weights only 2.5kg, making it much lighter than a lot of the competition.
Also included is a sunshade that lives somewhat untidily in the main storage compartment. Comprised of tent-like poles and a fabric hood, it does a decent job, with the poles slotting in either side of the child's seat and Velcro attachments to tension it out.
Read our full Little Life Cross Country S4 review
The best soft structured carrier
A leading soft structured carrier that makes a huge difference in those magical first months
Specifications
Age range:
newborn upwards
Weight limit:
20kg / 44lbs (child's weight)
Capacity:
purse-sized pouch
Materials:
100% cotton Diamond
Accessories included:
Detachable pouch
Reasons to buy
+
Suitable for newborns
+
Excellent solution for nap time
+
Weighs very little
+
Multiple carry positions
+
Adjusts to your growing child
+
Machine washable
Reasons to avoid
-
Not much storage
-
Not as supportive as a backpack carrier
-
Switching between front and back facing fiddly with one hand
An excellent soft structured carrier that allows you to roam wild with your little one right from the get-go. It's ideal for nap time during the early months, allowing you to get into the outdoors while your baby catches up on sleep. It adjusts as your child grows and you'll turn to it time and time again. A superb product.
The carrier works by attaching around the waist, which is secured by a reassuringly large buckle and is tightened just like the hip belt of a hiking backpack. The main body of the carrier is then lifted up to the adult's torso, with baby positioned on the soft, padded fabric seating area, with their legs dangling out either side.
It's suitable for newborns, though the manual states that the baby must weigh at least 3.2kg (7 lbs) and be 50.8cm tall (20 inches). The front-facing position can be used once baby can support their own head, which is from around 5 months, while the back carry position is suitable from around 6 months.
As well as the obvious baby carrying functionality, the Omni 360 also features a small storage pouch with one open pocket and a zippered compartment. It's only purse sized but it's great for storing loose change, keys or that hat the little one keeps taking off. There's also a pull out sunshade, which is great for blocking out the light and helping the little one catch up on some sleep too.
Read our full Ergobaby Omni 360 Cotton review
Swipe to scroll horizontally
Best child carrier comparison table

| | | | | |
| --- | --- | --- | --- | --- |
| Carrier | RRP | Weight | Capacity | Style and age range |
| Osprey Poco Plus | $395 (US) / £400 (UK) | 3.6kg / 7.9 lbs | 26L | Backpack carrier suitable from 6 months and up |
| Thule Sapling | $430 (US) / £380 (UK) / €441 (EU) | 3.2kg / 7.1 lbs | 26L | Backpack carrier suitable from 6 months and up |
| Kelty Journey Perfectfit Signature | $320 (US) / £250 (UK) | 3kg / 6.6 lbs | 26L | Backpack carrier suitable from 6 months and up |
| Deuter Kid Comfort Pro | $330 (US) / £325 (UK) | 3.7kg / 8.2lb | 12L + 10L in integrated daypack | Backpack carrier suitable from 9 months and up |
| Little Life Cross Country S4 | £200 (UK) | 2.5kg / 5.5lb | 20L | Backpack carrier suitable from 6 months and up |
| Ergobaby Omni 360 Cotton | $179 (US) / £164.90 (UK) | 0.85kg / 1.9 lbs | Purse-sized pouch | Soft structured carrier suitable for newborn and up |
How we test child carriers
At Advnture we endeavor to test every product we feature extensively in the field. That means one of our team of reviewers and writers – all experienced outdoor specialists active across the US, UK, Europe and Australasia – taking it out into the terrain and climatic conditions that it's designed for. If, for any reason, this isn't possible, we'll say so in our buying guides and reviews.
Our reviewers test child carriers by taking them out in a range of settings and in different weather conditions. This way, we are able to fully test features like sunshades and rain covers to assess their effectiveness. We use the carriers on real day trips with a little one in tow, as well as all their changing and feeding equipment, in order to test the storage solutions first hand. We also asses factors such as comfort, value for money, durability and functionality.
For more details. see how Advnture tests products.
Choosing the best child carrier for you and your child
There's lots to think about when choosing between the best child carriers. For a start, you have the choice between a backpack carrier and a soft structured carrier. Once you get beyond this, there are considerations like capacity and the included accessories to think of. Do not fear, here's our guide to the myriad features present in today's best baby carriers.
Carrier type
As mentioned, there are two main carrier types: backpack carriers and soft structured carriers.
Soft structured carriers have the advantages of being suitable for newborns and being extremely lightweight. They allow you to carry your child in a padded seating unit that is attached around your waist and shoulders. As the "soft" in the name suggests, a soft structured carrier has no metal frame and is comprised entirely of fabric.
When baby is less than 3 months, they are supported by the fact they are snuggled into your torso. This not only keeps them warm but also gives them ideal napping opportunities. Once they can start to support their own head a little, some models allow you to switch them around and have them outward facing.
Backpack carriers have many similarities with a standard hiking backpack, though instead of a lid and main compartment, there's a seating area for your child, complete with a high chair or car seat style safety harness. The advantages of backpack carriers include the support given by the hipbelt the backpack's frame, as well as additional storage capacity.
Each different carrier will have a child's weight limit, rather than an age that they can use the carrier until. Generally speaking, you can use most child carriers until your little cherrub is 3 or 4 years old. Obviously, they'll be walking by then, but little legs do get tired and having a carrier along on a hike is a good idea for when they want you to unleash your inner mule.
Capacity
This doesn't really apply to soft structured carriers, as you can wear a backpack as well as having baby on the front. However, the amount of storage capacity in a backpack carrier is important, particularly if you often venture out with your child but without your other half to share the load.
We found anything above around 20 liters was fine for loading all the nappies, water, snacks, toys and changing equipment for a baby. It's easy to forget when you're looking after a tiny life that you might want to take some things for yourself too. With all this in mind, 20 litres seemed to be the sweet spot. Get a carrier with less and you'll be up against it while trying to cram everything in.
Features to look out for
While most backpack carriers feature plenty of storage, the way this is spread across the pack differs from carrier to carrier. As well as spacious main compartments, zippered hip belt pockets are the norm and allow you to stow items, like gloves or a headlamp, while on the move. Some feature handy mesh side or back pockets, which are ideal for stashing things that you want to hand.
A feature that some carriers have is loops for toy attachment. We found that little ones are much more motivated to sit in their throne if their favorite plaything is attached nearby.
As some of the leading backpack models are made by brands who specialise in hiking and trekking packs too, they're often compatible with hydration bladder. This is useful as, take it from us, hauling a tiny human around all day is thirsty work.
It's a messy business being a tiny cherub, so it's likely your carrier is going to get a little dirty over the months, Pretty much all offer washable drool pads, while some take this a step further will fully removable seats that can be easily laundered.
Accessories
There are a few accessories to keep an eye out for when choosing between the best child carriers. Most come with some form of sunshade. While some are integrated and spring to life when unzipped, others are detachable and fold away to be stored in one of the main storage compartments.
Some of the best baby carriers come equipped with a rain cover and, let's face it, this is a fairly essential item for a lot of us. You can usually buy a compatible rain cover for models that don't come with one but it's worth bearing in mind the total price.
One other thing to look out for are the neat little rear view mirrors that are often hidden away in one of the hipbelt pockets. These are great for keeping tabs on what your little one is upto, blowing raspberries at them, or checking they haven't fallen asleep – a big no-no in most backpack carriers. However, while these little mirrors are great, we found ourselves using our phone's camera more often than not.
All the latest inspiration, tips and guides to help you plan your next Advnture!
Alex is a freelance adventure writer and mountain leader with an insatiable passion for the mountains. A Cumbrian born and bred, his native English Lake District has a special place in his heart, though he is at least equally happy in North Wales, the Scottish Highlands or the European Alps. Through his hiking, mountaineering, climbing and trail running adventures, Alex aims to inspire others to get outdoors. He is currently President of the London Mountaineering Club, training to become a winter mountain leader, looking to finally finish bagging all the Wainwright fells of the Lake District and hoping to scale more Alpine 4000ers when circumstances allow. Find out more at www.alexfoxfield.com