9 tips for happy family hiking: how to make sure walking with your kids is fun
Follow our tried-and-tested steps to enjoying more walking with your kids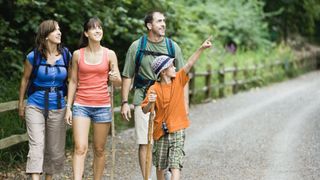 (Image credit: Getty Images)
Walking is good for physical and mental health. We all know this. And spending time outdoors offers further benefits for families, such as encouraging communication, improving bonding and simply tiring out the kids so they sleep better.
But what if your children are of the reluctant variety? Many children would prefer to stay at home watching the TV or glued to smartphones or electronic games. Follow these tried-and-tested tips and tricks to happier family hiking.
1. Let them choose

This might seem like a silly idea because if you ask children to choose what they want to do, they might well decide it is better to stay indoors. But if you show them a list of exciting sounding outdoor activities, you are more likely to whet their appetite.
It is also the case that telling children what to do, doesn't help in the long-term. You are far better encouraging them to be curious, or getting them to think about adventure rather than "just going for a walk".
You could suggest a few ideas for more interesting hikes, such as trig bagging, orienteering in a local park or go geocaching.
How about combining a walk with a trip to a beach or an adventure park?
In this way, they will be thinking about what they would like to do, rather than you planning a walk for them and expecting them to like it.
2. Make a map
Maps can be exciting, but for children they might seem daunting. Teach them the joy or maps – and the basics of how to read a map – by getting them to make a map first.
You could tell them to make a map as the basis of an adventure, such as visiting a river and waterfall, climbing rocks and rolling down a hillside. Tell them to mark all these ideas on to a map.
Then, show them a large-scale OS Map. Talk them through some of the key symbols, such as summit markers, crags, rivers and the sea.
The chances are they will be asking you to take them out to see what the land looks like on the map you have shown them.
Tip: A local map might be good for this activity
3. Are we there yet?
If you need to travel a distance to reach a place to go for a walk, some kids will become bored or fidgety. To avoid this parental frustration, you'll need some entertainment tactics for the journey.
Plan ahead by making a family playlist to sing along to, enjoy a few of the classic car games (think, I-spy, 20 questions or spot the yellow car) and take some snacks for the trip.
The best idea is to keep journeys as short as possible. If you can walk from your home, all the better, or try cycling to a great place to hike.
4. Buy the right kit
If kids are wet or cold, they will be miserable. So, make sure they have the right outdoor clothing for a walk.
There are plenty of second-hand gear websites and Facebook groups where you can buy cheaper items, or ask friends with older children if they have anything to pass on.
The essentials include robust and waterproof footwear – hiking boots or hiking shoes depending on the season and conditions – a waterproof jacket, hat and your best hiking gloves.
A child's rucksack so they can each carry their own bits and pieces is always a good idea, too.
5. Choose a letter or theme
When heading off for a walk, try to think of something to distract children from actually walking. Tell them to find or spot as many items starting with a letter, such as "T".
Or choose a theme, such as spotting different birds, butterflies, wild flowers, trees or bugs. It could be a good idea to buy a few aids, perhaps a magnifying glass, small binoculars, or a book or app that helps to identify wildlife.
Most children will walk further in search of spotting something.
6. Treats and snacks are fine
Many parents worry they are spoiling their children by "encouraging" them to walk with treats and snacks. For example, "You can have a snack if you reach that fence line."
While too many sweet treats are not good for anyone's health, you should remember you are outdoors and burning calories anyway. Try to choose healthier snacks where possible but keep in mind the purpose of the treats!
One parent said: "Yes, I know it sounds like bribery to give kids a treat when they have reached a landmark, but if it gets them out and enjoying the countryside I am fine with that. It works for our kids!"
7. Borrow a friend or dog
If you have more than one child, sibling arguments can all too often spoil a walk. Tell your kids they can choose a friend for the walk, or borrow a dog if you have someone who will trust you to do this.
When kids are chatting to their pals or walking a dog, they are far less likely to notice how far they are walking or that they are "doing something boring with a parent"!
8. Make regular plans

Children like to have events to look forward to, so you should plan activities to do together for forthcoming weekends and holidays.
Let them think bigger and bigger, too. You could plan to walk to a hill summit – and then to a mountain summit. You could trace the route of a river trail over several weekends, or keep track of a long-distance walking route on a map.
Spending time outdoors should be fun – and the chances are it will create great bonds and memories for both adults and kids.
9. Create good memories
Make the most of each hiking trip you share together by creating some artistic memory logs using materials you found during your walk, as well as photographs.
Children can get involved in making these memories by picking up anything from leaves and pine cones to pebbles and feathers when walking. Of course, you'll want to educate kids about what they can and shouldn't remove from nature.
You could use an old fashioned scrap book or create a digital log.
Having these memory books or banks helps to encourage them to go out for another walk because she can show them how much fun it was.
All the latest inspiration, tips and guides to help you plan your next Advnture!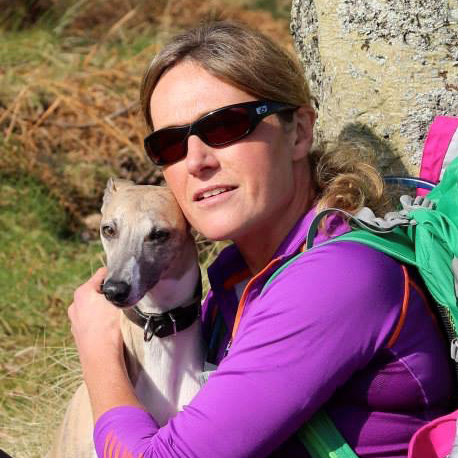 Fiona Russell is a widely published adventure journalist and blogger, better known as Fiona Outdoors. She is based in Scotland and is an all-round outdoors enthusiast with favorite activities including trail running, mountain walking, mountain biking, road cycling, triathlon and skiing (both downhill and backcountry). Aside from her own adventures, Fiona's biggest aim is to inspire others to enjoy getting outside and exploring, especially through her writing. She is also rarely seen without a running skort! Find out more at Fiona Outdoors.