How do rock climbers sleep? Welcome to the world of cliff camping
How do rock climbers sleep? We explain how cliff camping works and what to look for in your first portaledge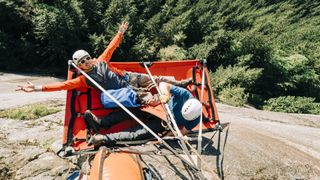 (Image credit: Alex Ratson)
If you've been getting into multi-pitch climbing and are thinking about testing your best climbing shoes out on some big walls in the near future, you've probably asked yourself a pretty obvious question: how do rock climbers sleep? After all, most climbers good enough to take on a face like El Capitan still need up to six days to complete it, so what do they do when the sun goes down and it's time to rest their weary fingers? Welcome to cliff camping and the wild world of portaledges, which takes the term 'living on the edge' to a whole new level.
If you're scaling a cliff that has plenty of rock ledges roomy enough to catch a few winks on, of course you could set up some kind of camp there, but what if you're on a route where such ledges are scarce, or non-existent? Well, early climbers (meaning a few decades ago) resorted to sleeping in hammocks, which they affixed to the rock using an anchor at each end. As you can imagine, a hammock butting up against a cold rock wall isn't exactly the height of comfort, and provides no protection from the elements. Enter the portaledge, the world's first hanging platform designed for rock climbers to catch some kip on a sheer rock face, also known as cliff camping, or just wait out a passing storm.
Though we haven't been able to substantiate these rumors, climbing folklore has it that climbers during the Golden Age of climbing in Yosemite National Park used to steal camping cots from the park's camps to fashion a primitive version of what is today known as the portaledge. Whether or not it's true, it makes for a fun story and it gives you a pretty good idea of what a portaledge looks like (and how unscrupulous some early climbers were).
In essence, a portaledge has a metal frame with sturdy fabric such as nylon stretched across it, like a cot, to form a platform that you can sleep on. Four or six pieces of webbing stretch from the corners of the platform to come together at the top and affix to the rock via a single anchor. The webbing has a buckling system so you can make the platform level, and once set up, it looks like a small tent hanging on the side of a cliff.
If you're climbing with a portaledge and other gear like your best sleeping bag and food, you'll usually organize it all first in haul bags and bring it up behind you. When you've finished your final pitch of the day, you set up your portaledge so that one side of it leans flush against the rock, providing enough room for you to sit and lie down, and stash your gear (although your gear can also just be clipped to the portaledge or even the rock to give you more room to lounge).
If the weather is fair, you can sleep plein air style, which means if you peek down, there's nothing but a terrifying long drop, but if you keep your eyes pointed up, you can enjoy some incredible stargazing opportunities. However, you can also cover the whole system with a stormfly, which looks just like a modern tent and provides protection against the elements. Remember, when you're up high, it's colder and windier and having been exposed all day, you'll probably be glad for the stormfly.
Now, if you're a fitful sleeper or even an occasional sleepwalker, you might be thinking that cliff camping is not for you – what's to stop you from nodding off and rolling over the edge to a certain death, far below? Well, no matter whether or not you're using the stormfly, you'll be wearing your harness the entire time, which clips into the tent as well as an anchor in the rock, so you won't go anywhere.
Portaledges come in single sizes meant for one, or big enough for three climbers to share. If you're in the market for a portaledge, there are a few things to consider:
Easy assembly is key for when you're tired, or the weather conditions are changing quickly, so look for a simple design.
Weight – you need to haul it up with you so the lighter the better. We've seen portaledges as light as 3kg (6.6lbs) all the way up to 9kg (19.8lbs).
Weatherproofing – look for full waterproofing and taped seams. If severe weather rolls in, you could be in your portaledge for a while.
Practice setting up your portaledge before you use it for the first time, and go with an experienced or professional climber.
Safety – don't operate your camping stove inside your storm fly.
If you are curious to see how portaledges work but don't want to actually wake up in the morning hanging off the side of a cliff, we suggest you watch Dawn Wall, one of the best climbing films, which shows how Tommy Caldwell and Kevin Jorgesen spent 19 days on El Capitan. This unusual piece of gear has perhaps been responsible for some of the more spectacular climbing feats of the last few decades.
All the latest inspiration, tips and guides to help you plan your next Advnture!
Julia Clarke is a staff writer for Advnture.com and the author of the book Restorative Yoga for Beginners. She loves to explore mountains on foot, bike, skis and belay and then recover on the the yoga mat. Julia graduated with a degree in journalism in 2004 and spent eight years working as a radio presenter in Kansas City, Vermont, Boston and New York City before discovering the joys of the Rocky Mountains. She then detoured west to Colorado and enjoyed 11 years teaching yoga in Vail before returning to her hometown of Glasgow, Scotland in 2020 to focus on family and writing.