The best climbing films: 10 great movies about big, bold mountain adventures
The best climbing films deliver arresting stories of success, tragedy and survival in humankind's ongoing attempt to tackle the world's highest mountains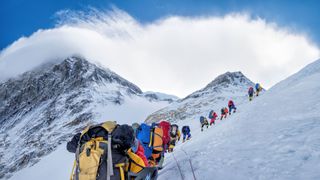 (Image credit: Westend61)
Whether you've been rained off the crag or are just seeking inspiration, the best climbing films are an excellent way to pass a couple of hours immersed in stories of human endurance. The burgeoning climbing film genre has evolved from low budget dirtbag documentaries to stunning, critically acclaimed productions in a relatively short amount of time and has helped to catapult the sport of rock climbing into the mainstream imagination.
Our pick of the best climbing films deliver arresting stories of success, tragedy and survival in tales that range from the accomplishments of world's most famous climbers to those who make their feats possible yet are rarely rewarded. All of these films are a testament to the extraordinary lengths some humans will go to to climb mountains and are thought-provoking and entertaining whether you're a rock climbing fanatic or just a curious bystander. Grab the popcorn and settle in for some big mountain drama with these films.
1. Free Solo (2018)
We'll start with the most obvious climbing film, but in the off chance you've been living under a rock or tend to avoid hype and haven't seen it yet, go and watch Free Solo immediately. Directed by climber and filmmaker Jimmy Chin, Free Solo follows California climber Alex Honnold's astonishing 2017 climb of El Capitan in Yosemite National Park without ropes. Beautifully captured by Chin as well as drone footage, this big wall climbing film literally keeps you on the edge of your seat with breathtaking footage of the death defying 3,000ft vertical climb. The bigger the screen the better for this one. This high drama documentary won multiple prizes including the Academy Award for Best Documentary and trust us, it deserves the hype.
2. The Dawn Wall (2017)
Though it's certainly one of the more popular climbing films out there, The Dawn Wall has been slightly overshadowed by the success of Free Solo but in many ways, it's a more interesting film. Two years before Honnold's triumph, his peer and fellow rock climbing pioneer Tommy Caldwell was one of two climbers who captivated the world with the first climb of The Dawn Wall route up El Capitan. Where Free Solo narrows in on the magnitude of a single feat and the psychology of the climber, The Dawn Wall takes a broader view which given Caldwell's story is worthwhile – not only has he been climbing for far longer, he's also faced some immense challenges, from losing a finger to being held hostage in Kyrgyzstan. It's the perfect watch after Free Solo when you're not quite ready to come back to earth, and you'll find yourself rooting for this humble, impressive climber all the way.
3. 14 Peaks: Nothing is Impossible (2021)
Brand new to the climbing scene, 14 Peaks is already one of the best, most exhilarating climbing documentaries ever made. What sets it apart is that instead of showcasing the accomplishments of a white, well-known and amply-sponsored climber (which lets face it is the norm) 14 Peaks follows the until-now unknown Nepalese climber Nirma "Nims" Purja in his 2019 quest to summit all 14 mountains over 8,000m in just seven months. The previous record for this monster feat was seven years and it requires touching the summits of all of the world's most dangerous mountains. Purja, a laidback and friendly character, devotes his superhuman strength and fearlessness to the plight of his fellow Nepali climbers who have been overlooked since the days of Tenzing Norgay. Pay close attention to the timeline with which he scales the world's highest peaks, at times accomplishing three in 48 hours where one such mountain would usually take a mere mortal two months. You'll walk away convinced that Nepalese climbers are the best in the world.
4. Sherpa (2015)
After watching 14 Peaks, hopefully you'll be curious to learn more about the history of controversy surrounding the Sherpas who are instrumental in getting western climbers to the top of the world's highest peaks while their efforts and skill are rarely acknowledged. If so, start with Sherpa, which looks at the traditions of Sherpa culture and their relationship with Everest through the lens of Phurba Tashi, a Sherpa who has summited the mountain 21 times. The film centers around the events following the deadly 2014 avalanche which killed 16 Sherpas and triggered protests by those who take the greatests risks on Everest. This thought-provoking film presents a narrative both about unheard voices and a different way of viewing Everest – as a spiritual presence to be revered, not an opponent to be conquered.
5. Meru (2015)
For another inspiring and beautifully shot Himalayan adventure, go and watch Meru, which chronicles Jimmy Chin, Conrad Anker and Renan Ozturk's two attempts to summit Mount Meru via the hair-raising Shark's Fin. The three climbers overcome various obstacles, from a catastrophic avalanche to critical injury and addressing past climbing traumas. This picture serves up all the big mountain climbing excitement you want from a climbing film pristinely packaged, as always, by Chin.
6. Touching the Void (2003)
In terms of cinematic delivery, Touching the Void has nothing on the previous five films, but it's still a gripping account of the perils of rock climbing and everyone should watch it. Part documentary and part reenactment, Touching the Void tells the story of two British climbers – Joe Simpson and Simon Yates – who made the first ascent of the treacherous west face of Siula Grande in the Peruvian Andes. On the descent, while the two are tied together, Simpson breaks his leg, then a storm hits. Just when you think things can't get any worse, Yates accidentally lowers his partner over the edge of a cliff and is left with two choices: stay tied together and wait to die or cut the rope. The unlikely events that ensue became a matter of controversy in the climbing community and will have you riding an emotional rollercoaster, despite the film's low-budget production.
7. The Last Mountain (2021)
In 1995, one of the world's best climbers, Alison Hargreaves, died on K2 at the age of 33. In 2019, her son Tom Ballard died in similar circumstances on Nanga Parbat. Director Chris Terrell followed the family for 25 years, from Alison's ascent of Everest unsupported and without supplemental oxygen, to her daughter Kate's 2020 journey back to the Himalayas to bid farewell to her brother. This film is quiet, compelling, deeply poignant and often heartbreaking as you watch the remaining family members reconcile love with loss. It leaves you with a sense that had these two climbers lived, they would have continued to stun us with their prowess.
8. Valley Uprising (2014)
After watching The Last Mountain, you might need a bit of cheering up, so it's a good time to head back to Yosemite for a glimpse into the iconic dirtbag climbing scene that's been thriving there for decades. Valley Uprising is about "a bunch of mad men trying to do new things" and portrays society's dropouts (including an even younger Alex Honnold) who have been at the forefront of half a century of rock climbing counterculture. This fun picture gives a glimpse into the obsessiveness at the heart of rock climbers, their wild partying ways and reveals the friction between them and the National Parks Service.
9. 127 Hours (2010)
The entry on our list of the best climbing films that isn't a documentary is 127 hours, which is a dramatization of the book Between a Rock and a Hard Place by Aron Ralston. In 2003, Ralston went canyoneering in Utah alone, without telling anyone where he was going. He dislodged a boulder which trapped his hand and found himself stuck in a narrow slot canyon with a limited supply of water and, after five days and no sign of rescue, only two options. Choosing escape over certain death, this nauseating tale is certainly a testimony to the climber's survival instinct, and serves as a good warning to others to practice climbing safety. Though we think the book is much better than the film – in fact, it made our list of best hiking books – James Franco's portrayal of Ralston is entertaining enough, and the gory escape is a bit more palatable on screen than on the page.
10. Mountain (2017)
Another film from Sherpa director Jennifer Peedom, Mountain is filmed mostly by climber Renan Ozturk and narrated by Willem Dafoe and takes you on a dreamy journey of mostly unidentified high peaks around the world, delivering a dialogue on the different relationships humans have with mountains. The high point of this film is really the arresting high alpine cinematography and it's perfect for late-night viewing when you just want to be transported up into the clouds without having to think too hard.
All the latest inspiration, tips and guides to help you plan your next Advnture!
Julia Clarke is a staff writer for Advnture.com and the author of the book Restorative Yoga for Beginners. She loves to explore mountains on foot, bike, skis and belay and then recover on the the yoga mat. Julia graduated with a degree in journalism in 2004 and spent eight years working as a radio presenter in Kansas City, Vermont, Boston and New York City before discovering the joys of the Rocky Mountains. She then detoured west to Colorado and enjoyed 11 years teaching yoga in Vail before returning to her hometown of Glasgow, Scotland in 2020 to focus on family and writing.