Rock climbing rules: 6 unofficial principles of clean climbing
Our list of unofficial rock climbing rules help keep you and other climbers safe and protect your favorite climbing spots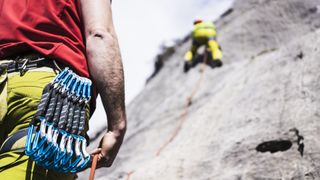 (Image credit: massimo colombo)
As with any sport, in the beginning, there were no rules in rock climbing. A precious few were daring enough to try it, and those that did made it up as they went along, doing whatever it took to get to the top. As more people around the world don their best climbing shoes and get on belay, however, it's become necessary to establish a few rules of engagement. Though the rock climbing rules in this article are unofficial, they're important for you to know once you start climbing outdoors, to protect other climbers as well as your favorite climbing spots.
The first rock climber who is credited with proposing clear rock climbing rules was climbing icon Royal Robbins, whose rivalry with, ahem, less conscientious climber Warren Harding is documented in Valley Uprising, which is one of the best climbing films ever made. Robbins wrote in his book Basic Rockcraft that while many climbers might push back at the idea of rules, their sheer number underscores the need for them.
"Most climbers are individuals who love freedom – they climb because it makes them feel free. We may expect then, that having others suggest how they ought to climb will rub wrong. There used to be so few climbers that it didn't matter where one drove a piton, there wasn't a worry about demolishing the rock. Now things are different. There are so many of us, and there will be more."
Robbins is best known for being the first to climb Half Dome in Yosemite National Park, back in 1957, and was at the forefront of climbing's Golden Age, a time when dirtbag climbers were leaving their chalky handprints all over the park and Harding was busy drilling bolts into El Capitan. In response to what he saw as a violation of the natural environment that they relied upon for climbing, Robbins championed what he called a 'clean climbing' approach.
"A simple equation exists between freedom and numbers: the more people, the less freedom. If we are to retain the beauties of the sport, the fine edge, the challenge, we must consider our style of climbing; and if we are not to mutilate and destroy the routes, we must eliminate the heavy-handed use of pitons and bolts."
Robbins went on to leave an enduring legacy in his philosophy of protecting and respecting the rock, and following these unofficial rock climbing rules is a nod to his good example. These principles help keep you and other climbers safe and protect the surrounding environment – so while they're not always formally enforced (except for when they are) – it's important to adhere to them.
1. Leave no trace
The same principles of leave no trace that you practice when you're hiking and camping – packing out all your trash and respecting wildlife – apply to rock climbing, but with a couple of added details:
Climbing chalk – It's just a little dust, right? No. It makes a big mess and isn't thought to be great for the environment either. Use it sparingly, clean it off after you climb, or find a less harmful alternative. Learn more in our article on climbing chalk.
Bolts – Don't drill bolts or leave permanent gear in the wall, period.
2. Don't hog lines
Yes, maybe you got here first and you really want to figure out this problem, but that doesn't mean you can just dominate a route for a whole day while others wait. Give other climbers a turn and either move along or, better yet, make friends with them – perhaps they can help you crack that last move.
3. Wait your turn
Yes, the thought of queuing for rock climbing is a bit depressing, but it's a real thing especially at the best spots. If you show up and people are ahead of you, don't cut the line just because you know you'll be faster than everyone else – wait your turn or find a different climbing spot.
5. Obey local regulations
Climbing rules may not be written in stone, but local regulations for the area where your climbing might very well be. Pay attention to any posted signage regarding camping and access and make sure you respect those rules. Good behavior will allow everyone to keep climbing.
5. Keep the volume down
There can definitely be a bit of a party vibe at the crag, but not every climber or hiker wants to listen to your playlist and the local wildlife definitely doesn't. Keep the tunes off and you'll also be able to communicate better with your climbing partner.
6. Help others when appropriate
Climbing is pretty social and someone asks for your help or advice figuring out a route, you're welcome to lend your wisdom. But if you're not a professional guide, don't try to teach them everything you know – if you guide them down the wrong path, it could end in disaster. That said, if someone has an emergency, do help them.
All the latest inspiration, tips and guides to help you plan your next Advnture!
Julia Clarke is a staff writer for Advnture.com and the author of the book Restorative Yoga for Beginners. She loves to explore mountains on foot, bike, skis and belay and then recover on the the yoga mat. Julia graduated with a degree in journalism in 2004 and spent eight years working as a radio presenter in Kansas City, Vermont, Boston and New York City before discovering the joys of the Rocky Mountains. She then detoured west to Colorado and enjoyed 11 years teaching yoga in Vail before returning to her hometown of Glasgow, Scotland in 2020 to focus on family and writing.