Colorado National Parks road trip: an epic tour of rocky summits, rugged canyons and desert plains
Our handy Colorado National Parks road trip takes you on an epic adventure around the state, revealing some of the can't-miss hikes to explore the unforgettable and diverse landscape of the American west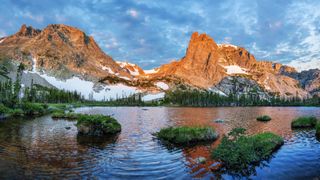 (Image credit: Brad McGinley Photography)
Colorado is home to four outstanding National Parks and while the renowned Rocky Mountain National Park is by far the most-visited, each unique site has something memorable to offer, awarding a hefty glimpse into both human and geological heritage and some of the best hikes in the state. If you're looking to visit some, or all of them, we've created this handy Colorado National Parks road trip to take some of the planning out of the process for you.
Colorado's National Parks collectively preserve thousands of square miles of stunning Colorado landscape and wilderness, taking you up above 14,000ft in the Rocky Mountains and down 2,000ft deep into the earth, across vast sand dunes and into the tiny homes of ancient indigenous cliff dwellers. Any one of these parks makes an unforgettable vacation, but if you're feeling ambitious, why not tackle them all?
Colorado's National Parks conveniently form a rough loop around the state, so while we've started or ended this road trip in Denver, you can start from any point and work your way round in either direction. We've also taken the liberty of including Colorado National Monument, which is a Monument rather than a Park, but breaks up the longest leg of the journey with breathtaking vistas and really should not be missed.
Though Colorado's National Parks are all open year-round, spring and fall make the best times for a road trip as the weather is milder and the crowds are thinner. Each Park is worthy of at least a night, while you might choose to spend several nights in some of the bigger parks, so this trip could take as little as five nights and as many as ten. There's a substantial amount of distance between each park so we recommend you build in a couple of nights at all but Great Sand Dunes and take your time.
Load up your best hiking boots, backpack and best sleeping bag – we're taking you out on the open road for a Wild West adventure of epic proportions.
Stage 1: Denver to Great Sand Dunes National Park & Preserve
Driving distance: 236 miles
Park location: Southern Colorado near Crestone

From Denver down the Great Sand Dunes it's more or less a straight shot down I-25 through Colorado Springs and Pueblo, with mountain views most of the way.
This national park is often overlooked because it sounds, well, just like a giant sandbox. In reality, here you'll find virtual mountains of wind-sculpted sand, some up to 750 feet high, making up the tallest sand dunes in North America over an area of about 30 square miles. The otherworldly dunes were formed by sediment from the surrounding mountain ranges after lakes receded from the San Luis Valley and are a must-see in Colorado. The best time to see the sand dunes is at dusk, so plan to arrive by the late afternoon to set up camp.
There is only one campground inside the park – Piñon Flats – make sure you book ahead.
Can't miss hike: the sand dunes
There aren't designated trails because they'd be drawn in, well sand. Around 5 p.m. once it's cooled off a little, grab your headlamp and pick any path. Just head upwards, and expect a real calf-burner as you sink, barefoot, into soft, deep sand on the ascent. Watch the sun set and transform the dunes into a mesmerizing interplay of rose gold hues and deep shadows as you wiggle your toes into the cooling sand. It's an experience like no other.
Stage 2: Great Sand Dunes to Mesa Verde National Park
Driving distance: 220 miles
Park location: Southwest Colorado near Cortez
This beautiful drive takes you clear across the southern part of the state, near the New Mexico border where the landscape starts to transform into something more otherworldly. You'll pass through the old railroad town of Durango which is well worth a stop.
Mesa Verde is certainly Colorado's most unique National Park, and while it's home to deep canyons and spectacular vistas, the main selling point is the more than 600 well-preserved cliff dwellings built by the Ancestral Puebloan Indians between 650 CE and the 12th century then abruptly abandoned for reasons unknown. This UNESCO heritage site is the largest archaeological preserve in the United States and visitors can learn about how these ancient people lived in sheltered alcoves of the canyon walls.
There is no camping inside the park but camping and lodging can be found nearby.
Can't miss hike: Mug House
The absolute best thing to do here of course is tour a cliff dwelling. You'll have to book a tour with a ranger and we recommend Mug House, named for some of the artifacts found inside its walls. The Mug House tour entails a 2.25 mile strenuous hike to see a village that was home to up to 100 residents about a thousand years ago. You'll also get to see Adobe Cave, rock art and views of Rock Canyon along the trail.
Stage 3: Mesa Verde to Black Canyon of the Gunnison National Park
Driving distance: 195 miles
Park location: Western Colorado near Montrose
This winding mountain drive takes you through one of the most scenic box canyons in the country and Colorado's prize jewel of a ski town, Telluride, where you might stop to stretch your legs and never leave.
This National Park is sometimes described as the Grand Canyon in miniature, but don't let that description fool you into thinking it's small. This 48-mile long canyon plunges over 2,000ft into the earth and is easily big and deep enough to be vertigo-inducing. Carved out by the Gunnison River, and time, this near-vertical canyon is so-named because it is so deep that parts of the river receive no more than 33 minutes of sunlight per day. Fourteen miles of the canyon were declared a National Park in 1999 offering visitors the chance to marvel at geological history like the 2,250ft Painted Wall, the tallest sheer cliff in Colorado as well as activities like hiking, rock climbing, kayaking and camping.
There are no hotels or lodges here, but there are two great campgrounds inside the park on either rim, while our favorite pick is the East Portal Campground down by the river and not technically within the park. Book ahead.
Can't miss hike: North Vista Trail
The 7-mile North Vista trail is the main trail in the park but miraculously free of the crowds you'd expect from a National Park hike. This hike begins from the ranger station on the North Rim and descends down to a series of breathtaking overlooks revealing two million years of geological history including Exclamation Point, where you will find some of the best views of the canyon. The trail then begins to climb up Green Mountain for about two miles for panoramic views of the canyon from a different angle.
Stage 4: Black Canyon to Colorado National Monument
Driving distance: 58 miles
Park location: Western Colorado, near Grand Junction
As we said, while this isn't actually a National Park, it's more than worth seeing and breaks up a very long drive with some spectacular desert landscape.
This monument preserves an area of iconic desert landscape emblematic of the American West. High up on the Colorado plateau, here you'll find vertical walled red rock canyons as deep as 500ft and towing rock monoliths formed of granite, streaked with gneiss and schist as tall as 450ft.
There are no restaurants, gas stations, or hotels located within the Monument, but you'll find all the conveniences you need in nearby Fruita, Grand Junction and Palisade. Palisade is Colorado's wine country, which can add a little luxury to your rugged journey.
Can't miss hike: Devil's Kitchen
The Devil's Kitchen trail takes you via a gradual climb to a natural rock grotto that is a circular arena formed by huge upright boulders where you can explore and play in the welcome shade from the desert heat.
Stage 5: Colorado National Monument to Rocky Mountain National Park
Driving distance: 292 miles
Park location: Northern Colorado, near Estes Park
This long drive takes you back east across the northern part of the state and enters the Park through lovely Grand Lake, which is a fabulous place to stop for a burger or stay overnight.
Home to more than 100 peaks over 11,000ft Colorado's crown jewel makes both a memorable day trip and a rewarding adventure holiday. Rocky Mountain National Park boasts 415 square miles of stunning wilderness that attracts millions of visitors every year for good reason. The park offers the absolute best of Colorado's Rockies, from elk, bighorn sheep and moose sightings to turquoise lakes and breathtaking peaks, much of it accessible by car.
There are five campgrounds in the park and hotels in Estes Park and Grand Lake, but you should definitely book ahead.
Spend as much time here as you can and it's only 65 miles back to Denver to complete your epic road trip.
Can't miss hike: Mount Ida
The main attraction here is actually driving Trail Ridge Road. Spanning 48 miles between Estes Park on the east side of the park and Grand Lake on the west, Trail Ridge crests at over 12,000ft with eleven miles of travel above treeline. This winding high highway takes you across alpine tundra and treats you to stunning views, wildlife and wildflower sightings.
You can add to the fun by parking at the Poudre Lake Trailhead and hiking Mount Ida, which is often voted best hike in Rocky Mountain National Park, and it's easy to see why. The panoramic views all the way up are absolutely stunning. Though with 2465ft of elevation gain it is rated as difficult, particularly towards the summit, it does not expose you to steep drop offs like some other park favorites.
All the latest inspiration, tips and guides to help you plan your next Advnture!
Julia Clarke is a staff writer for Advnture.com and the author of the book Restorative Yoga for Beginners. She loves to explore mountains on foot, bike, skis and belay and then recover on the the yoga mat. Julia graduated with a degree in journalism in 2004 and spent eight years working as a radio presenter in Kansas City, Vermont, Boston and New York City before discovering the joys of the Rocky Mountains. She then detoured west to Colorado and enjoyed 11 years teaching yoga in Vail before returning to her hometown of Glasgow, Scotland in 2020 to focus on family and writing.