Colorado Springs hikes: deep canyons and towering peaks offer limitless adventure
By Julia Clarke
Our favorite Colorado Springs hikes dazzle with ancient rock formations, cool cascades and daring high altitude traverses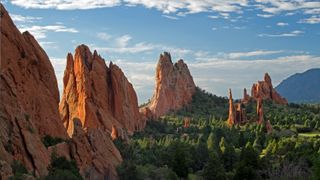 (Image credit: Ronda Kimbrow Photography)
Colorado Springs hikes offer a tantalizing slice of geological history from thousand-foot deep canyons to peaks that tower 14,000 feet above sea level, often without leaving city limits.
Colorado Springs is easily one of the best ways to enjoy the rugged wilderness you associate with the Centennial State without sacrificing urban comforts. It is Colorado's second most populous city after Denver 70 miles to the north, but unlike Denver which is about 15 miles from the nearest mountains, Colorado Springs is perfectly tucked into the base of Pikes Peak in the Rocky Mountains and known for its astonishing line up of red sandstone rock pillars.
Though it's better known for its Air Force Academy and United States Olympic Training Center, we think Colorado Springs hikes deserve a good look as some of the most scenic in a state overrun by picturesque trails. So dust off your hiking boots, load up your backpack with plenty of water and sunscreen, and check out some of the best Colorado Springs hikes.
Silver Cascade Falls
Distance: 0.6 miles
Difficulty: Easy
This short but gorgeous trail begins and ends with picture-perfect cascades. Start at Helen Hunt Falls in North Cheyenne Cañon Park, a 1600 acre regional park owned by the city which provides a good glimpse into millions of years of upheaval below the earth's crust and offers a welcome respite from the hot, arid conditions here with an abundance of natural streams, waterfalls and wooded areas. Wind your way up the well-marked trail for about a third of a mile to cool off by Silver Cascade Falls with splendid views of the canyon which is rich with local wildlife like deer, bears and mountain lions.
Garden of the Gods
Distance: 1 mile
Difficulty: Easy
Though highly trafficked, the Garden of the Gods is the crown jewel of Colorado Springs and a must-see feature, revealing 300 million years of geological wonders. A wander through spires and cliffs of red, pink, and white sandstone and limestone where the plains meet the mountains will transport you through the ages.
There are many great trails here, but our top pick is the Siamese Twins Loop Trail, an easy mile roundtrip with just a small amount of elevation. The twins are a unique rock formation formed by two adjoined rock towers about halfway along the trail. A natural window between the twins frames magnificent Pikes Peak in the background for a quintessential Colorado photo op. Park in the P14 parking lot of the park to set out. Expert desert-like conditions with little shade.
Manitou Incline
Distance: 1 mile
Difficulty: Difficult
Dishing up almost 2,000 feet of elevation gain in under a mile, this literal stair stepper draws everyone from novice runners and hikers to Olympic athletes. Featuring 2,768 steps it is certainly one of the more unique climbs you'll ever undertake. The Incline was built as a cable car to transport materials needed to build a pipeline on Pikes Peak. When the pipelines were completed, the cable car was used to carry tourists to the top of the foothills. A rock slide damaged the track in 1990 and the rails were removed but the ties remained, leaving an enormous staircase which locals started using for workouts. It is probably the most popular hike in Colorado Springs today. Park at 10 Old Man's Trail and ride the free shuttle to the bottom. Rather than returning down the incline which is frowned upon, descend via the last four miles of the Barr Trail (see below).
Seven Bridges
Distance: 3.7 miles
Difficulty: Moderate
This lovely creekside hike offers plenty of shade as it follows the creek through North Cheyenne Cañon Park which cuts 1,000 feet deep into granite rock. Along the way, you will cross seven bridges ending in the meadow of Jones Park which is a great place for spotting wildflowers in the springtime. Follow Cheyenne Blvd west for almost 3 miles then turn right onto North Cheyenne Cañon Road for 3.2 miles. Park in the large parking lot at the end. The trail begins at the north end of the parking lot.
Templeton Trail
Distance: 4 miles
Difficulty: Moderate
Palmer Park is located right in the center of Colorado Springs and offers over 25 miles of hiking trails. It was named Best Urban Park by Elevation Outdoors Magazine in 2017. As is often the case, there are any number of ways to connect the different trails to make your hike as long or short as you like, but we suggest the Templeton Trail, which skirts the top of the mesa in the center of the park for excellent views of the surrounding area. Pick up the trail from Yucca Flats trailhead in the park, and follow the trail clockwise for easier navigation.
Red Rock Rim Trail
Distance: 5.4 miles
Difficulty: Moderate
It's hard to go wrong when it comes to hiking in Red Rock Canyon Open Space, a thrill-seekers playground consisting of 789 acres of 240 million-year-old red sandstone canyons and ridges. There are many great trails, but we've chosen the Red Rock Rim Trail and suggest linking it up with a couple of other trails to make for a satisfying and scenic loop. Park in the second parking lot in the open space and pick up the Red Rock Rim Trail from here. Follow the signs to link up with the Palmer Trail and then the Greenlee Trail to make a fabulous loop taking in stunning views of Garden of the Gods, a lovely lake and the Forrest Allen Overlook.
Barr Trail
Distance: 26 miles
Difficulty: Difficult
For many visitors to Colorado, bagging one of the state's highly coveted 14ers (peaks higher than 14,000 feet) is top of the list. Despite its rather intimidating length, the Barr Trail provides the most popular approach for Pikes Peak, Colorado Springs hometown 14er. Beginning from the trailhead in Manitou Springs, this 12 mile ascent will take you to the 14,110 foot summit via a well marked (and well-travelled) trail through evergreen forests and fascinating rock formations. Your efforts will certainly be rewarded at the top, with 360° views of the incredible landscape surrounding Colorado Springs, but as always when hiking a 14er, plan to leave early and prepared.
Julia Clarke is a staff writer for Adventure.com. She is an author, mountain enthusiast and yoga teacher who loves heading uphill on foot, ski, bike and belay. She recently returned to her hometown of Glasgow, Scotland after 20 years living in the USA, 11 of which were spent in the rocky mountains of Vail, Colorado where she owned a boutique yoga studio and explored the west's famous peaks and rivers. She is a champion for enjoying the outdoors sustainably as well as maintaining balance through rest and meditation, which she explores in her book Restorative Yoga for Beginners, a beginner's path to healing with deep relaxation. She enjoys writing about the outdoors, yoga, wellness and travel. In her previous lives, she has also been a radio presenter, music promoter, university teacher and winemaker.
All the latest inspiration, tips and guides to help you plan your next Advnture!
Thank you for signing up to Advnture. You will receive a verification email shortly.
There was a problem. Please refresh the page and try again.