Do grip strengtheners work? We asked rock climbers to weigh in
Do grip strengtheners work for rock climbing, or are they just another gimmick to get you to part ways with your hard earned money?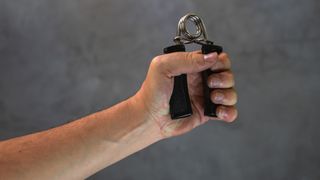 (Image credit: Jesús García)
If you're trying to get better at bouldering or rock climbing, or even just hoping to stay in good form during the colder months when the crag is icy, you might be considering installing a handboard in your garage or buying a grip strengthener to use at your desk. But do grip strengtheners work, or are they just another gimmick to get you to part ways with your hard earned money?
On the surface of it, grip strengtheners seem like they'd be great for climbers. After all, while you can mostly get away with having weak forearms for a lot of outdoor activities like hiking and skiing, cultivating a strong grip is vital for virtually any style of free climbing. The muscles used in gripping originate in your elbow and insert all the way down in your thumb and fingers, and the stronger they are, the better for hanging off tiny holds on a sheer rock face.
Grip strengtheners: the promise
Though they come in a variety of different models, the classic hand grip strengthener features a metal torsion spring with two handles that you squeeze together to work the muscles of your hands and forearms that help you make a gripping action.
The premise is pretty simple really. The device adds load to the muscular action involved with gripping, therefore requiring the muscles to work harder and grow stronger. But oftentimes, the movements that we do in the gym or in physical therapy appear to mimic functional movements but actually fall short of being useful in the field. We set out to find out whether this is also true of grip strengtheners, or if they actually work to improve your climbing.
Do grip strengtheners replicate climbing?
We decided to put the question to some rock climbers in the Glasgow area of Scotland and, as you might expect, we got mixed responses. Paul Galbraith said that because grip strengtheners work using motion, they don't actually replicate the action you need for climbing.
"When climbing, you use a static grip. Grip strengtheners force you through a range of movement, which doesn't replicate climbing," says Galbraith, adding "The grip strengtheners also allow circulation in the fingers, while static grips build up more lactic acid, which replicates climbing more."
One way to work around this argument then would be to squeeze the handle of the grip strengthener together and hold them there for increasing lengths of time, however instead of using a grip strengthener, Galbraith suggests a technique sometimes known as The Block instead.
"Try holding a smooth heavy object, such as a slab, in a downward pincer grip, until your hand gives up."
Climber Ross Crooks also says he doesn't use them, preferring instead to get his training in on the wall:
"I prefer to climb. I've never got the same feeling I do after climbing using a grip strengthener. Hanging your body weight strengthens the ligaments in a way the grip strengthener can't."
So that's a couple of arguments against grip strengtheners, with the key points being that they don't make you do the same action as climbing, and climbing itself is obviously the best form of training.
How can grip strengtheners help climbers?
Before you go tossing your grip strengthener in the bin though, we did find some people who feel that grip strengtheners might be useful, at least for some climbers.
"I do feel like they have a place for beginners or people that maybe want to build strength, but strength only works if you know how to make the most of it," says Kyle Roberson. In many ways, this comes to the crux of the issue – strength is just one virtue of an excellent climber, while experts generally agree that mental stamina and well developed, intuitive proprioception are also key.
But if you are a beginner climber or just generally lacking in hand and forearm strength, you might want to give a grip strengthener a go. As for whether or not they make a difference, we heard some great, albeit anecdotal, evidence of them producing increased strength for climbing.
"I was talking to an older gent in Glasgow Climbing Club who was doing pull ups with his fingertips. He said he used finger/hand grip strengtheners during lockdown to maintain his finger strength since he didn't have a hangboard. He did this five days a week while he was on his daily walks." reports Steven Crooks.
Do grip strengtheners work? The verdict
Like most things in life, it seems like this is a bit of a subjective question. We are not suggesting you run out and buy a grip strengthener today, but if you have one, we can't see any harm in using it. Whether or not it will actually help with climbing remains to be seen. If you already own a grip strengthener and are unsure if it's making a difference, one good suggestion from Galbraith is to try using it on your weaker hand only – that way you'll soon know if it's made any difference.
Whether or not they felt grip strengtheners work, we found that all climbers agree that climbing itself offers the best form of training. If you've been climbing outdoors and are worried about losing strength over the winter, it's going to be substantially better to head to the local indoor climbing wall than rely solely on a grip strengthener.
As for other recommended training tools, once you start climbing at a high level then you might want to consider fingerboards and campus rungs, but these types of devices are not suitable for beginner climbers. Take a look at our article on how to train for climbing for other tips and ideas to get stronger on the wall.
All the latest inspiration, tips and guides to help you plan your next Advnture!
Julia Clarke is a staff writer for Advnture.com and the author of the book Restorative Yoga for Beginners. She loves to explore mountains on foot, bike, skis and belay and then recover on the the yoga mat. Julia graduated with a degree in journalism in 2004 and spent eight years working as a radio presenter in Kansas City, Vermont, Boston and New York City before discovering the joys of the Rocky Mountains. She then detoured west to Colorado and enjoyed 11 years teaching yoga in Vail before returning to her hometown of Glasgow, Scotland in 2020 to focus on family and writing.