What to do if you fall through ice: how to survive disaster
We uncover what to do if you fall through ice to help you respond quickly and calmly in a worst case scenario situation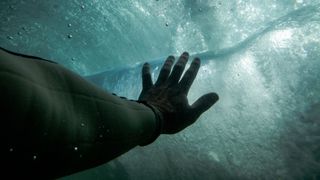 (Image credit: Photo by Joel Sharpe)
Knowing what to do if you fall through ice is an important survival skill for anyone adventuring in extreme winter conditions, whether that's in hiking boots, skates or skis. After all, crossing a frozen surface in winter is an inherently risky activity and not one that's often recommended.
If you've ever done it, or even considered it, you probably envisioned the sickening crack of ice giving way under foot, followed by a terrifying plunge into the frigid depths beneath the surface. This worst case scenario is extremely dangerous and can easily be fatal, but it doesn't have to spell instant death. In this article, we take a look at what you can do if you fall through ice to stay alive and get yourself to safety.
How long can you survive if you fall through ice?
The answer to this varies, depending on your health and how you respond. Falling through ice can induce a cold shock response, where you gasp as you fall and accidentally inhale water. The panic can also cause you to hyperventilate, which can lead to unconsciousness. In both instances, drowning is a real possibility and can happen within minutes.
Then there's the possibility of cardiac arrest, which can occur if you have an existing heart condition. Upon detecting the cold temperature, your blood vessels constrict and your heart has to work harder to pump blood through your body. Again, this can happen quickly.
Hypothermia on the other hand, takes a bit longer. It could take up to 30 minutes in the water before you start to experience mild hypothermia. Once this sets in, you won't have the capacity to take life saving action such as treading water.
As you can see, it's important to respond calmly and quickly if you fall through ice to minimize your risk and have any chance of survival.
What to do if you fall through ice
Naturally, the best way to survive falling through ice is not to walk on ice in the first place, but let's say you've checked to make sure the ice is thick enough to walk on and started crossing it only to discover, too late, that its thickness is inconsistent and you step on to a thin patch big enough to fall through. As soon as you find yourself taking a plunge, spread your arms out wide to try to keep your head above water, and follow these steps:
1. Keep a clear head
Your best lifeline if disaster strikes is to try not to panic. If your head goes under, open your eyes underwater and follow the light to get your head back up above the surface in the area where you fell through. Once your head is above water, take deep, slow breaths. When you panic and hyperventilate, you trigger the stress response which overrides your brain's ability to make rational decisions, and right now, you need to think clearly.
Diaphragmatic breathing has been shown to slow your heart rate and help induce the relaxation response, and while you don't want to be relaxed exactly, this will help your nervous system stay calm and allow your brain to make logical, life-saving decisions.
Naturally, if there is anyone around, call out to them and alert them to your situation. They may be able to pull you out or call for help.
2. Ditch any heavy equipment
If you're wearing any heavy, cumbersome equipment like a backpack or skis, shed them quickly so they don't pull you under. You may have to sacrifice these items in order to save your life, but if your backpack contains anything useful like dry clothes or a lighter and you can safely pitch it up onto solid ground so you have it when you emerge, do so.
3. Keep your clothes on
If you've ever taken a lifeguard course, you probably think that clothes and shoes should be shed as they will become heavy, make it difficult to swim and pull you under. However, winter clothes like down jackets and waterproof jackets can also trap air and provide buoyancy, so don't waste time pulling them off if you don't have to.
4. Pull yourself out
Continuing to stay calm, tread water as if you're riding a bicycle and make your way back to the hole where you fell through. The chances are, the surrounding ice that you were standing on before you fell will be thicker and solid and you may be able to use your elbows to pull yourself out of the water and onto the ice. Get your torso on the ice, then swing out your legs one at a time.
5. Lie horizontally on the ice
Once you've pulled yourself out of the water, don't stand up immediately, tempting though it may be, as you may fall back through. Instead, stay lying horizontally on the ice to spread out your weight over a larger surface and roll yourself away from the hole, back in the direction you came from until it's safe to stand up.
6. Get to safety and warm up
Once you're up, get to a sheltered area as quickly as you can. Ideally this will be an indoor space like a building or vehicle, but you might just have to find a rock or tree that shelters you from the wind – a cold wind chill will only speed up your risk of hypothermia.
Next, you want to start warming up quickly but carefully. Immediately remove your wet clothes so you don't continue to freeze, and get into dry clothes if possible. If you can, place something between you and the cold ground like a blanket or backpack.
Do not submerge yourself in warm water as this can induce heart arrhythmia. If you have access to a heat source, such as a hot water bottle or heating pads, don't apply it directly onto your skin but wrap it in a towel first. Seek medical attention as soon as possible.
All the latest inspiration, tips and guides to help you plan your next Advnture!
Julia Clarke is a staff writer for Advnture.com and the author of the book Restorative Yoga for Beginners. She loves to explore mountains on foot, bike, skis and belay and then recover on the the yoga mat. Julia graduated with a degree in journalism in 2004 and spent eight years working as a radio presenter in Kansas City, Vermont, Boston and New York City before discovering the joys of the Rocky Mountains. She then detoured west to Colorado and enjoyed 11 years teaching yoga in Vail before returning to her hometown of Glasgow, Scotland in 2020 to focus on family and writing.