Friday 5: adventure runner and cyclist Jenny Tough
Continuing our quick-fire interview series with the endurance and solo challenge enthusiast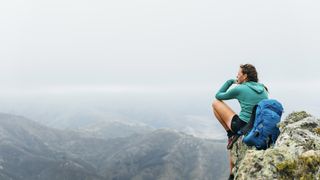 (Image credit: Jay French )
Jenny Tough is an enthusiast for all things endurance and adventure. Whether it's a race or a solo adventure, her desire to push her limits has led her to many corners of the world.
She is currently working on a global challenge to run, solo and unsupported, across a mountain range on every continent. She has completed five of the six routes.
She has also competed in long-distance bikepacking races, including becoming the first woman to finish both the inaugural Silk Road Mountain Race and Atlas Mountain Race, which are considered two of the toughest off-road bike races.
Outside of her personal pursuits, Jenny is on a mission to get more people outside and challenging their own comfort zones, particularly women and girls. She has championed this by launching a book called Tough Women: Adventure Stories.
If you could only keep one item out of all your outdoor gear, which would you keep and why?

It would be my comfy hydrophobic down sleeping bag. If I could wear it every day, I honestly would. It would also keep me alive the longest.
What's your pet peeve in the outdoors/adventure space?
Assumptions! The outdoors should be a free space where anyone and everyone can enjoy nature in their own way, no matter their demographic or economic level.
It really irks me when outdoors people make assumptions about another's abilities or commitment based on who they are, what they look like, or how they're dressed.
I'm guilty myself of assuming someone with really great kit is going to be stronger than me, but I have learned that is frequently wrong.
If you could be instantly transported to the start of any adventure, what would it be, where and why?
My project to run across a mountain range on every continent has turned out to be the best idea I ever had. I think the starting point of a mountain range is the most exciting place to stand. I have experienced that feeling five times already and I am still addicted.
Exploring a mountain range through its entire length is an incredible way to get to know an area, so if I could go anywhere it would be the start of pretty much any mountain range.
We're sitting round a campfire. Tell us a funny or entertaining story about one of your adventures
I was bike-packing around the Balkans, when an older man started riding alongside me in Macedonia. He decided (quite confidently) to accompany me to the next village.
He started talking about weight-lifting, which seemed strange (or a bit alpha), but we got into a pretty deep discussion about local history and culture.
I was really enjoying chatting to him and learning the history of the area through his lens, but he was cycling in the middle of a very windy mountainous road and it bothered me how dangerous that was. All the cars would honk at him and yell things out the window.
Finally, I spoke up. I said I was scared at the way he was riding and clearly aggravating all the drivers. He looked at me in amazement and said: "I told you I'm a weight lifter. I went to the Olympics twice and I recently won a big competition that qualifies me for the World's.
"All the drivers were just honking and yelling their support. Everyone in this region knows who I am."
So that was the day I rode with one of Macedonia's most famous athletes. I googled him later and it turned out to be totally true. He really was a big deal.
Is there any gear that's on your shopping list at the moment?
I just picked up the Therm-A-Rest Polar Ranger and I am excited to use it to sleep in some very cold Canadian conditions this winter.
All the latest inspiration, tips and guides to help you plan your next Advnture!
Fiona Russell is a widely published adventure journalist and blogger, who is better known as Fiona Outdoors. She is based in Scotland and is an all-round outdoors enthusiast with favourite activities including trail running, mountain walking, mountain biking, road cycling, triathlon and skiing, both downhill and back country. Her target for 2021 is to finish the final nine summits in her first round of all 282 Munros, the Scottish mountains of more than 3,000ft high. Aside from being outdoors, Fiona's biggest aim is to inspire others to enjoy the great outdoors, especially through her writing. She is also rarely seen without a running skort! Find out more at Fiona Outdoors.