Geocaching for beginners: 10 reasons to try it
Why families, hikers and trail runners will enjoy the modern day treasure hunt using GPS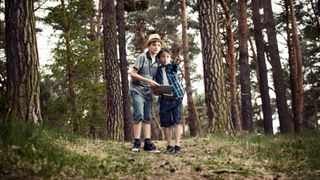 (Image credit: Getty Images)
Geocaching is a great activity for families, hiker and runners. Geocaching is similar to a traditional treasure hunt but makes use of the modern GPS system so that people can seek out caches.
10 reasons for beginners to try geocaching
1. It's educational but fun
Geocaching teaches you how to navigate to a location. You will need a GPS-activated handheld mobile device, such as a smart phone.
This will act as your navigation system. Using this you can download the free official geocaching app, and you can choose a hidden geocache to navigate to.
If you want to learn how to read a map and use a compass, you can note the geocache coordinates and then navigate by map and compass. This is also a good idea if you are heading to a more remote cache or going out in the country in poor weather.
Learning to map read and navigate is great fun when you are going in search a geocache.
2. To learn more about an area
Whether you search for a geocache locally, or you are visiting a new region or area, a geocache hunt will take you to new places. You'll see new sites and come across different attractions as you navigate to the cache.
3. It's good for families
Families can work together to discover the cache while geocaching. If you are all focused on trying to reach a cache, you are far more likely to enjoy the activity and reap the rewards of bonding as a family. The kids are far less likely to fall out, too.
Spending time outdoors and doing an activity that keeps you fit and healthy is also great for families.
4. For fitness
If you lack motivation for a walk or a run, going in search of a geocache will give you an incentive to get outdoors. Following the route on foot will reward with benefits, such as improved fitness.
5. For mind and body
Rather than "only" walking or running for physical fitness, when you are hunting for a cache, you are also exercising your mind.
6. For a new challenge
Start by choosing an easier graded geocache hunt and then build up to more challenging routes as you gain experience and improve your fitness. The challenges are almost endless so you will always have a new route to try.
7. It's budget-friendly
The website, geocaching.com (opens in new tab) has many free features. There are various extra features that you can pay for but as a group activity it is relatively cheap.
The only other kit you need are your usual walking or running clothes and footwear, such as your choice of the best hiking shoes.
8. The thrill of discovery
There is always the thrill of finding your cache. Open up the cache and take a look inside to see who's already logged their find. Usually there are small treasures inside the caches, too.
9. It's better outdoors than indoors
Numerous pieces of research have shown the benefits to physical and mental health of spending time outdoors amid nature. There can rarely be an example when you would be better spending the afternoon indoors compared to walking or running outdoors.
10. It's a worldwide thing
There are millions of geocaches hidden in locations across the world. You are joining a large community of cache hunters and you will never run out of caches to discover.
There are also geocaching events in many places, so you might end up meeting new and likeminded people and making new friends.
So what are you waiting for? Give geocaching a try and discover the many benefits.
All the latest inspiration, tips and guides to help you plan your next Advnture!
Fiona Russell is a widely published adventure journalist and blogger, who is better known as Fiona Outdoors. She is based in Scotland and is an all-round outdoors enthusiast with favourite activities including trail running, mountain walking, mountain biking, road cycling, triathlon and skiing, both downhill and back country. Her target for 2021 is to finish the final nine summits in her first round of all 282 Munros, the Scottish mountains of more than 3,000ft high. Aside from being outdoors, Fiona's biggest aim is to inspire others to enjoy the great outdoors, especially through her writing. She is also rarely seen without a running skort! Find out more at Fiona Outdoors (opens in new tab).