Different types of hammock and how to choose one
We walk you through some of the different types of hammock out there today and their best uses to help you choose the best one for hanging out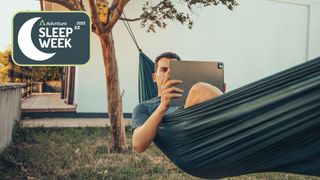 (Image credit: Getty)
For many of us, a major deterrent of outdoor living and camping is the lack of some place comfortable to stretch out and kick your feet up. Even the best camping chairs just can't compete with the comfort of your couch at home when you want to kick back and read a book for an hour, but before you give up on the idea of spending time outdoors, consider getting yourself a hammock. These traditional hanging beds have come a long way and today there are loads of different types of hammock that range from more permanent sleep structures fit to replace your bed to lightweight, packable little rigs that can get you up off the underbrush for the night. We walk you through some of the most common types of hammock out there today and their best uses to help you choose the best one for hanging out.
Broadly speaking, there are three different types of hammock: those made from fabric, rope or string. There is really only one type of rope hammock, but there are several different styles of both fabric and string hammock and we'll present some of the most common ones below. As you'll see, the different types of hammock will have varying levels of comfort and durability which determines their ideal usage.
Further, within each style of hammock there are two designs:
Spreader bar designs, which have a long wooden bar at each end to which the fabric attaches, keeping the hammock more flat.
Non-spreader bar designs, where the fabric gathers together to attach to fastening like a hook or carabiner, creating more of a banana shape that cocoons you.
Perhaps it's obvious that of the two designs, non-spreader bar hammocks are usually going to be more portable, while spreader bar hammocks carry more weight and bulk and are more likely to stay hung once they're up.
Finally, most hammocks will be plenty long enough for just about any height of person (you should be at least two feet longer than you are) but come in one and two-person and even family-sized varieties if you want to share.
Brazilian hammock
Whereas some hammocks are great for just relaxing for a couple of hours, Brazilian hammocks are comfortable enough that you could technically use them in place of a bed, and in Brazil and other parts of South America, many people do. These are fabric hammocks, woven from cotton on a loom, with a non-spreader bar design. Due to the tightly woven fabric, they are durable and not very breathable which means they block the wind better and provide more warmth on chilly nights. That said, the fabric is not usually water resistant so these are better for indoor use or in dry climates. Though they're not as lightweight as camping hammocks, you can find them weighing as little as 1.5kg so they're not totally off limits for car camping, though you'd usually need to bring your own suspension system or hammock stand.
Camping hammock
Camping hammocks have become increasingly popular in recent years, being used both for chilling out in the woods and as lightweight replacements for a one-person tent while backpacking. Made using durable nylon or polyester, these are usually non-spreader bar designs although there are lightweight spreader bar camping hammocks out there. Camping hammocks often come with a suspension system for easy rigging and a pocket where you can slide your sleeping pad underneath you for warmth and comfort. Some come with integrated mosquito nets, tarps to protect you from the rain, pockets to stash gear like your headlamp and under quilts to keep you cosy. Camping hammocks pack down fairly small in your backpack and keep you up off uneven ground, making them a solid choice for travel and backpacking and thru-hiking anywhere there are trees.
Mayan hammock
It is believed that the Mayans invented the hammock and their trademark style is a string hammock. Traditionally, these were made without the spreader bar and they are constructed with tightly woven thin strings. Unlike the Brazilian hammock, these allow for quite a bit of air flow and so are better suited to hot environments and for relaxing by a lake or in your backyard. The thin strings are a little less durable than some of the other hammocks on this list, so even though these aren't too heavy or bulky, take care with moving them around a lot. Again, you will most likely need your own suspension system or hammock stand to rig these out in the woods.
Quilted hammock
Quilted hammocks offer quite a bit more luxury. These fabric hammocks are spreader bar design and rather than a thin layer of synthetic or woven fabric beneath you, you'll enjoy the comfort of soft padding while you swing in the breeze. The effect is more like a really fancy sun lounger pad or thin futon and some of these even have pillows built in. These are the least portable of all the hammocks on our list, so they make great backyard hammocks except for the fact that they're not the most weather-resistant. The padding keeps you quite warm, so these can be good for lounging in cooler weather as well as indoors.
Rope hammock
Finally, when you think of a hammock you probably think of a rope hammock, slung between two palm trees on a Caribbean island. Rope hammocks, also known as American style hammocks, are spreader bar hammocks with what essentially looks like a loose rope net made from either cotton or nylon. The big holes in the rope netting can leave a bit of a waffle iron effect on your skin when you hang out on them for too long, and aren't great for small children. These hammocks are the least comfortable on our list and not very stable either, so they're not meant for sleeping in but great for casual hanging out for short periods reading your book.
This article is part of Advnture's Sleep Week 2022 (running from Monday 22 August to Sunday 28 August), our in-depth look at how to choose the best gear for sleeping outdoors and get a better night's rest in the backcountry.
All the latest inspiration, tips and guides to help you plan your next Advnture!
Julia Clarke is a staff writer for Advnture.com and the author of the book Restorative Yoga for Beginners. She loves to explore mountains on foot, bike, skis and belay and then recover on the the yoga mat. Julia graduated with a degree in journalism in 2004 and spent eight years working as a radio presenter in Kansas City, Vermont, Boston and New York City before discovering the joys of the Rocky Mountains. She then detoured west to Colorado and enjoyed 11 years teaching yoga in Vail before returning to her hometown of Glasgow, Scotland in 2020 to focus on family and writing.