The best hiking snacks: for going the distance
Our picks for the best hiking snacks are low maintenance, tasty and provide a good energy source for days on the trail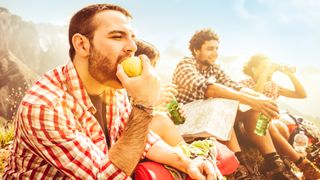 (Image credit: LeoPatrizi)
Staying energized on the trail means different things to different hikers. For you, it might be a hastily chewed power bar to keep you going and saving your appetite for a big meal at the end of the day, or perhaps you delight in impressing your hiking buddies with a gourmet picnic feast that you can enjoy at the summit. But no matter your approach, we can all agree that when you're getting some miles underfoot, you need to carry some hiking snacks in that backpack. The best hiking snacks are low maintenance, tasty and provide a good energy source for days on the trail.
In this article, we explain what makes a great hiking snack and offer up our favorite ideas for tasty treats to keep you going on a day hike, no matter the length. Make sure to fill up your water bottle or even bring a hiking flask full of coffee or tea to pair with these ideas, then all that's left to do is brush off your hiking boots and you're ready to go without worrying you'll run out of steam half way down the trail.
What to look for in your hiking snacks
Although there is something alluring about the idea of whipping a red and white checkered table cloth out of a wicker hamper and serving up a gourmet picnic on the trail, you don't have to put too much time or effort into packing some great hiking snacks if you don't want to. However, you also don't just want to throw any old food you happen to have in your fridge in your bag. In fact, it's best to avoid items that spoil easily like fruit and yogurt, leftover meals that require utensils or preparation, or junk food that just doesn't provide a whole lot of nutrition. In general, whatever you pack for a snack should have the following six attributes:
Calories: a good hiking snack will provide you with plenty of fuel to keep going, so skip the fruit salad and popcorn and load up with food that is dense in calories.
Healthy: though you're definitely going to be earning your calories on the trail, as the saying goes, you can't out train a bad diet. Instead of offsetting your healthy activity with sugary snacks, opt for food that has good nutritional value.
Light and packable: no snack will be particularly heavy, but do consider how much extra weight you want to carry and if you're trying to keep your pack light, make sure what food you bring isn't too heavy or bulky.
Non-perishable: the best hiking snacks don't get bruised or spoil in the heat and can take a little beating in your backpack. Of course, you can protect certain items from damage by storing them in a plastic container, but that rattling sound following you up the trail can be annoying.
Low waste: whether it's an orange peel or a sandwich wrapper, any waste that you generate on the trail needs to be packed out according to the principle of Leave No Trace, so keeping your waste to a minimum reduces what you have to manage and carry. It's often helpful to decant your snacks into a plastic bag at home that you can reuse on your next hike.
Easy to eat: most importantly, bring snacks that don't require much in the way of preparation or utensils and aren't messy to eat. Mashed avocado and crackers might sound like a good idea, but if you are getting rained on and huddled under a rock, you'll want something you can eat with one hand on the go and you don't want to leave half your meal on the trail.
The best hiking snacks
1. Trail mix
Trail mix is tasty, light and provides a good healthy energy source with lots of dried fruit and nuts. Make your own or decant some of your favorite mix into a resealable bag, squeeze out the air and it should fit easily into your backpack. Of course, you can simplify things further and just bring nuts or dried fruit.
2. Hard pretzels
Some of us just love a salty, crunchy snack but a bag of potato chips takes up a lot of room and can quickly turn into a deflated packet of powdery crumbs. Instead, bring hard pretzels which can satisfy that craving and provide a quick source of carbs for energy and salt for the electrolytes you lose through sweating.
3. Bars
There are no end of bars to choose from today and it's really a matter of preference which you take with you. Whether you like a granola bar, a candy bar, an oat bar or a date bar, they are all all highly convenient and can be eaten without breaking stride, plus it's easy to pop the wrapper in your bag when you're done.
4. Jerky and salami
If you're more of a carnivore, you will definitely find a friend in some meat jerky or slices of salami. These won't spoil in your bag and provide a great source of protein.
5. Cheese
Cheese is a great source of fat and protein and while softer cheeses can be a disaster on a hike, firm cheeses like cheddar, gouda and manchego are tough enough to withstand some travel. Buy individually wrapped snack sized cheeses or just put some slices in a plastic bag – you can even pair this with some jerky or salami and pretend it's a charcuterie board.
6. Fruit leather
If you're more on the herbivore end of the spectrum, consider some fruit leather which is basically the vegetarian's answer to jerky. Look for brands that don't add sugar or even make your own for a healthier version.
7. Apples and oranges
If whole fruit is your thing, and it's certainly healthier than fruit leather, may we suggest leaving the melon slices and berries at home, since these tend to spoil quickly and get slimy and stick to fruits that come with their own protective covering. Bananas get too bashed, but apples and oranges usually fare pretty well – just don't think it's ok to leave your cores and peels on the ground since they're biodegradable. It isn't.
8. Boiled eggs
Speaking of foods that come in their own protective covering, in many ways the boiled egg is the perfect snack. Boil yours up the night before so they have time to cool, wrap them in foil and even if they get a little bashed, it won't matter and you've got a tasty high protein snack for the road.
9. Sandwiches and wraps
For a full day hike or a larger appetite, you'll want to consider something more substantial like a sandwich. It's usually best to avoid things that will spoil or get slimy, like lettuce and tomatoes, or anything that makes the bread soggy. Instead, go for meat and cheese or peanut butter and jelly. Squashed bread is ok, but consider using tortilla wraps instead which are a bit sturdier.
All the latest inspiration, tips and guides to help you plan your next Advnture!
Julia Clarke is a staff writer for Advnture.com and the author of the book Restorative Yoga for Beginners. She loves to explore mountains on foot, bike, skis and belay and then recover on the the yoga mat. Julia graduated with a degree in journalism in 2004 and spent eight years working as a radio presenter in Kansas City, Vermont, Boston and New York City before discovering the joys of the Rocky Mountains. She then detoured west to Colorado and enjoyed 11 years teaching yoga in Vail before returning to her hometown of Glasgow, Scotland in 2020 to focus on family and writing.