4 incredible health benefits of morning exercise
We look at the latest science on morning exercise, and why you might want to set your alarm earlier at least a few times a week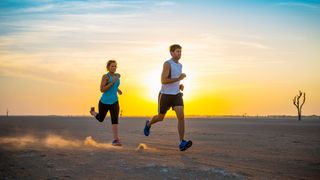 (Image credit: Getty)
When the alarm sounds at 5:30 a.m. at this time of year, the morning light is already creeping through the chink in the curtains and it's easier to throw the covers off. Ten minutes later I'm lacing up my trail running shoes and before 7 a.m. I'm on the trail as the sun streaks red across the mountains in the distance. Running in the dawn light with the morning chorus of the birds while the world sleeps is my favorite way to start the day (though I'll admit, it's far easier during the long days of spring and summer in Scotland) and always leaves me more energized and optimistic for the day ahead.
I recently wrote about the benefits of evening exercise, but what about those of us that prefer to (or need to) get moving in the morning? We've probably all heard that it's the best time to exercise, but we were also all told that breakfast was the most important day of the meals and now we know that's not necessarily true. Then you've got the fact that health experts insist that any exercise at just about any time of day is good. So do we really need to be waking up before the crack of dawn to get the most benefit out of our workouts, or can you hit snooze and leave it for your lunch break or after work?
Curious, I recently took a look at the research to see if there's any persuasive scientific evidence that morning exercise yields results that are different from exercising at other times of day – or does it just feel better? The news, I'm happy to say, is quite good for those of us who are morning larks, though not so great for night owls. Read on for the science on morning exercise, and why you might want to set your alarm earlier at least a few times a week.
1. It reduces abdominal fat and lowers blood pressure
These two benefits appear to apply to women only, but if you're exercising for weight management and to help control your blood pressure, a 2022 study examined 27 women over a 12-week period and concluded that those who exercised in the morning saw reduced abdominal fat and blood pressure compared to those who exercised at other times of day. These findings may be independent of micronutrient intake, so if you're working to lower your blood pressure or reduce belly fat and feel like you're doing all the right things in the kitchen and at the gym to no avail, the key could just come down to setting that alarm earlier.
2. It burns more fat and improves insulin sensitivity
A 2019 study in the The Journal of Clinical Endocrinology & Metabolism looked at how exercise timing affected overweight or obese men and discovered that moderate intensity cycling before breakfast burned twice the amount of fat as after breakfast, and helped improve insulin sensitivity, which is a marker for type two diabetes. Simply moving your workout forward by an hour could mean you reap far more immediate benefits for the same amount of effort, while the long term implications for your health could be life-changing.
3. It improves cognitive function
So what about those who aren't trying to lose weight – is there any scientific benefit to getting moving with the birds? According to a 2019 study performed in Australia, morning movement may avail your mind as well as your body. The study, which looked at older subjects, found that those who employed moderate intensity exercise in the morning along with intermittent bouts of walking exhibited better short term memory than those who didn't. Better short-term memory is vital for cognitive function at any age, and helps you with daily function as well as processing information.
4. It can fight inflammation and aging – if you get outdoors
All of the above are probably sound pretty good, and might compel you to wake earlier at least a few days a week and hit the gym, but if you are heading for the treadmill or a spin class, you'll miss out on one other scientific benefit for morning exercise, and that's getting the exposure to morning light. As I previously wrote about, we finally know why morning light is so crucial to your health, and that's because it resets your Circadian Rhythm, which governs all kinds of hormonal processes, while exposure to red light helps boost your body's anti-inflammatory response and may even support cellular regeneration to reverse the damaging effects of aging on your cells. So whether you're hitting the trail or just walking to the gym, make sure your morning workout involves time outdoors to reap the best health benefits.
All the latest inspiration, tips and guides to help you plan your next Advnture!
Julia Clarke is a staff writer for Advnture.com and the author of the book Restorative Yoga for Beginners. She loves to explore mountains on foot, bike, skis and belay and then recover on the the yoga mat. Julia graduated with a degree in journalism in 2004 and spent eight years working as a radio presenter in Kansas City, Vermont, Boston and New York City before discovering the joys of the Rocky Mountains. She then detoured west to Colorado and enjoyed 11 years teaching yoga in Vail before returning to her hometown of Glasgow, Scotland in 2020 to focus on family and writing.