Is the Motorola Defy rugged smartphone indestructible? We took it out on the trail to find out
We put Motorola's claim to a waterproof and drop-proof smartphone to the test on rocky trails and in mountain streams – here's how it performed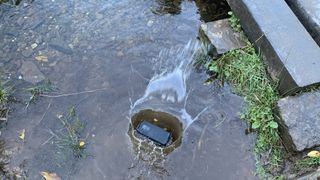 (Image credit: Julia Clarke)
Even though hiking for me is as much about solitude and getting my hiking boots on the soft earth as it is about exercise, I'd be lying if I said I don't almost always have my phone on me when I venture into the wild. After all, it's got my handy komoot route tracking app on it, Google maps for when I'm on a new trail and naturally I want to be able to take great pictures for Gram. Hell, I could even use it for its actual function and call for help if I got lost but the one time that happened I was too embarrassed to admit it and bushwhacked my way to safety instead.
Anyway, I digress. My point is that where I go in the wilderness, so does my very pricey smartphone and every time I'm on a hike, I'm aware that I'm increasing the risk of having a very expensive mishap. Pulling it out of my pocket or backpack to take pictures every few minutes, especially while wearing gloves, is an invitation to drop it on rocky terrain and end up with a cracked screen, something that happens 50 million times a year in the US according to a 2018 survey by square trade.
Now you can live with a cracked screen, and many people do, but on the trail you've got the added hazard of exposing your smartphone to sweat, rain, snow and leaky water bottles in your backpack which is usually just a recipe for regret followed by making a very costly purchase later on the same day.
Simply put, we love to take our smartphones with us on the trail for lots of great reasons, but it's one of the worst places for them.
Now Motorola have designed the new Defy rugged smartphone, which they claim is dust-proof, drop-proof and waterproof. They also say it keeps working even in extreme temperatures, allegedly from 55°C/131°F to -25°C/-13°F, unlike my iPhone which tends to power down as soon as I head out on snowshoes in winter. With a two-day battery life and a 48 megapixel quad camera, it sounds like the perfect phone for outdoor junkies, but could it really be true?
Motorola specifies that this phone will withstand repeated drops up to 1.8 metres, or 5.9 feet, and can handle being submerged in water no deeper than 1.5 metres (4.9 feet) for up to 35 minutes. Okay, so no beating it with a hammer or scuba diving with it in my wetsuit pocket, got it. It seems like it should be perfect for the kind of wear and tear it might see on a hike, where at most it would fall out of your pocket and into shallow water. I was skeptical, but curious, so I set off on the trail with a new Defy to put it to the test.
Motorola Defy rugged smartphone: on the trails
Now, I feel here I should preface all of this by saying that I was raised to tidy up after myself and look after my toys, and the thought of consciously dropping anything breakable makes me feel a bit queasy. I've never actually had a cracked phone screen owing to my extremely cautious handling of my possessions, so this experiment was as much a challenge to my character as it was to the phone's durability, but nevertheless I persisted.
I set off at dawn on a cold October morning and headed for the Whangie, which is a short but satisfying hike near Glasgow leading to some unusual looking rock formations that were formed during the Ice Age and seem to appear out of nowhere on an otherwise grassy hill. Lots of the hikes in Scotland are on soft, grassy terrain, so I thought the relatively hard, rocky trail here would be an excellent place to test out this drop-proof claim. It was also the first sunny day after several days of rain so I expected some good, waterlogged areas ideal for drowning a perfectly good phone in.
I arrived just after 7 am and there were already four or five cars parked. Super! Lots of people to see me dropping my phone over and over again. As soon as I set off along the trail I clumsily pulled the phone, which is a pretty sturdy-looking and heavy device, out of my pocket and gave it a half hearted drop onto a rock, just to start to train my nervous system for what I was about to do. The phone lay there at my feet, looking up at me, shiny and new and defiant.
I picked it up a little self-consciously, crossed a stone stile and a small stream, and started to head up the hill. Soon enough I passed another hiker who was coming down and having an extremely animated intellectual conversation with his yellow lab, which made me think perhaps a woman repeatedly documenting herself dropping a smartphone on a hike wasn't so conspicuous after all. I gave it a few more drops. Each time it gazed back at me, unphased, uncracked.
About a half mile in, as views of Loch Lomond started to open up, I passed a group of six women with about 10 medium to large sized dogs between them on their way down and I decided that was probably all the cars in the car park accounted for and I could experiment with a little more gusto now. Up ahead, I spotted a good sized puddle on the trail and grimaced as I lightly dropped the phone into the water and waited a moment or two before retrieving it.
Not only did it emerge unscathed and still functioning, I noticed that the water just seemed to bead on the surface so I didn't even really need to wipe it off. I kept going and after a mile and a half, reached the narrow corridor through the peculiar rock formations where there were lots of unforgiving surfaces upon which to end my smartphone's short and unusual life. I dropped it so it landed screen up, screen down and on every corner. The scratch resistant screen seemed to be, well, scratch resistant.
I continued on past the rocks to the highest point, where you can cross a broad moor and enjoy 360-degree views of Loch Lomond, the Highlands and the Campsies. Conveniently, the trig point had a concrete base so I tried another, more confident drop but my phone didn't seem to mind, and was maybe even a little obstinate at this point, so I went back to enjoying the view.
On my descent back through the rock formations, I dutifully tossed my phone onto some large, uneven rocky surfaces as I stopped to admire the sun burnished mountain view between two boulders. It landed face down and when I turned over I gasped at the sight of thin white crack on the surface! Then I peered closer and realised with a mixture of relief and disappointment that it was just a dog hair.
I brushed it off and headed downhill with one destination in mind: the small stream I'd passed over at the beginning of the hike that I was too nervous to put the phone in an hour previously. I was starting to feel like this phone might just be up to the task and so I was ready to do what no Type A person can comfortably do.
Arriving back at the small footbridge, I stood next to the shallow flow of water, took a deep breath in, and exhaled as I tossed my phone in with a splash. I stood there for a couple of minutes, looking at its screen with all its lovely apps begging to be opened, and weirdly expected a few bubbles to come out of it as though it was breathing its last breath. Then I fished it out, turned the screen off, turned it back on and entered my passcode. It sprung to life as if nothing had happened.
Now at this point, a really good question crossed my mind. Sure it turns on and off and lights up, but does it really function after this hellacious assault? I checked my komoot app, which happily informed me I'd completed my 3 mile hike. I opened the camera and snapped a pic of the valley and mountains spread out before me – it looked great. Then I called my doctor's office mostly because I was sure they weren't open yet and no one would answer. It rang through to voicemail. I went back to my car and used Google Maps to get me home, even though I've done the drive a hundred times before. It all worked.
So what's the verdict? Personally, I'm sold. I've long thought that smartphone manufacturers have an environmental responsibility to make their devices more durable, sustainable and adaptable. Hundreds of millions of them end up in landfills each year where they will never biodegrade. And on the micro level, I feel much more confident taking this out on a backpacking adventure than I do my iPhone XS.
If you are tired of taking a fragile phone into rugged situations, making regular pricey replacements, or living with a constantly cracked screen, this phone could be for you. Not only does it appear dirt, water and drop proof – bear in mind that this wasn't a scientifically rigorous test – I daresay it's teenager-proof too. And when you get home, if it's grimey from the trail, you can actually wash it with soap and water or hand sanitizer. It even comes with a handy carrying strap to reduce your chances of dropping it.
At a quarter of the price of a new iPhone, it seems to offer far more durability even against pretty brutal treatment. And let's face it, breaking your smartphone isn't just inconvenient and expensive, it's bad for the environment too. Investing in one of these will save you money in the short term and the long run, and protect the planet better too.
Here's where we tested the Motorola Defy rugged smartphone:
The Whangie, an odd-looking rock formation in Scotland, made a great place to test out the durability of this invincible smartphone.
All the latest inspiration, tips and guides to help you plan your next Advnture!
Julia Clarke is a staff writer for Advnture.com and the author of the book Restorative Yoga for Beginners. She loves to explore mountains on foot, bike, skis and belay and then recover on the the yoga mat. Julia graduated with a degree in journalism in 2004 and spent eight years working as a radio presenter in Kansas City, Vermont, Boston and New York City before discovering the joys of the Rocky Mountains. She then detoured west to Colorado and enjoyed 11 years teaching yoga in Vail before returning to her hometown of Glasgow, Scotland in 2020 to focus on family and writing.