Running and sciatica: does it have to stop you in your tracks?
We speak to an expert on the matter of running and sciatica so you'll know exactly what to do if you start to experience that dreaded pain in the butt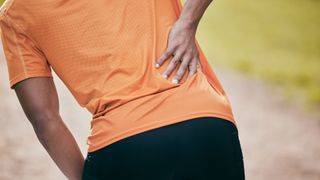 (Image credit: PeopleImages)
There are some tweaks and strains that you're probably willing to run through and others, like sciatica, that might make you stop in your tracks. Sciatica affects about 40% of adults in the US and the UK at some point in their life, so it's no surprise that lots of runners have questions about running and sciatica. Of course, you want to make every mile in your trail running shoes count, but particularly when it comes to back pain and running, the last thing you want to do is make matters worse and risk being sidelined for months, or longer. For this article, we spoke to an expert to get you some answers to your questions on running and sciatica, so you'll know exactly what to do if you start to experience that dreaded pain in the butt.
First, let's outline what Sciatica is. Sciatica is the term used to describe nerve pain from an injury or irritation to the sciatic nerve, which originates in your buttock/gluteal area and is the longest and thickest nerve in your body. According to the Cleveland Clinic, sciatic pain can range from mild to severe or even present as tingling, numbness or pins and needles. It can be felt anywhere from your hip all the way down the back of your leg to your foot and can be caused by a variety of factors such as a herniated or slipped disc, osteoarthritis, injury and Piriformis Syndrome, which is when a small muscle deep in your glutes becomes tight and presses on the sciatic nerve root. Sciatica is often treated at home with practices like foam rolling and in many cases, it goes away with time.
So, if you're a runner and you think you have sciatica, what can you do? We asked physical therapist and runner Ted Weber of Thrive PT in Vail, Colorado for his perspective.
1. Get a diagnosis
Needless to say, the first thing you're likely to do if you're experiencing pain down the back of your leg is to google your symptoms. However, once you've finished your consult with Dr Google, Weber urges you to get see a real medical provider for a proper examination and diagnosis.
"I honestly try to stay away from the term sciatica because it just kind of gets grouped with so many things. You can have pain down the back of your leg for a variety of reasons and a proper diagnosis is super important," says Weber, pointing to conditions like radiculopathy, caused by an irritation of a nerve root in the spinal column, and insertional hamstring tendinopathy, where the tendon gets compressed – both of which commonly show up as imposters in the sciatica world. These conditions have different causes, symptoms and approaches to treatment, so it's crucial to rule these – and any other causes – out before embarking on a program for sciatica. If you don't, you can end up trapped in a cycle of causing and reacting to pain that can have wider repercussions.
"Some of these conditions can be quite persistent and I think it's because people don't really suss out the drivers and instead they take a generic approach to treatment and end up with a chronic problem," Weber explains. "When that happens it changes the way your brain works. People's brains get sensitized, they start catastrophizing, they start fearing movement, they start anticipating pain and it becomes this whole kind of syndrome of pain that's much more difficult to treat."
2. Get to a physical therapist
If you do get a formal diagnosis of sciatica, it's going to be tempting to go back over to the internet and download yourself an easy-to-follow program for running with sciatica, but again, Weber advises you seek out individualized treatment from a physical therapist because, as with most medical conditions, not all sciatica is created equally.
"There's so many potential drivers that it takes a process to really figure out what's causing it. You have to look at what's provoking it," explains Weber, adding "It can be a function of distance, strength, gait mechanics and maybe just training errors like too much, too soon or the surface you're running on, so it's a case of finding out what's driving the pain."
Although common at-home treatments like stretching and hot/cold therapy may well provide you with some pain relief, that will only go so far if you're continuing to engage in the behaviors that are causing the problem in the first place, whether that's on the trail or at your desk.
Speaking of causes, a common question amongst runners with sciatica is whether or not their running could be the culprit. According to Weber, it's not a common cause, but it's possible.
"I've seen it on a very low level. I had this patient who would get this vague pain on the outside of her lower leg and it always happened after about seven miles of running," recalls Weber. After tests and examinations turned up no obvious clues, Weber got his client on a treadmill and observed that after seven miles, when she got tired, her left hip would start to drop and he postulated this was causing the nerve compression that was the likely explanation for her symptoms. In this instance, his suspicions seemed to prove correct – by doing strengthening exercises, her symptoms quickly cleared up.
Even if running is the cause of your symptoms, however, the good news is that you won't necessarily have to come screeching to a halt if you have sciatica, you just might need to slow down. In this case, the client simply ran six miles or less until her symptoms had cleared up, so she was happy and still got to engage in her favorite activity.
"My goal is always to get people running in some form or fashion. It's pretty rare that I tell someone to just completely stop. We just might modify how far and how much and maybe make some tweaks in how they're running," says Weber.
3. Get in shape
Finally, Weber encourages taking a preventative approach by training for running since many runners are, as he says, flat out weak.
"Most people run to get in shape, but what you really need to do is get in shape to run," says Weber, paraphrasing another physical therapist named Chris Powers. Basically, since so many running injuries are caused by weakness and range of motion deficits in the foot, ankle, knee and hip, Weber advises strengthening those areas by working with a trained professional on movements like squats, deadlifts, heel raises and strengthening your hips in abduction and extension. Progress from single plane movements to multi plane, and from double leg exercises to single leg, just do it all under the watchful eye of a movement therapist to make sure you're doing it correctly.
So, in conclusion, if you're experiencing symptoms like sciatica, get a formal diagnosis before embarking on any kind of training or rehab program. If you are diagnosed with sciatica, engage a physical therapist to figure out what's causing the problem and get a treatment plan to specifically target the cause. If you do all that, you should be able to keep hitting the trail in some capacity while you heal.
All the latest inspiration, tips and guides to help you plan your next Advnture!
Julia Clarke is a staff writer for Advnture.com and the author of the book Restorative Yoga for Beginners. She loves to explore mountains on foot, bike, skis and belay and then recover on the the yoga mat. Julia graduated with a degree in journalism in 2004 and spent eight years working as a radio presenter in Kansas City, Vermont, Boston and New York City before discovering the joys of the Rocky Mountains. She then detoured west to Colorado and enjoyed 11 years teaching yoga in Vail before returning to her hometown of Glasgow, Scotland in 2020 to focus on family and writing.