Running shorts versus skorts: which is best for trail running?
By Fiona Russell published
No one can accuse us of skirting around the big issues: here we pit traditional running shorts against the modern skort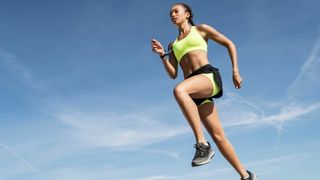 (Image credit: Getty)
In trail running circles, skorts are becoming a very familiar sight. A skort is a combination of shorts with a skirt over the top – and, from my research, it is an increasingly popular choice for female runners.
But why would women want to wear a skort, rather than a pair of the best women's running shorts? And, conversely, why do other women still prefer shorts over skorts?
Here we compare and contrast the relative benefits of shorts and skorts for female runners.
Running shorts versus skorts: head-to-head
Practicality
To be honest, there is not a great deal of difference between wearing shorts and skorts. When running, there is no major advantage to wearing either option, except perhaps someone might argue the aerodynamics is better with shorts, especially if you choose tight-fitting versions (as is the case with the best women's running leggings).
But, in trail running, aerodynamics are not typically a major factor. Occasionally you might feel a bit of a swish if the wind catches you skort, but unless you are at the top of a hill this is rare. (See note on "the uplift," below.)
Shorts and skorts both allow you to stride out with freedom, and the under-short (the tighter part of a skort) usually provides good support for muscles.
Many runners, both male and female, favor a double-layer short these days, with a tighter under-short, just like a skort, and a looser over short, similar to a skirt. So a skort is not a big jump from a pair of double-layer shorts.
Many shorts and skorts come with features such as zippered security pockets for keys and/or cell phones as well as other open-top pockets.
Skorts do have the advantage of having extra places for pockets, such as a side pocket on the under-shorts, as well as a zipped pocket in the skirt waistband.
Weight
Comparing the weight of shorts and skorts is not easy because it depends on the fabric and the size/length of the garment. However, it is likely that a double layer short or skort will be heavier than a single layer short.
Weight can also affect breathability because a heavier fabric may cause more sweating in warm conditions. On the whole, though, most shorts and skorts are made of highly breathable and lightweight fabrics, so weight and breathability are rarely too much of an issue.
Chafing
Many trail runners like to have some fabric coverage between their thighs. Even the most whippet like runners can end up with rubs and sores from sweaty skin on longer runs and a pair of tight-fitting shorts as a baselayer helps to reduce chafing.
Double-layer shorts and skorts can offer good protection from chafing, although, you could also wear a pair of tight Lycra shots and a separate pair of looser shorts over the top if you wanted to.
The best option is to wear shorts and skorts with a longer leg if you want to avoid inner thigh chafing.
Running shorts versus skorts: the long or short of it
Not all skorts and shorts are made the same. If you want to avoid the legs of the under-shorts riding up, it's a good idea to choose double-layer shorts or skorts with a longer leg.
Some people don't mind a shorter under-short leg because they prefer a brief style fit but this isn't for everyone.
To avoid any kind of potential for this 'riding up', you could simply wear a one-layer, looser-fit short with an internal brief, or simply your own underpants beneath your shorts.
The uplift
There are times when running in windy conditions that shorts might be an advantage over a skorts. A strong gust of wind can force the skirt to fly upwards. This is not much of an issue practically and it happens rarely but some runners might find this amount of flapping annoying.
In contrast, tight-fitting shorts or double-layer shorts will have less potential for wind disturbance!
It's a new trend
New trends are hard to ignore in the world of running, from new footwear (find plenty of examples in our buying guide to the best women's trail running shoes) technology to the latest GPS devices. It is the same with clothing trends. Double-layer shorts and skorts appear to be the new trend, although I did hear a rumor that we are about to return to the Seventies-style short, short shorts.
It's a bit different
For decades, women have worn running shorts. And why not? Shorts are practical and comfortable for running. But to now have the choice of a running skort as well as a running short is appealing. This would be likened to the choice Scottish men have between wearing trousers and a kilt on special occasions.
Body image
Many women are self-conscious about their physique. Plenty say they are not too confident about the butt, hip and thigh areas of their bodies. Of course, there is a whole other discussion to be had about why this should matter to them and what we can do to improve body image confidence. But this is why many women like a skort. While they want the support of a tight under short, they also like the way the skirt offers a cover-up, too.
Double-layer shorts can offer similar coverage but not to the same extent as a more flowing skirt line.
A longer short or skort is also an advantage for men and women who prefer thigh and skin coverage.
Some girls like to be girls
So, who wins the running shorts versus skorts contest? Given a choice between shorts and skorts, some women will choose the skort simply because it looks more feminine. In our opinion, there is no technical advantage to be gained by wearing either shorts or skorts, and it mostly comes down to personal preference. And how nice it is that females now have this choice.
Fiona Russell is a widely published adventure journalist and blogger, who is better known as Fiona Outdoors. She is based in Scotland and is an all-round outdoors enthusiast with favourite activities including trail running, mountain walking, mountain biking, road cycling, triathlon and skiing, both downhill and back country. Her target for 2021 is to finish the final nine summits in her first round of all 282 Munros, the Scottish mountains of more than 3,000ft high. Aside from being outdoors, Fiona's biggest aim is to inspire others to enjoy the great outdoors, especially through her writing. She is also rarely seen without a running skort! Find out more at Fiona Outdoors.
All the latest inspiration, tips and guides to help you plan your next Advnture!
Thank you for signing up to Advnture. You will receive a verification email shortly.
There was a problem. Please refresh the page and try again.