Running in winter: our tips for getting the most out of the cold season
We love running in winter just as much as summer, here's our guide to staying motivated and making the most of the colder weather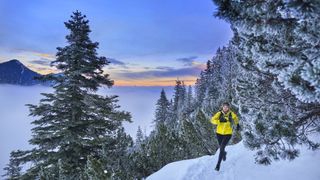 (Image credit: Getty)
Running in winter can be tough, we get it. When it's still dark outside and there's a hard frost, the thought of leaving your cozy abode isn't exactly tempting. But the rewards when you do get out there are often greater than in summer. Quiet trails, the crunch below your feet, the soft light and the awesome spectacle of snowy hills and frosted fields make winter a truly magical time for a trail run.

While the rewards are arguably greater, so too are the risks and the faff involved with getting out there. You're more likely to be running in the dark, slippery terrain is more common, the ground is usually holding more water, so it's not unusual to get back to your house or car with legs splattered with mud.
However, the sense of achievement when running in winter is great. Grabbing your trail running shoes and heading into a wintery wonderland is undoubtedly an adventurous way to spend a few hours and returning to a warm house, a hot brew and a wonderfully steaming shower is all part of the experience.
Of course, you've got extra bits and bobs to carry in your hydration pack, so winter trail running can often feel more like going for a really fast hike, rather than the super lightweight runs you might attempt in summer. But summer is summer and winter is winter and there's no reason not to enjoy both to the maximum. Here's our guide to doing just that:
Running in winter: layer up
As the Norwegians say, there's no such thing as bad weather, only bad clothing. Nowhere is that more applicable than with winter running. Under- or over-dressing can make or break your enjoyment, so practice a good layering system.
Most of your focus should go to keeping your core warm. Invest in a good base layer or two (you'll need to rotate them). Merino wool is one of the best fabrics to go for in this regard, because it naturally wicks moisture away from the body, keeps you warm when it's cold and cool when it's hot, and has anti-bacterial qualities that mean it won't start to stink after a few runs. There are plenty of good synthetics that will do the trick, too, but these are far less environmentally friendly.
On top of the base, include a nice outer shell running jacket to guard against the elements, add a hat or ear warmer, some gloves, and a decent quality pair of tights to the mix. A pair of light wool socks are smart as well, keeping your feet warm and dry.
Running in winter: chase the sun (if you can)
At the moment, with many people working remotely from home, you might have a more flexible schedule. If that is the case, organise your runs for lunch time, when the sun is highest and warmest. Not only will it feel good, but it will help chase away any winter blues you might be experiencing due to the shorter days and lack of light.
Running in winter: gear up
If you're heading out pre-dawn or in the evening, don't forget to light up in a different way, with a head lamp (check out our guide to the best headlamps you can buy) and reflective gear. Seeing and being seen should be your twin goals at this time of year.
Invest in a good, lightweight headlamp that has been designed with night runners specifically in mind, so the weight is well distributed, the beam options include flood and spot, and the angle of the lamp is adjustable.
If you run somewhere that sees a good deal of ice or snow, another gear essential is a pair of traction devices. Slip them right over your shoes and head out without fear of slipping and sliding.
Running in winter: enjoy the break from the heat
You may think you don't enjoy running in the cold, but take a minute to rewind to the hot, humid days of summer. Winter running is so much better, it really is. Your pace might feel easier, you won't need to seek out the shadiest routes, and you'll finish energised, rather than drained.
The trails will inevitably be a bit quieter too, and it's always nice to be out among nature on your own. Keep your eyes peeled and your ears open for the different wildlife that emerge at this time of year, such as the hauntingly beautiful hoots of owls. Full moon runs in winter can be spectacular, and when you get home, award yourself with a warming treat like a hot chocolate as a recovery brew.
Still a sceptic? Give it a couple of consistent weeks – we're pretty sure you'll make it a habit.
All the latest inspiration, tips and guides to help you plan your next Advnture!
A US-based freelancer with a penchant for dirt, when she's not writing about the outdoors, Amanda is in it, running trails with two-legged and four-legged friends alike. You can find her work in the Washington Post, Outside magazine, REI's Co-op blog and many other outlets. Visit Amanda's website to read some of her latest pieces.