Would you spend a night alone in Scotland's most haunted Highland bothy?
Ahead of Halloween, Columbia challenged a hiker to solo trek in and brave a night in Ben Alder Cottage, a ghostly shelter in one of Britain's most remote corners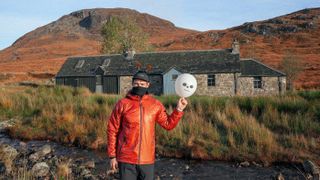 (Image credit: Chris Knight)
Tucked away in the shadow of Ben Alder, a 3,766ft Munro towering between Loch Ericht and Glen Spean in the Scottish Highlands, Ben Alder Cottage is a notoriously haunted homestead with a dark history. Long ago abandoned, this idyllic looking former homestead is used by mountain moochers and hill walkers as a bothy (the name given to free-to-use shelters found scattered through the Scottish hills).
Only the hardiest of hikers are likely to make a temporary home in this particular Highland bothy, however. To get there via the shortest route possible, you must take on an eight-and-a-half-mile hike with two river crossings, and there are no settlements or signs of life for many miles around. But it's not the remoteness that puts most people off. It's the chilling stories told by others who have attempted to sleep there.
One oft-told legend claims the cottage is haunted by its original resident, a ghillie (Highlander) called McCook, who allegedly hanged himself by the front door. And myriad occasions of strange goings on and unexplained noises have been described by explorers who have sought refuge here, including footsteps and groans, old-fashioned music playing in one of the unoccupied rooms, and even a packet of biscuits being flung from the mantelpiece across the room.
Ahead of Halloween, outdoor brand Columbia challenged one brave outdoor content creator and The Hike Society ambassador, Chris Knight, to strap on his best walking boots and venture alone into the wild hills, to spend a lonely night in the UK's most haunted bothy, with only a sleeping bag and an Omni Heat Infinity insulated jacket to calm his quaking.
Describing the trip, Chris said: "Ben Alder is renowned as being the haunted bothy, and having done plenty of research on the bothy's chilling past I had already started to creep myself out before I had even set foot in the place.
"The isolated nature of the bothy's location would be enough to put most people off, its sat in the shadow of a 1,147m mountain and is 14km from the nearest road.
"There's no phone signal and you have to trek across wild moorland to reach it. After leaving my car, I didn't see or hear a single soul for the 30 hours I was off-grid.
"As with most bothies, it lacks basic amenities, it has no running water, electricity, or a toilet.
"It also only had three small windows, so it was pretty much dark even during the day'" Chris continues. "The only light comes from a torch or a lit flame.
"The solitude also means you become sensitive to every creek, howl, and rustle that's through the night. Despite sleeping with earplugs in, I could still hear strange unexplained noises, which I definitely didn't want to go investigate.
"Whatever it was, one thing's for sure, I won't be rushing back in a hurry."
All the latest inspiration, tips and guides to help you plan your next Advnture!
Author of Caving, Canyoning, Coasteering…, a recently released book about all kinds of outdoor adventures around Britain, Pat has spent 20 years pursuing stories involving boots, bikes, boats, beers and bruises. En route he's canoed Canada's Yukon River, climbed Mont Blanc and Kilimanjaro, skied and mountain biked through the Norwegian Alps, run an ultra across the roof of Mauritius, and set short-lived records for trail-running Australia's highest peaks and New Zealand's Great Walks. He's authored walking guides to Devon and Dorset, and once wrote a whole book about Toilets for Lonely Planet. Follow Pat's escapades on Strava here and instagram here.