Ski towns are full: why we can't all just move to the mountains
The rise of remote work has made finding housing in a ski town more difficult than ever – we speak to locals about what moving to a ski town really entails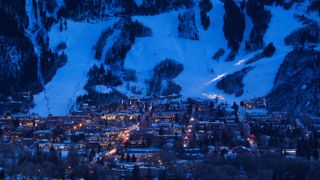 (Image credit: Walter Bibikow)
So you're a weekend warrior and you want to move to a ski town. Hey, post ski season wanderlust happens to the best of us. While those who live in ski towns can't wait to shed their ski jackets and escape to Moab or Mexico come the spring for some T-shirt weather, city dwellers start dreaming about a move to the mountains. Perhaps you're lamenting all the powder days you missed because the interstate was closed due to a blizzard, or maybe work got in the way of you skiing as much as you'd have liked to. If only I lived in a ski resort, I could ski every day, you think, mournfully eyeballing your barely-touched ski pants.
No one would blame you for the impulse. More people are seeking a better work/life balance for starters. I did it myself, 14 years ago, escaping the heat and bustle of New York City for the resort life of Vail. Living in a city, even one such as Denver that has easy access to a plethora of resorts, means you're pretty much always a day late and a dollar short for any big storm. Between proximity to the slopes and a more laidback culture, living in a ski town means you can ski every day, and explore the mountains in your hiking boots and on your bike during the summer months. The move towards remote work that the pandemic shepherded made it easier for urbanites to move to more rural areas, and many took advantage of the situation, racing to fill empty dwellings recently vacated by resort workers who had been laid off and headed home for lockdown.
But now life is moving back to normal, ski resorts are operating at capacity again, and a problem that existed long before Covid is even uglier than before. There's nowhere to live, what rental opportunities there are have gone from extortionate to astronomical, and even long time locals are getting priced out.
"If you're someone who's making enough money to survive – let's just say somewhere between 50 to 100k – you can't survive in the mountains," says Evan Soroka, who has learned this lesson the hard way in recent years.
Soroka is a resident of Aspen, where the lack of affordable housing is the biggest problem facing the city council. She grew up there and, after leaving home as a young adult to travel abroad, she returned to the ski town in 2010. Even as a well-respected yoga teacher (she's the author of the book Yoga Therapy for Diabetes) she found she'd already be priced out of the rental market entirely, if it weren't for a subsidy available to locals below a certain income threshold. This allowed her to get a small but lovely one-bedroom apartment, just outside of town, where she lived for about eight years. When she met her now-husband, it became their home and with her teaching salary and his private chef income, they were able to make it work.
During lockdown, however, their longtime living situation became untenable. Their landlord, who had mental health issues, grew increasingly abusive. In another place and at another time, Soroka and her husband would simply have gone on Craigslist and found another apartment, but these days, that's no longer possible. First, prices have gone crazy since the pandemic.
"The rentals that are out there are just way beyond anyone's scope of being able to pay for anything. We were really, really struggling. We were being priced out of rentals, like, anywhere you'd want to live. A one bedroom or studio was like $5,000."
When she tells me this, I can barely believe my ears, and it's not because I'm foreign to the cost of living in the Rockies. As recently as 2018 I recall paying $1200 a month for a stuffy basement studio lock off in a town near Vail. Aspen was always pricier, but is it really possible that in just five years, they could have quadrupled? I pull up Craigslist and quickly search for rentals in Aspen, and it's impossible to tell because there's nowhere available in Aspen and all the "affordable" places (i.e. under $2,000 per month) are actually in Frisco – a three-hour drive away.
So assuming you're looking at $5,000 a month for a small rental unit, and assuming you, like Soroka, have a partner that can halve the bill with you, you'll need to be able to afford $2,500 a month. If you live by the rule that your rent shouldn't be more than 30% of your income, let's hope you're making upwards of $90,000 a year. More if you're single. At that rate, I can't help but wonder, wouldn't you prefer more than a well-worn studio outside of town? Suddenly, a nice home in the city, a ski pass and the occasional long drive to the mountains for ski weekends is starting to seem more appealing.
Now you might be thinking, perhaps you'll qualify for some of those rental subsidies that Soroka mentioned she benefited from, but here comes the second problem – the maximum income you're allowed to earn hasn't risen with the cost of living, so Soroka found that even though she and her husband were making a relatively good living, they were stuck between a rock and a hard place.
"The qualification rates have stayed the same, as in the money that you have to make, but people are making more because they have to make more to live here, and what's happening is that your average person doesn't qualify for the subsidized rentals."
In other words, they were still struggling to make ends meet in a pricey town like Aspen, but made too much to qualify for any help. Worse still, even though she notes that more housing is in dire need, the situation with the subsidies means there may be properties lying empty that could be homes for locals.
"Many of those rental properties are actually vacant, because not enough people are qualifying, because they're making too much," shares Soroka.
A bureaucratic nightmare, to say the least, and one that left the couple willing to put up with a living situation that they wouldn't otherwise have tolerated.
"We were so desperate to stay because the market was just getting so crazy. We were willing to put up with his mind games for years," she recalls.
Why not just leave? Aspen is lovely but there are lots of lovely places you can live that are cheaper (though, she assures me, those nearby towns like Basalt and Carbondale where people used to go for cheaper housing are no longer affordable either). But remember, Soroka is from here. Her family still lives here. Her husband has been here 20 years. Now that these ski resorts have been in operation for decades, you actually get adults who were born and raised in them, and don't want to cede their town to incoming skiers with high salaries and a laptop. Is it really so unreasonable that she should want to stay?
"I love living here. I mean, my family's here. This is my home. It's where I grew up. I don't want to lose that or leave."
In the winter of 2021, the landlord finally succeeded in evicting them after two years of misery, but fortunately, Soroka's story has a happy ending – one which she credits with a bit of luck and having strong local connections. Her husband's client let them stay in his property for the summer to buy them time, during which they won a local housing lottery after a year on the waiting list and now own a two-bedroom apartment.
"We won a great place. So the really positive spin on the story is that the safety net was there, it caught us. It's still expensive still, and challenging, but we won a great apartment, and it's ours now, and we're here and that feels good."
But to get here, some big sacrifices have still had to be made. Namely, Soroka had to change careers. She didn't have time to go back to school and retrain, but she took a short online training course through Cornell in digital marketing, and along with her experience in social media was able to get a marketing position with a non-profit. She says she's thriving now, but that doesn't mean it's smooth sailing or easy.
"I would say about 50% of my income is just paying for my mortgage. And that's splitting it with my husband. I think nationally, what I get paid is great, but compared to what it costs to live here, it's not great, so I've had to take up a lot of extra jobs on the side, just to get by."
Soroka also notes that any restaurant that isn't part of a major chain that can ship employees in and provide them housing is struggling in Aspen, and people she knows are getting priced out, and leaving.
So, should you really move to a ski town just because you love skiing? From personal experience, I can attest that living in a ski town has always been tough, so you'd better have some grit. Wages tend to be lower, work is seasonal and new housing is limited by the topography. City workers tend to have higher salaries, of course, and with remote work options you might well be better poised than a liftie or a server to make ends meet here, but you also might be contributing to the problem, taking up housing that's needed for the people required to keep the cogs turning. That said, Soroka is quick to qualify that it's local bureaucracy – and not ski bums – that is at the root of the housing crisis.
"I'm less concerned about the people that are moving up, because I feel like a lot of times, those people are just seekers, and they're just trying to see what the latest place is like, and in the fall they'll move to Portugal or something. I think the people that come and are really gung-ho about living here and being a part of the community here, there needs to be a greater safety net for them."
But whether you're causing or adding to the problem, the evidence shows that it is indeed a problem. Yvonne DeGorter owns a yoga studio in Eagle, Colorado, less than two hours from Aspen and describes similar issues, not just with finding a place to live with her two young children after her divorce, but with how the housing situation is impacting her business.
"I have lots of people call to cancel memberships these days because they can't afford to live here or they can't find housing."
Her studio and town serve a different resort, Vail, which has its own well-documented housing crisis, with chronic problems finding accommodations for seasonal workers, to the point that they're reportedly in talks to redevelop their own post office to make more room.
You might be able to afford to live in a ski town, but the ramifications of it being unattainable for most are far-reaching. Even if you can buy yourself a mansion, if small businesses can't survive, where will you go out to dinner or take a yoga class? The advent of delivery services like Amazon and online yoga subscriptions have made living in the mountains more accessible, but only up to a certain point. After all, if everyone needs to make close to $100k to live here, who will run the ski lifts you so desire to ride? If you tear your ACL skiing, who will take care of you in the hospital? Who will teach your kids? And even if you make it all work, how will it feel when all your friends get priced out and move to the city.?
Maybe, just maybe, it's okay to be a weekend warrior.
All the latest inspiration, tips and guides to help you plan your next Advnture!
Julia Clarke is a staff writer for Advnture.com and the author of the book Restorative Yoga for Beginners. She loves to explore mountains on foot, bike, skis and belay and then recover on the the yoga mat. Julia graduated with a degree in journalism in 2004 and spent eight years working as a radio presenter in Kansas City, Vermont, Boston and New York City before discovering the joys of the Rocky Mountains. She then detoured west to Colorado and enjoyed 11 years teaching yoga in Vail before returning to her hometown of Glasgow, Scotland in 2020 to focus on family and writing.