Sleeping bag comfort rating explained
Understand what your sleeping bag comfort rating actually means so you can select the ideal one for your romps in the wild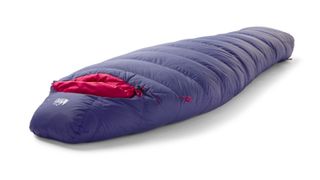 (Image credit: REI)
If you're hunting for the best sleeping bag, you should have one primary objective: get the most comfortable one money can buy. You may have noticed that sleeping bags come with a comfort rating, but what does that sleeping bag comfort rating actually mean? Does it refer to how much padding it provides between you and the ground? How warm it keeps you? How easily you can roll over in the night (essential if you're camping as a side sleeper)? Or a combination of all of the above? In this article, we explain what your sleeping bag comfort rating means so you can select the ideal one for your romps in the wild.
What does comfort rating mean on sleeping bags?
Getting a good night's sleep at camp is key to ensuring you have the energy and positive mindset you need for the following day's adventures, and while it's not as easy as when you're in your own bed, the right sleep system can definitely make or break your chances of sleeping soundly.
Your sleeping bag works in conjunction with your sleeping pad to perform insulation and provide comfort. Since you don't have your usual bricks, mortar and central heating to keep you warm, you'll lose body heat quickly when you're camping, even if the temperatures are relatively mild. Insulation layers help to keep your body heat in, and the colder the overnight temperatures, the more insulating power you need. Clearly, you need a sleeping bag that's warm enough to be comfortable, but on the other end of the spectrum, you don't want one that's too warm either. This is where your sleeping bag comfort rating comes in.
The temperature rating on your sleeping bag is determined in a lab setting, where each bag is tested with a dummy in the same conditions, such as wearing the same base layers and at the same temperature. Sleeping bags are not required to be tested in this way, but if they have been, it will be indicated as an "ISO" or "En" temperature rating. If you see two sleeping bags made by different brands that both have the same ISO or En temperature rating, you can consider them more or less comparable. However, this scenario doesn't actually account for all the possible variables, such as what kind of base layers you're wearing, the R-value of your sleeping pad, the outside temperature and whether you're a warm or cold sleeper, so consider it a guesstimate at best.
The comfort rating on a sleeping bag is the rating that's more commonly used on women's sleeping bags and it indicates the temperature at which you're likely to be the most comfortable, rather than being the minimum or maximum temperature at which the bag should be used. Men's and unisex sleeping bags, on the other hand, may instead display a lower limit rating, which indicates the lowest temperature at which the user might still be comfortable, and you'll notice this is usually a lower temperature than the comfort rating on a women's bag. This disparity is down to many brand's assumption that most women are cold sleepers, and you can learn more in our article on women's vs men's sleeping bags.
How to choose a sleeping bag by comfort rating
First, you need to know the minimum temperature you're likely to be sleeping in. Then you'll want to choose a bag with a comfort rating that's about 10° lower than that to account for variables in conditions as well as your gear and for the fact that many brands will round their temperature ratings up or down to be a multiple of five. Basically, being slightly too warm is not such an issue because you can always unzip your bag and stick a leg out to cool off, but shivering the night away is uncomfortable, if not dangerous.
Temperature is very important when it comes to your sleeping bag, but it isn't the only factor that plays into your decision. You also need to understand details like the different types of sleeping bag so you choose one that's the right shape for your sleeping style, and the differences between the fabrics and fill used, so make sure to read our article on how to choose a sleeping bag to make the best decision.
What is the extreme rating on a sleeping bag?
Finally, one more rating that sometimes shows up is an extreme rating. This describes the absolute minimum temperature you can survive in a sleeping bag without succumbing to hypothermia. At that temperature, you wouldn't actually expect any comfort at all or even to sleep, and it is not advised to use a sleeping bag in these conditions unless it is a last resort in an emergency situation.
All the latest inspiration, tips and guides to help you plan your next Advnture!
Julia Clarke is a staff writer for Advnture.com and the author of the book Restorative Yoga for Beginners. She loves to explore mountains on foot, bike, skis and belay and then recover on the the yoga mat. Julia graduated with a degree in journalism in 2004 and spent eight years working as a radio presenter in Kansas City, Vermont, Boston and New York City before discovering the joys of the Rocky Mountains. She then detoured west to Colorado and enjoyed 11 years teaching yoga in Vail before returning to her hometown of Glasgow, Scotland in 2020 to focus on family and writing.