Sleeping bag temperature ranges explained
Sleeping bag labels can display a bewildering amount of information. This guide to sleeping bag temperature ranges will ensure you choose what you need for the conditions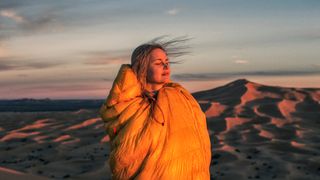 (Image credit: Getty)
Understanding sleeping bag temperature ratings is important.
At home, trial and error over hundreds of nights help us set the central heating to the right level, use a duvet with the best tog value, and throw on any extra blankets we might need. But outdoors we neither have control over these variables nor multiple solutions lined up either to offer more warmth or to help regulate our temperatures on sultry, stifling evenings. Instead, the humble sleeping bag has to perform all of these roles with no more than a zip to trap or spill heat.
So when you're choosing a sleeping bag it's critically important to make sure you're sleeping bag's temperature rating is appropriate to your adventure.
And the good news is that there is now a very clear guide. In 2005, a European Norm was established as a standard by which sleeping bags were tested, and in 2017 that was updated to become the International Standard (ISO), under which sleeping bags are independently tested, so campers can compare like-with-like.
ISO 23537 establishes the range of nighttime air temperatures (measured outside the sleeping bag) at which the sleeping bag will work effectively. This range is typically illustrated in a color chart, running from red at the hottest, through amber and yellow to blue at the coldest. The maximum temperature, or upper limit, is the warmest at which an adult male can have a comfortable night's sleep without excess sweating.
Comfort
The key sleeping bag temperature rating is called 'Comfort', which establishes the lowest temperature at which a camper, sleeping in a relaxed position, such as lying on their back, is 'globally in thermal equilibrium' – ie not feeling cold.
Limit
The ISO also sets a 'Limit' sleeping bag temperature rating, at which a sleeping bag user in a curled-up position is 'globally in thermal equilibrium' and just not feeling cold.
Extreme
The 'Extreme' sleeping bag temperature rating is only for survival without suffering frostbite, and shows the lowest temperature at which a sleeping bag may prove effective, even if this very low temperature still involves the risk of hypothermia.
Obviously, we strongly recommend choosing a bag that will keep you comfortable.
It's important to note that the ratings apply to adults only – ISO says it would be unethical to expose children and babies to such tests. Nor do the ratings apply to sleeping bags designed for extreme climate zone conditions.
If you're unsure of the lowest nighttime temperatures you are likely to encounter on your camping adventures, there is also a more generic labeling system, based on the seasons. Depending on the sleeping bag manufacturer and retailer, there can be as many as six seasons in a four-season year.
One-season sleeping bags
One-season sleeping bags are for mid-summer camping at low-level altitudes, and for tropical travel. They are also good for sleepovers at home. Guides vary, but think temperatures of at least 5°C/41°F.
Two-season sleeping bags
In theory, the operating zone for two-season sleeping bags stretches from late spring to early autumn/fall in the UK, but this window narrows if you're wild camping in the mountains, where temperatures can plummet overnight. A rough outside temperature guide would position the limit of two-season sleeping bags for nights of 0/32°F to 5°C/41°F.
Three-season sleeping bags
Designed to keep you warm from early spring to late autumn/fall, these sleeping bags are suited to committed campers happy to be under canvas on frost-free nights when the mercury slips as low as -5°C/23°F.
Four-season sleeping bags
These sleeping bags are insulated to keep you warm in winter at lower levels, typically to temperatures as low as -10°C/14°F. They will also cope with three seasons at higher mountain altitudes, which can become bitterly cold at night.
Five-season
Expeditions to the world's coldest climes, whether high-altitude mountaineering or even to the poles, demand the exceptional insulation of five-season (also known as four-plus season) sleeping bags to contend with temperatures as low as -40°C/-40°F. Five-season sleeping bags have the highest grade construction and insulation.
After spending a decade as editor of Country Walking, the UK's biggest-selling walking magazine, Jonathan moved to edit Outdoor Fitness magazine, adding adrenaline to his adventures and expeditions. He has hiked stages or completed all of the UK's national trails, but was once overtaken by three Smurfs, a cross-dressing Little Bo Peep, and a pair of Teletubbies on an ascent of Snowdon. (Turns out they were soldiers on a fundraising mission.)
All the latest inspiration, tips and guides to help you plan your next Advnture!
Thank you for signing up to Advnture. You will receive a verification email shortly.
There was a problem. Please refresh the page and try again.