Types of sleeping bag: which shape is best for you
Explaining the eight main types of sleeping bag and which will work best for your adventure type and sleeping style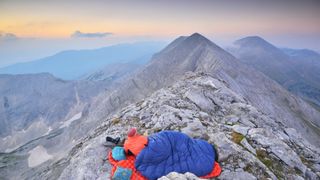 (Image credit: Maya Karkalicheva (Getty))
Many variables come into play when deciding which types of sleeping bag will be best for your activity, sleeping style, body shape, and the conditions in which you plan to do your camping.
Once upon a time, buyers in the market for a nighttime nest for backcountry adventures had very few options to choose from when it came to the design of the bag. Luckily, times have changed, and we can now choose from multiple types of sleeping bag to ensure we get a more dialled-in and customised fit.
While we cover most of these in our articles on how to choose a sleeping bag, down vs synthetic insulation, and explainer on sleeping bag temperature ratings, finding the perfect sleeping bag for your backcountry MO and nocturnal nuances also hinges on choosing the right sleeping bag shape.
There are, broadly speaking, a total of eight different types of sleeping bag out there as regards shape and design, each of which brings something a little bit different to the table and has various advantages and disadvantages for different activities and sleeping styles. To help you find the best one for you, this article will take you through all the ins and outs of each style.
8 types of sleeping bags
Rectangular sleeping bags
This type of sleeping bag, as the name suggests, uses a non-tapered, right-angled design with a full or half-length zip on one or both sides. The main benefit to this design is that it allows you to shift around freely inside, much as you would under your quilt or duvet back home. This makes it less restrictive and less conducive to claustrophobia than other styles of bag, and usually a more comfortable option for both tossers and turners, and side-sleepers.
So why aren't we all sleeping in rectangular bags? Well, sleeping bags insulate by trapping in the heat produced by our bodies. Because the design of a rectangular bag leaves more "dead air" (unoccupied space) for our bodies to heat, they are less thermally efficient than bags with a tighter, form-hugging fit. And because the extra fabric used around the shoulders and footbox usually makes rectangular bags a little heavier, most models also have a fairly poor warmth-to-weight ratio.
Given the above, this style of bag is a good bet for warm-weather car campers and those who tend to wriggle around a lot while catching their z's, but not ideal for cooler conditions or gram-counting campers who anticipate putting in plenty of miles on the trail before pitching their tent.
Semi-rectangular sleeping bags
This style of sleeping bag provides a kind of happy medium between a mummy-style sleeping bag and a rectangular sleeping bag, using a slightly tapered shoulder area to prevent draughts sneaking in at the collar whilst providing a little more room than mummies around the feet. These attributes make semis a good option for campers who need a little more warmth than a rectangular bag but who aren't keen on the restrictive feel of a mummy.
Mummy-style sleeping bags
Mummies are by far the most popular of all types of sleeping bag out there, mainly thanks to their excellent warmth-to-weight ratio, low bulk, and ability to create a draught-resistant, cosy cocoon that optimizes warmth in cool conditions.
Mummies use a highly tapered, streamlined design that has a snug fit around the feet, a little more width in the hip and shoulder area, and a hood that can be cinched closed to let you "batten down the hatches" and maximise heat retention when temperatures are particularly low.
The tapered design of mummies also means that less fabric goes into their construction, which makes them more lightweight and more packable than most other types of sleeping bag. And because there's less dead air for your body to heat inside the bag, mummies are also much more thermally efficient than their looser-fitting peers.
The main – and perhaps only – criticism of mummy bags is that the form-fitting design can feel restrictive. Nevertheless, if you're camping in 3-season or 4-season conditions, this is a small price to pay for the cosiness and warmth they offer in return.
Double sleeping bags
Designed to fit two adult sleepers, double sleeping bags are ideal for camping trips with a loved one or a (very) close friend.
While a few exceptions exist, double sleeping bags mostly come in rectangular form, meaning they offer oodles of space and freedom but lack the insulating capacity required for cool-weather camping.
Some double bags can also be converted into single bags courtesy of a midway zip, allowing you and your partner to part ways if having a tiff over who's responsible for the suboptimal pitching of your tent or things are a little too cosy for comfort.
Quilts
In recent years, the popularity of camping quilts had skyrocketed among car-campers, hammock users, and backpackers the world over. And it's easy to understand why. Compared to regular mummy bags, quilts are – for the most part – lighter, more versatile, more packable, more affordable, and, for some sleepers, a great deal more comfortable.
While sleeping bags fully enclose your body within the fabric, quilts use an open design that can be draped over your top and sides, leaving you with a lot more wriggle room and the ability to stick an arm, leg, or any other part of your anatomy out should things get a little too toasty.
Some quilt models come with straps or clips that can be attached to your sleeping pad or use integrated sleeves in which the pad can be inserted. This can make setup a little fiddly and more time-consuming, but it helps to ensure you don't roll free of the quilt's insulating embrace during the night and mitigates the problem of draughts sneaking into your set up.
Because most quilts are, essentially, sleeping bags without an underside or footbox, they're usually lighter and more packable than other sleeping bag types, but also less effective as regards heat retention. This makes them a good option for minimalist adventurers and anyone who finds the fit of a mummy too restrictive, but not the safest bet for cold-weather camping. That said, a handful of more recent models now let you enjoy the best of both worlds, using zips or cinches that allow you to convert your quilt into a temporary sleeping bag by closing the sides and footbox when need be.
Elephant's foot sleeping bags
These bags use the tapered, form-hugging design of mummy bags but, in an effort to reduce weight and pack size, forgo the hood and, in some cases, the shoulders and zips too. This may seem a particularly bad idea given that the intended core competency of any sleeping bag is insulation, but there's a degree of method to the madness. Elephant's foot bags (aka "half bags"), you see, are designed to be used in combination with an insulating mid layer or jacket. This set-up lets particularly fastidious gram-counters tick the sleeping-system box in the lightest way possible without necessarily compromising on warmth. It does, however, mean you'll need to have a beefy insulating jacket along for the trip.
Zipless sleeping bags
This new type of sleeping bag was initially intended to cater for the needs of side-sleepers but also works well for anyone who tends to move around a lot in their sleep or finds the fit of a mummy-style bag all too similar to that of a straitjacket.
As the name implies, these sleeping bags use no zip and instead rely on overlapping fabric or integrated comforters to keep cool air out and prevent body heat escaping. The main benefit to this style of bag is that it allows you to move around without getting tangled in the bag's fabric and to cool off quickly when need be. The downside is that it doesn't take too much tossing and turning to open the zip-free closure and leave yourself exposed to the cold.
Women's sleeping bags
Women's-specific sleeping bag types are those that provide a fit anatomically optimized for the female form. In most cases, this means a narrower fit around the shoulders, a wider hip area, and shorter sizes. While most men's or unisex sleeping bags are available in 6' or 6' 6" lengths, women's bags are usually also available in a 5' 6" length.
Because women are normally "cold sleepers" and require more insulation to stay warm at night, women's bags also typically use more insulating fabric to boost warmth. This can mean, however, that a shorter women's bag will weigh as much, if not more, than the men's version of the same type of sleeping bag.
Kieran Cunningham is a climber, mountaineer, and author who divides his time between the Italian Alps, the US, and his native Scotland.
He has climbed a handful of 6000ers in the Himalayas, 4000ers in the Alps, 14ers in the US, and loves nothing more than a good long-distance wander in the wilderness. He climbs when he should be writing, writes when he should be sleeping, has fun always.
Kieran is the author of Climbing the Walls, an exploration of the mental health benefits of climbing, mountaineering, and the great outdoors.
All the latest inspiration, tips and guides to help you plan your next Advnture!
Thank you for signing up to Advnture. You will receive a verification email shortly.
There was a problem. Please refresh the page and try again.