How to choose a sleeping bag: everything you need to ensure warm, cozy nights on your next camping trip
Knowing how to choose a sleeping bag is essential for any camping trip or epic expedition – this guide explains what you need to look for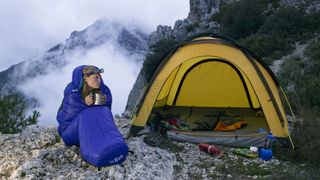 (Image credit: Getty)
How to choose a sleeping bag is a question that should cross the mind of anyone planning a night outdoors. Various factors will dictate what constitutes the optimum sleeping bag for you, from your budget through to your intended activity and the environment you're travelling into. After all, there's no point shelling out for a premium four-season down bag if you do all your camping during the summer months in temperate locations.
Regardless of whether you're pitching your tent, hanging a hammock or taking a walk on the wild side with a bivvy, a high quality, warm sleeping bag is essential. Also, different users have varying needs – a long-distance backpacker planning to thru-hike a trail in high summer can go for a very lightweight bag that delivers just enough warmth, while a cold-sleeping car camper might prioritise outright warmth over the need to save weight or minimise pack size.
So when considering how to choose the best sleeping bag, a good quality two- or three-season bag will be perfectly adequate for most people, but it's worth considering all of the following when you come to make your selection.
Here's how to choose a sleeping bag...
Keeping cosy
While other factors – such as breathability and wet-weather performance – may be a consideration, the primary function of a sleeping bag is to keep you warm. However, warmth is always balanced with weight and compressibility, since many users need their bags to be not only warm but also light and packable enough to take on a trip, whether they are bikepacking, backpacking, wild camping or climbing.
Most sleeping bags are given a season rating, indicating when they can be used throughout the year. A 3-season bag is suitable for spring, summer and autumn use, for example. In addition, most bags have a temperature range that includes an upper limit, a comfort limit, a lower limit and an extreme limit. The comfort and lower limits are the best indicators of a bag's realistic temperature range, but they should only be used as a guide.
Get your fill
The major factor affecting warmth is the fill, which will be either synthetic insulation or natural down (or sometimes a blend of the two). Just as with the best down jackets, generally down sleeping bags offer superior warmth to weight compared to synthetic fills. The warmth of down is measured in fill power, which grades the loft (fluffiness) of the down and indicates its insulating value. The higher the fill power, the more air a given weight of the down can trap. Sleeping bag down generally measures from about 500 up to 900 fill power or even higher. But in addition to fill power it is also important to note the total fill weight of a bag when assessing its overall warmth.
The major disadvantage of down is that its performance declines markedly if it gets wet. Moisture causes down clusters to collapse, so they can no longer insulate effectively. Synthetic bags, however, can continue to insulate even if they get damp, so are often a preferred choice when camping in wet weather. Synthetic bags are also generally more hard-wearing and easier to care for, as well as being cheaper.
To improve the wet-weather performance of down, some brands have now introduced 'hydrophobic' down fills. A DWR (durable water repellent) treatment is applied to the down clusters, making them more resistant to moisture. In addition, almost all modern sleeping bags have a DWR coating applied to the outer shell to help protect the fill from damp. Areas particularly prone to damp, like the base, foot and hood may have additional protection.
Ethics and sustainability
Ethical down is a big issue, and once you do start to think and learn a little more about it, there are some issues that can cause some discomfort in outdoor folk.
Some brands, such as Rab and Thermarest, used ethically sourced and certified down in their sleeping bags. Such sleeping bags should bear the Responsible Down Standard (RDS) logo. Knowing about ethical down and spreading the word
Design and features
Beyond fill, the design of the sleeping bag will influence its performance. A bag's features can increase its versatility for camping in variable conditions and different temperature ranges. In addition, some features have a major effect on the warmth of a sleeping bag.
The first consideration is the its construction. Most premium bags use a box wall construction, which traps the fill inside brick-shaped baffles. Larger baffles give more space for insulation to loft but can be prone to down migration (this is when the fill shifts around inside the bag, which can cause cold spots). So, smaller baffles can stop the fill from moving around, as can angled baffles and zoned construction (when different shapes and sizes or baffles are used, or where they are positioned in different ways).
Simpler bags generally use a stitch-through construction, which is not as thermally efficient but is an easier manufacturing method that can also save weight. Some synthetic bags use a baffle-free construction that instead employs a single sheet of insulation. This minimises stitching for improved durability and helps to reduce cold spots.
In the hood
Also look for a well-insulated, close-fitting and adjustable hood. This will really help to lock in heat. Hood drawcords enable you to cinch in and customise the fit around your face but ensure that they are comfortably placed and easy to use.
Similarly, a chunky neck or shoulder baffle helps to prevent warm air from escaping out of the top of the bag.
Zips and vents
A long zipper makes for easier entry and exit, and also provides ventilation in warmer weather, especially if it has two-way or even three-way zip pullers. However, a shorter zipper saves weight and reduces bulk, so is often a feature of ultralight bags. Many bags are also available with either left or right-hand zips. Though this is largely a matter of personal preference, if you are right-handed, a zip on the left side is generally easier to use and vice versa.
If you are a side sleeper, also think about which side you usually sleep on, as having a zip underneath you can be uncomfortable and impractical. Some bags have zips on both sides for additional ventilation and ease of use, meaning you can stick both arms out without having to get out of the bag – ideal for enjoying a morning coffee in camp. Zippers are notorious for letting in draughts or chills, so ensure that all zippers are backed with padded baffles.
The flipside to warmth, of course, is that in some cases you can overheat in a bag, which is almost as unpleasant as being cold. To mitigate this, many bags have vents or gills – usually at the foot end, but occasionally at the sides too – to help you cool down on warmer nights.
Comfort
Temperature control obviously plays a key part in comfort, but so does the cut of a sleeping bag. Many bags are available in different lengths or even widths, and there's a range of women's sleeping bags out there with female-specific fits. Check the specs of a bag to find out which is right for your height and body shape. Technical or 'performance mummy' bags are slim fitting and highly tapered for maximum thermal efficiency. Some may find them restrictive though, and may prefer a more relaxed shape, which gives extra wriggle room. Some bags are also elasticated to give you more room to move around, without reducing their effective warmth. There are also children's sleeping bags, designed for the little ones.
It is also worth investing in one of the best sleeping pads to ensure maximum comfort. If you're planning to camp on rough ground or in winter, a decent sleeping pad or mat will make all the difference.
Materials
Fabrics also affect how comfortable a bag feels. Shells and linings are usually made from ripstop nylon, though cheaper bags use polyester. Both are soft on the skin, but nylon is generally more durable as it is a stronger fibre for its weight.
Weight and pack size
Depending on your intended use, weight and pack size may be absolutely critical or less important. But, if you're fastpacking, a lightweight sleeping bag with a small pack size is easier to stash and carry around in your backpack. Most bags are supplied with a stuff sack, but these vary in quality. A stuff sack that is fitted with compression straps will really help to cinch down the pack size. Remember, however, that you can always buy a compression sack for your bag if necessary.
In addition to a stuff sack, many bags now come with a larger cotton storage sack that allows the bag to loft and breathe when not in use. This prevents musty odours and damage to the fill caused by long-term compression.
As a rule of thumb, a good 2-season sleeping bag should weigh under a kilogram (2.2lbs). You can find lightweight down three-season bags that deliver additional warmth for similar weight, but others may tip the scales at up to 2kg (4.4lbs).
Value
As with almost all outdoor kit, you'll need to balance price against performance. Value is somewhat subjective, but if considered in terms of lifetime use then a high-quality down bag can offer very good value, provided you take care of it – how to look after your down sleeping bag. That's partly because down tends to suffer less from long-term compression compared to synthetic fills. If cost is a restricting factor, however, then synthetic bags are generally cheaper and can still offer good overall performance, and in some cases come with only a minor increase in weight and bulk.
Sleeping bag prices vary widely. The cheapest bags start at around $30/£25, the most expensive might be $600/£500 or more. You can expect to pay more for more insulation, but you'll also pay more for sleeping bags that offer exceptional warmth to weight. Invariably, these will use down with an extremely high fill power (800FP or more). Lower grade down bags are cheaper, but usually still more expensive than a synthetic alternative. As always, shop around – you can almost always pick up sleeping bags for less than the RRP.
All the latest inspiration, tips and guides to help you plan your next Advnture!
An outdoors writer and editor, Matt Jones has been testing kit in the field for nearly a decade. Having worked for both the Ramblers and the Scouts, he knows one or two things about walking and camping, and loves all things adventure, particularly long-distance backpacking, wild camping and climbing mountains – especially in Wales. He's based in Snowdonia and last year thru-hiked the Cambrian Way, which runs for 298 miles from Cardiff to Conwy, with a total ascent of 73,700 feet – that's nearly 2½ times the height of Everest. Follow Matt on Instagram and Twitter.