What is hypothermia? Learn how to recognize and prevent it
What is hypothermia? We explain the signs, symptoms and risk factors of this hiking hazard, as well as how to prevent it on your cold weather expeditions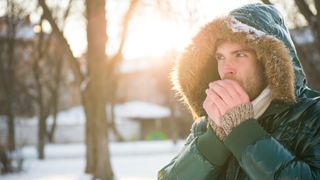 (Image credit: photosvit)
From dressing in layers to checking the wind chill factor before leaving the house, there are lots of winter hiking protocols that seem to revolve around making sure you don't get hypothermia. But what is hypothermia exactly, and why is it such a concern for outdoors lovers? In this article we explain what hypothermia is, how to spot it and how to prevent it from occuring when you're exploring in cold temperatures.
What is hypothermia?
Hypothermia is the medical term for a dangerous drop in body temperature which occurs when your body loses heat faster than it can produce it. Normal adult body temperature ranges from 97°F to 99°F (36.1°C to 37.2°F) and anything above or below that is life threatening. According to a study in Science Direct, hypothermia accounted for 5.2% of hiking fatalities in Switzerland over a 16-year period.
Like frostbite, hypothermia can occur when you are exposed to cold weather or cold water so it is a real concern whether you're winter hiking, wild swimming or enjoying winter sports like skiing and snowshoeing. Though we tend to imagine hypothermia as something that happens when you fall through ice or are trekking across a glacier, the truth is it can set in without arctic temperatures or any dramatic circumstances whatsoever.
In fact, according to the University of Michigan Health, there isn't a set temperature range within which hypothermia sets in. Hypothermia is possible in air temperatures of 50°F (10°C) in wet and windy weather, which doesn't sound particularly unusual at all for those of us who hike a lot. If you're wild swimming, you can become hypothermic in water that is 60°F (16°C), which is fairly common for lakes in the middle of summer in many northern climates. As it turns out, cold temperatures are only half the story when it comes to hypothermia, while factors like prolonged exposure, dehydration, over exertion causing excessive sweating and improper clothing are common culprits.
What are the symptoms of hypothermia?
If you're spending time outdoors in cold weather, it's important to be able to spot the signs and symptoms of hypothermia. According to the CDC, the symptoms of hypothermia can vary from person to person and include:
Shivering
Exhaustion
Drowsiness
Fumbling hands
Memory loss and confusion
Slurred speech
Though these symptoms on their own are not necessarily indications of hypothermia, if they're combined with exposure to cold temperatures, it's time to take immediate action to avoid cardiac arrest.
How do you treat hypothermia?
Hypothermia is a life threatening emergency and if you suspect you or someone else has hypothermia, you should seek immediate medical assistance. While waiting for help, you should get out of the cold if possible, remove any wet clothing and try to get warm by using blankets.
How can you avoid hypothermia on a hike?
As always, the best way to deal with hypothermia is to avoid it if you can. Plan ahead with these tips to avoid hypothermia on a hike:
Check the weather using a good weather app and pay attention to wind chill as well as temperature
Stay home or find another activity on very cold days
If you're venturing out, use the layering system to dress in breathable base layers and insulating layers with windproof outer layers
Cover your skin as much as possible with a pair of the best hiking gloves, hat and balaclava
Avoid excessive sweating which can dehydrate you and cool you down faster
Stay dry with a waterproof jacket and waterproof trousers
Avoid tight, restrictive clothing that might cut off your circulation
Hydrate well by always carrying a water bottle or hydration bladder and sipping even when you're not thirsty
Speak up straight away if you're experiencing any symptoms of hypothermia so others can help you
All the latest inspiration, tips and guides to help you plan your next Advnture!
Julia Clarke is a staff writer for Advnture.com and the author of the book Restorative Yoga for Beginners. She loves to explore mountains on foot, bike, skis and belay and then recover on the the yoga mat. Julia graduated with a degree in journalism in 2004 and spent eight years working as a radio presenter in Kansas City, Vermont, Boston and New York City before discovering the joys of the Rocky Mountains. She then detoured west to Colorado and enjoyed 11 years teaching yoga in Vail before returning to her hometown of Glasgow, Scotland in 2020 to focus on family and writing.