Sleeping pad R-values explained
Sleeping pad R-values are a key factor to consider when it comes to determining which sleeping pad will be best suited to your needs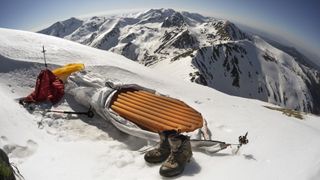 (Image credit: Getty)
The sleeping pad you choose to take on your camping trips could make the difference between a cozy, comfortable sleep or a night of tossing, turning, and cursing your decision not to spend your weekend snuggled up on the couch or have taken up, say, tennis or pilates rather than camping.
But what makes one sleeping pad more conducive to tossing, turning, and cursing than another, and what earmarks others as dead certs to deliver on the comfort and coziness fronts?
As covered more briefly in our guide on how to choose a sleeping pad, the metric you should be paying most attention to when looking for the best sleeping pads for your adventures are sleeping pad R-values. Like the temperature rating on the best sleeping bags or the season rating on the best tents, this will tell you more than anything about the performance you can expect from your pad and its suitability for camping in different conditions.
Sleeping pad R-values: what are they?
The purpose of a sleeping pad is twofold: to create a comfortable sleeping platform and to provide a layer of insulation between your body and the ground. While the comfort of a pad is determined by a number of factors and is largely subjective, a pad's ability to insulate is measurable. The way it's measured – and denoted – is using sleeping pad R-values.
The "R" in sleeping pad R-values stands for (thermal) "resistance," while the given numerical "value" reveals precisely how much thermal resistance the pad provides against conductive heat loss, which is the process whereby your body heat is lost through physical contact with another object (the ground, in the case of camping).
Sleeping pads for camping and backpacking generally have R-values ranging from 1 to 7, and the higher the sleeping pad's R-value, the more insulation – i.e. warmth – it will provide.
How sleeping pad R-values are measured
Standardized testing for sleeping pad R-values works as follows:
The pads are placed between a hot plate on top, which mimics the human body, and a cold plate below which mimics the cold ground at camp. Testers then measure how much energy the top plate uses to stay at its original temperature of 35 degrees Celsius – the more energy required, the less insulation the pad provides.
Sleeping pad R-values: what the numbers mean in practice
While R-values do not directly correspond to temperatures – as is the case with sleeping bags – they do give us a good idea of how suitable a pad will be for camping in different conditions:
R-value 1-2.5 Pads with this R-value provide minimal insulation and are recommended for summer camping only.
R-value 2.5-4 Recommended for three-season use.
R-value 4-6 Ideal for cold sleepers and winter camping.
R-value 6+ The best bet for use in more extreme environments.
The bad news is that sleeping pads with higher R-values tend to be far pricier than those with lower R-values. The good news is that, because R-values are cumulative, you don't have to buy a pad for every season. For example, if you have an R3 pad for summer but plan on camping in winter, you don't have to splurge on an R5 or R6 but can simply double up with another R2 or R3 on top.
As with temperature ratings on sleeping bags, we'd always recommend opting for a sleeping pad with a higher R-value than you think you'll need.
All the latest inspiration, tips and guides to help you plan your next Advnture!
Former Advnture editor Kieran is a climber, mountaineer, and author who divides his time between the Italian Alps, the US, and his native Scotland.
He has climbed a handful of 6000ers in the Himalayas, 4000ers in the Alps, 14ers in the US, and loves nothing more than a good long-distance wander in the wilderness. He climbs when he should be writing, writes when he should be sleeping, has fun always.
Kieran is the author of 'Climbing the Walls', an exploration of the mental health benefits of climbing, mountaineering, and the great outdoors.