Camp in comfort: 15 tips to get a good night's sleep
Our 15 tips on how to camp in comfort will make night's under the canvas every bit as comfortable as nights in your bed at home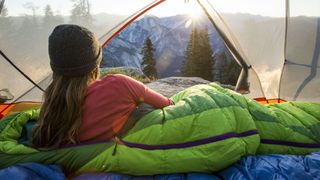 (Image credit: Getty)
Camping trips are supposed to revitalise us with long days in nature, an abundance of fresh air, and a healthy fill of outdoor exercise. All too often, however, many of us return from our overnighters in the wilds feeling more ravaged than rested, and maybe rueing our decision not to spend our weekend somewhere more conducive to a good night's sleep.
So how is a "good night's sleep" in the sticks achieved?
Well, having the best tents, best sleeping bags, and best sleeping pads your budget will stretch to is a good start, of course, but securing restful shut-eye under the stars also requires a little more in the way of nuance and know-how. To that end, we've composed a list of 15 must-know tips that will help you camp in comfort no matter when and where you're doing your camping.
Camp in comfort: out top 15 tips
1. Choose your pitch
Whether you're wild camping or at an established campsite, picking a level, sheltered pitch is vital if you wish to camp in comfort. Despite your roll mat's name, you don't want gravity to be rolling you off it, and nor do you want a blood rush to the head by sleeping downhill of your feet. Plus, a spot with short, dry grass will turn out to be warmer and more comfortable than a lush meadow that will be dew-drowned by dawn. And remember the fairytale about the princess and the pea (said pea kept the poor lass awake despite her deploying 20 mattresses) as you clear stones, sticks and pine cones before you lay your groundsheet.
2. Choose your neighbours
There's no exact science to identifying quiet neighbours on a campsite, but there are tell-tale signs of the campers to avoid. Those students with two slabs of strong lager are unlikely to be planning an early night, and nor is the family reunion with its terrace of tents. The endearing baby and toddler may be all smiles when you arrive, but chances are they'll be squawking at midnight. And as for the yappy dogs pegged outside a tent; are you sure they'll stop yapping when the sun sets?
It may be anti-social, but the quietest prospects are on a pitch that is slightly away from other campers and well away from the toilet block with its early hours' flushes.
3. Buy earplugs
Even the quietest campsites can seem loud when night falls compared to the silence of your bedroom at home. From hooting owls to wind whistling through leaves and branches, to the mysterious creaks, rustles and bangs of the great outdoors settling down for the evening, camping can be a noisy experience, so dull the sounds with a pair of earplugs. They're handy if your companion snores, too.
The combination of headphones and get-to-sleep or white noise apps can also help you to nod off, but only use these with wireless earbuds to avoid the choking risk of wires, and choose an app with an automatic cut-off so your phone isn't flat in the morning.
4. See where the sun rises
Tents soon turn into greenhouses in bright sunshine, so avoid an east-facing pitch if you want to avoid waking up boiled in your sleeping bag. West-facing spots may be hot in early evening, but if you leave the tent doors and windows open, they'll cool down as night falls.
An airline-style eye mask can also help you sleep as daylight pours through your tent walls.
5. Keep fly screens closed
There's nothing quite like the whine of a mosquito or the buzz of a cloud of midges to keep the zzzzs at bay, so keep your tent inner zipped up at all times, even if the doors are wide open.
6. Invest in a decent tent
To enjoy the full snug-in-a-bug comfort of camping, you'll need a tent that can stand up to the elements (for help with this, check out our guide on how to choose a tent. For extra peace of mind, a tent that separates busy living quarters from a calm, ordered sleep sanctuary is even better - you can find these in our buyer's guide to the best family tents.
7. Lie on a good mattress
Camping roll mats and mattresses serve two purposes: cushioned comfort; and insulated warmth. Put bluntly, the more material and air between you and the ground, the comfier and warmer you'll be, so never sleep directly on the ground (for more on this, see our explainer on sleeping pad R-values.
To camp in comfort when you're backpacking, choose an inflatable mattress that's as big and heavy as you're prepared to carry, and make sure it has no punctures before you set off, rather than discovering on site that it's going to be as flat as a pancake all night.
If you're car camping, a blow-up mattress may look feeble in the eyes of your grizzled, minimalist campsite neighbours, but it's you who will float off to sleep when you lay down your head. For extra warmth, use two roll mats or fold a blanket under your mattress.
8. Fashion a pillow
Car campers would be well advised to find space for their normal pillow amid their luggage; it's a home comfort that truly pays dividends. Backpackers should fill their sleeping bag's stuff sack with as much soft clothing as possible to create a makeshift pillow or invest in one of the best camping pillows featured in our buyer's guide.
9. Choose a warm sleeping bag
It can become astonishingly cold in a tent overnight, so err on the side of caution when choosing a sleeping bag; it's much easier to cool down than warm up in the early hours.
Sleeping bags all have temperature ratings, so make sure you take a sleeping bag that's well within the 'comfort' range for the temperatures you are likely to encounter. For more on this, read our explainer on sleeping bag temperature ratings.
10. Boost your sleeping bag
Fill your metal water bottle (Sigg bottles are brilliant for this) with boiling water about half an hour before you go to bed, and then stuff it into your sleeping bag. Not only will it take the chill off the bag, but it will still be warm enough to delight your toes or fingers when you slide into the bag.
11. Follow your normal routine
Yes, you're on holiday, but sticking to your normal bedtime routine (brush your teeth, pee, read a book) can hoodwink your body and mind into thinking that this is just another evening, and help you tumble into the land of nod without experiencing an up-all-night adrenaline rush.
12. Go to bed warm
To avoid chills and shivers as you go to bed, climb into your clean sleep clothes earlier in the evening. Put on your best base layers or pyjamas after your end-of-hike shower, and then pop your clothes over the top. Undress in your sleeping bag, so you retain as much warmth as possible during those early minutes in bed. Remember, your sleeping bag is an insulator rather than a heat generator, so the warmer you are when you climb into it, the warmer you'll stay.
Remember, too, that clean, dry socks and a beanie will keep your extremities toasty warm when the mercury drops.
13. Don't be a mean parent
Packing for a camping trip can be a stressful affair. The prospect of simple, stripped-back, living can seem very remote as you're filling the car's trunk, footwells, glovebox and roofbox with what looks like an impossible volume of non-essential gear. If it's any consolation, the more you camp the more you'll know what you really need, what's handy to have, and what's superfluous, but here's a tip worth a million zzzzs - The bedtime toy that your child cuddles every night, be it a teddy, old blanket or toy dinosaur, should always feature in the absolute essentials category. As with wedding anniversaries, forget it once and you'll never forget it again!
14. Heed calls of nature
If you or your kids need a pee in the night, there's no point staying awake and fighting the feeling. Either nip straight to the site's facilities, or build a toilet pod onto your family tent for the most convenient midnight wee. If you're very sure of your aim, male campers might think of keeping a large, empty bottle with a tight screw-lid by their roll mat, but be sure to point away from the sleeping bag when you relieve yourself.
Make sure you go to the toilet last thing at night, and keep a head torch handy in case you need to nip to the john in the dark.
15. Air your sleeping bag
In the morning, open all the doors and vents of your tent to let any condensation inside blow away, and unzip your sleeping bag and hang it up to air and dry. A damp bag will feel clammy and cold when you next get into it, hindering your chances of getting a good sleep.
All the latest inspiration, tips and guides to help you plan your next Advnture!
After spending a decade as editor of Country Walking, the UK's biggest-selling walking magazine, Jonathan moved to edit Outdoor Fitness magazine, adding adrenaline to his adventures and expeditions. He has hiked stages or completed all of the UK's national trails, but was once overtaken by three Smurfs, a cross-dressing Little Bo Peep, and a pair of Teletubbies on an ascent of Snowdon. (Turns out they were soldiers on a fundraising mission.)