Snowshoeing kit: a complete gear checklist for winter walks
Your snowshoeing kit should keep you warm on sub-zero days, dry in a powder dump and well protected from the glare of sun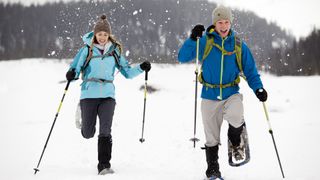 (Image credit: Jordan Siemens)
Snowshoeing may not require the specialized equipment of other winter sports like cross country skiing and snowboarding, but it still takes place in cold, snowy conditions and for maximum fun, you want to make sure you head out equipped with the best protective gear. Your snowshoeing kit should keep you warm on sub zero days, dry in a powder dump and well protected from the glare of the sun.
Snowshoeing is an excellent form of cardiovascular exercise and a great way to enjoy the beauty of winter and stay outdoors once the weather turns cold, but having the right kit makes the difference between experiencing the heart pumping euphoria of crunching through deep snow and feeling cold, miserable and discouraged. We outline a full snowshoeing kit checklist here so you can be sure you've got all the essentials and of course, you'll want to be sure to start with our article on how to choose snowshoes.
What not to wear snowshoeing
First stop: what not to wear. As in any winter sports, cotton is the enemy so avoid wearing clothes like jeans and cotton T shirts. You can read more in our article on hiking in jeans to find out why it's such a big no-no.
Also, if it's especially cold out you might be tempted to don your warmest down jacket, but this will probably cause you to overheat (snowshoeing is hard work!) and can restrict your movements.
Finally, you might want to avoid wearing ski bibs or overalls for the same reason – you'll overheat. Now we've got that out of the way, let's take a look at what should be in your snowshoeing kit.
Snowshoeing kit
1. Footwear
Despite their name, snowshoes are not shoes; rather, they are a type of wide, flat footwear that you attach to your shoes to keep you from sinking into deep snow. You'll want to wear a good sturdy pair of waterproof hiking boots or hiking shoes. Make sure you've tested your snowshoes on with them before you set off so you know they fasten properly over them, and if you're wearing shoes, you'll want to make sure the snowshoe bindings don't rub your ankles.
2. Hiking socks
When it comes to wet conditions and boot rub, a pair of well fitting, cushioned and moisture-wicking hiking socks are worth their weight in gold. Whether you go for a natural material like wool or a synthetic option, you want to make sure they're breathable and quick drying for both sweat and melted snow. You also want to pick a pair of socks that comes up higher than your boot, either mid calf or knee length, to avoid boot rub.
3. Hiking pants
Everyone is different when it comes to dressing for the outdoors, and different weather and climate conditions add further possible variables, however we have a few suggestions when it comes to legwear.
If you're hiking in dry conditions, you might be perfectly happy in a regular pair of your best hiking pants or thermal leggings. In damp conditions, you will want to layer a pair of waterproof trousers over these and of course if you already own ski pants, these make great trousers for snowshoeing.
Insulated pants may be too warm unless you're heading out in extreme cold conditions, however, so if you choose those, make sure you wear a pair with venting zips on the thighs.
4. Gaiters
In truth, when it comes to snowshoeing, gaiters will be a personal choice and based on the conditions and what you're wearing on your legs. Your snowshoes are designed to keep you from sinking in so gaiters aren't always necessary, and if you're wearing waterproof boots and ski pants, you won't need them. However, if you're wearing hiking shoes and in slushy conditions, you might benefit from a pair of gaiters to protect your ankles and feet from invading damp.
5. Base layer
On your upper body, you'll want to wear a light, breathable base layer. This will almost definitely be long-sleeved unless it's a warm spring day. Choose something that is breathable since you'll be working up a sweat no matter the outside temperature, and consider one with a high neck to keep the chill out and a 3/4 zip so you can let a cool draft in when you get warm on your uphill.
If you think you'll get very sweaty, pack an extra base layer in your backpack to change into before heading down so you don't get chilled.
6. Jacket
Whatever jacket you bring, you'll almost definitely take it off for the uphill. If it's very cold, you might want a light fleece jacket that you keep on over your base layer, but for an outer layer, you'll want something lightweight, breathable and windproof. If you think you'll be wearing it on the uphill, go for a softshell jacket with venting zips. More likely is that you'll pull your jacket on for the descent, in which case you might be able to get away with an insulated jacket such as a light down jacket but only if it's very cold.
7. Trekking poles
Even if you don't use them for hiking, you'll definitely want a good pair of trekking poles for snowshoeing. With snowshoes on your feet you'll be a little less stable to start with. Combine that with uneven snow drifts and you'll need poles to keep you upright, especially on the downhill. Poles also make you use your arms as well as your legs on steep inclines, and it's helpful to use your poles to test how deep and stable snow is before you step into it.
Light, retractable hiking poles that can fit in your backpack when you're not using them are always best, though your regular ski poles will certainly suffice.
8. Accessories
Snowshoeing accessories basically means a pair of the best hiking gloves, hats, skis masks and neck warmers. For gloves, you'll want a pair with waterproofing and wind resistance, so a light pair of ski gloves will do, just make sure they're not too heavy on the insulation. Your gloves may well end up in your pack on the uphill, but you'll likely want them on the way back to the car. Other factors to consider are a pair that offers good dexterity, so you can adjust backpack straps and unscrew water bottles without removing them, and touch screen capacity in case you're using your phone for navigation.
For cold days, a good beanie is essential, though again, this might come off during the climb. On very warm, sunny spring days, you might want a brimmed hat to keep the sun off your face and a beanie in your backpack just in case.
If there's a very low wind chill, it's possible that you'll want a ski mask, although be warned that wearing one will make your sunglasses fog up. Better would be to wear a neck gaiter or buff that you can pull up. This can also help to keep the breeze out on a cold day if you're wearing a crew neck, but you probably won't need it if you've opted for a base layer with a high neck.
9. Sun protection
It's easy to forget about sun protection when it's cold, but some of the worst sunburns happen on bright winter days. UV rays are bright at high altitudes, and when snow reflects the sun's rays, it can increase your UV exposure. Apply sunscreen before you set off to any area that might be exposed (think: hands, wrists, face, ears, neck) and carry it with you in case you're sweating heavily or out there longer than planned. Reapply sunscreen every two hours.
You'll also want a good pair of sunglasses that shield your eyes from the glare, though since snowshoeing is a low impact sport you don't need to worry about finding a pair that fits snugly the way you do for running. In some very cold conditions, you might just choose to wear your ski goggles instead, which are warmer, but be warned that if you push them up over your head while you hike, they'll get foggy.
10. Water
We can forget to drink enough water when it's cold out as we don't feel as thirsty, but you will be sweating and breathing hard. To avoid dehydration, carry water and sip regularly. Though a water bottle works fine, it does require you to stop, plant your poles, remove your gloves and unstrap your pack each time which is a bit of a hassle and might mean you skip drinking enough. The best option is to carry a hydration pack that you can sip from while you're moving.
11. Backpack
Obviously, you'll need somewhere to stash your accessories, so you'll want to get yourself a decent daypack. Though it shouldn't be too large, it needs to fit all of your accessories, water and any layers like jackets that might come off. It should also be contoured to fit your body so you can move properly and have sternum and waist straps that you can adjust to shift the weight off your back and onto your lower body. Learn more in our article on how to adjust your backpack.
All the latest inspiration, tips and guides to help you plan your next Advnture!
Julia Clarke is a staff writer for Advnture.com and the author of the book Restorative Yoga for Beginners. She loves to explore mountains on foot, bike, skis and belay and then recover on the the yoga mat. Julia graduated with a degree in journalism in 2004 and spent eight years working as a radio presenter in Kansas City, Vermont, Boston and New York City before discovering the joys of the Rocky Mountains. She then detoured west to Colorado and enjoyed 11 years teaching yoga in Vail before returning to her hometown of Glasgow, Scotland in 2020 to focus on family and writing.