The joys of solo camping: why heading out alone to sleep in the wild is hard to beat
A look into the joys of solo camping and what it is that makes lone expeditions into the backcountry such rewarding experiences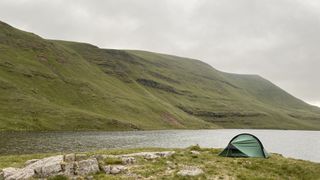 (Image credit: Alex Foxfield)
Adventure is a highly personal endeavour and few things illustrate this as much as the joys of solo camping. The excitement of shouldering a heavy backpack at the trail head; the satisfaction of setting up a successful pitch; and the awesome spectacle of shifting colours across the mountains, as the landscape journeys through that magical time between day and night – on a solo camping trip, all of this is mine, and mine alone.
In this age of social media bombardment, jaw-dropping FKTs and Netflix documentaries following astonishing feats pulled off in inhospitable places, it's easy to feel like our own adventures are somehow not enough. However, put a one-person tent in your backpack and head out for some quality time in the backcountry and you soon realise that, when everything exterior is stripped away, unforgettable personal adventures are attainable.
A world of possibilities
Self-sufficient in a huge landscape, I'm captain of my own ship. If the mood takes me, I can don my hiking shoes, use my newly setup tent as a basecamp to attain nearby summits. Or, I can grab a sketchbook and enjoy depicting my hard-won vista. The nearby stream winds its way down to an invitingly dark mountain pool – an exciting prospect for a wild swim. These possibilities are all mine and the feeling is immensely liberating.
At one with the mountains
Don't get me wrong, a day hike in the backcountry is always a treat but I always feel like a visitor, transient, passing through. To really be at one with the landscape, to slow down to its pace and to witness its changing moods, nothing beats the joys of solo camping.
After setting up the tent, I take my hydration bladder and water filter to fill up from the ice-cold stream. There's something intimate about this, I'm now relying on the mountain for that most basic survival need. Returning to the tent, I fire up the camping stove. Coffee tastes better when looking down at the interplay of golden light, wispy cloud, molten crag and lofty summit.
Once night sets in, it's amazing how sound is amplified. Head resting on my camping pillow, with little visual stimuli, the rushing water of a nearby waterfall becomes a roar. The susurrus of the wind through the bracken and grass ebbs and flows like the tide. It's usual, at some point, to imagine there's something out there, some curious creature drawn to the odd character who's pitched a tent in the middle of nowhere. Is it a bear? Surely just a sheep? Most likely, my imagination. It's a thrilling feeling that makes me feel like a child again.
A most mindful escape
It's only when you venture out alone that you realise how much attention you usually pay to your hiking and camping buddies. We all know the benefits talking brings and, especially on a long expedition, conversation with a friend often takes on a depth way beyond what you'd achieve in half an hour at the local Starbucks.
However, being free of conversation also has its advantages. It's not just talk that takes you attention either, you realise how much you give over to worrying about things like if your new-to-the-backcountry buddy is having a good time, or if you're slowing your more experienced friend down, etc etc.
When alone, all of that is stripped away and the focus turns both within and to the surrounding environment. There's suddenly room to notice the finer details in the landscape, to stop and marvel at the magical ice formations forming on a cascading stream, or the sunlight glistening on an orb spider's intricate web. There's also more chance of encounters with wildlife when you're not alerting every species within a square mile of your presence with chat about that match you went to last week.
It's not just what's out there but also what's within that gets more appreciation. Alone, I now have space to breathe and think. Many of my thoughts are focussed on practical decisions: where to cross the river, where to pitch the tent, how to manage water supplies. I'm in the moment, feeling the benefit of this enhanced mindfulness. But, I've also got time to organise my other thoughts, away from the distractions of everyday life.
The satisfaction of self sufficiency
Being self-sufficient and the satisfaction that comes with it is one of the most powerful joys of solo camping. Taking everything you need to survive into an unhospitable place and coming out the other end is highly rewarding. That's not to say things won't go wrong. They almost always do, however big or small. That's what adventure is all about and mistakes are how we learn. I don't think I've ever come away from a wild camping trip and no been that little bit wiser.
A few key points
As wonderful as solo camping trips are, the level of risk is higher than when exploring with a buddy or a group. Always make sure you leave details of your planned route with a friend or relative and try to check in with them periodically. Phone signal in the mountains is often sketchy at best, so if you're serious about your solo camping exploits, you might want to invest in a satellite communication device, like Garmin's popular inReach. These kinds of devices are more reliable than smartphones both in terms of their ability to remain operational in tough conditions and in terms of finding a signal to get your messages out.
Finally, as always, remember to follow the leave no trace principles.
All the latest inspiration, tips and guides to help you plan your next Advnture!
Alex is a freelance adventure writer and mountain leader with an insatiable passion for the mountains. A Cumbrian born and bred, his native English Lake District has a special place in his heart, though he is at least equally happy in North Wales, the Scottish Highlands or the European Alps. Through his hiking, mountaineering, climbing and trail running adventures, Alex aims to inspire others to get outdoors. He is currently President of the London Mountaineering Club, training to become a winter mountain leader, looking to finally finish bagging all the Wainwright fells of the Lake District and hoping to scale more Alpine 4000ers when circumstances allow. Find out more at www.alexfoxfield.com