What is a satellite communicator? The purpose and functions of these potentially life-saving devices
What is a satellite communicator? We take a look at why this technological tether to the rest of the world might be essential for your wilderness expeditions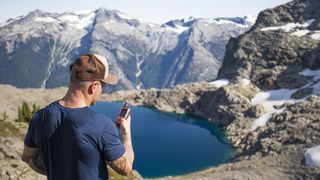 (Image credit: Getty)
What is a satellite communicator and why might you need one? Well, if you're looking to embark on expeditions into the wilderness or conquer remote mountain peaks, a satellite communicator keeps you tethered to the world thanks to its ability to relay messages and signals via the network of satellites above our planet. They are more reliable than smartphones both in terms of their ability to remain operational in tough conditions and in terms of finding a signal to get your messages out.
At Advnture, we often stress the importance of carrying and knowing how to use a map and compass, primarily because relying solely on a smartphone is a foolish move. However, if you find yourself in a serious situation and are immobilized, the thing that's most likely to save your life is the ability to summon help. If you're alone in the wilderness with a dead phone, a satellite communicator might be your only hope.
These devices come in many shapes and sizes and boast a range of features, from minimal units designed for SOS signals, tracking and one-way messaging, to more fully featured gadgets boasting navigation applications, live weather updates and even cameras. The fundamental feature is the device's personal locator beacon (PLB), which allows you to raise the alarm and alert search and rescue with the push of a button, no matter where your best hiking boots have taken you.
Leaders in the field include Garmin, with their popular inReach device series, including the inReach Mini and the inReach Explorer+. Both of these are enabled with passive tracking, allowing friends, family or those at base camp to follow your progress online, which is a common feature in modern satellite communicators. As with the best GPS watches, many of the best units also have smartphone pairing applications too.
Other advantages
In addition to a PLB, satellite communicators allow you to send messages out into the world. Some feature only one-way messaging, meaning you can send but not receive messages, while others enable two-way messaging, allowing you to send and receive on the go. Handily, you can often set up generic coms prior to your trip, such as 'made it to camp' or 'at the summit', enabling you to quickly fire off messages with the minimum faff and fuss.
If you are venturing out into the wild, weight and portability are key considerations. This is why the leading satellite communicators are designed to be as small and light as possible – for example, the Garmin inReach Mini only weighs 99g / 3.5oz. In general, the more fully featured your device is, the more it will weigh, so if you've also got your map, compass and smartphone, you might want to consider foregoing the additional weight of another navigation device.
Reliability is key with a satellite communicator, therefore most feature a battery life way beyond even the most frugal smartphone. Expect at least 100 hours, with some models boasting in excess of 200 hours – that's over a week's worth of juice.
Disadvantages with a satellite communicator
The elephant in the room here is price, with a decent satellite communicator costing $200 dollars and upwards. Depending on the gadget you opt for, you may have to pay subscription fees for use of the network, which adds yet another layer of cost. Casual hikers and countryside walkers will probably consider the applications on their smartphone do enough not to warrant splashing out. However, if you're a serious adventurer or an ambitious mountaineer, it's a price worth paying.
Some, but not all, satellite communicators require phone pairing in order to send and receive messages, which means you need to keep both devices juiced up during your expedition. However, many of the best satellite communicators will function on their own, so it's worth researching this before investing in one.
Oh, and don't drop your gadget in the river, as many are merely weather resistant rather than fully submersible. Keep it safely stored away in a dry bag to avoid a potentially catastrophic dunking.
All the latest inspiration, tips and guides to help you plan your next Advnture!
Alex is a freelance adventure writer and mountain leader with an insatiable passion for the mountains. A Cumbrian born and bred, his native English Lake District has a special place in his heart, though he is at least equally happy in North Wales, the Scottish Highlands or the European Alps. Through his hiking, mountaineering, climbing and trail running adventures, Alex aims to inspire others to get outdoors. He is currently President of the London Mountaineering Club, training to become a winter mountain leader, looking to finally finish bagging all the Wainwright fells of the Lake District and hoping to scale more Alpine 4000ers when circumstances allow. Find out more at www.alexfoxfield.com