Trail running in Colorado: top tips and trails to get started
Our guide to trail running in Colorado gets you further into the backcountry, faster, and shows you hitting the trails doesn't have to be too tough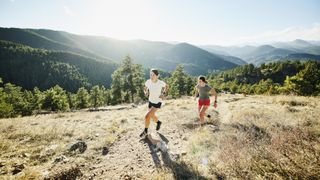 (Image credit: Thomas Barwick)
So you're thinking of taking up trail running in Colorado? Trail running is an excellent way to enjoy our fantastic scenery, and get further into the backcountry, faster. And moreover, you'll be in great company. More runners than ever before are discovering the joys of getting off-road.
That said, trail running is nothing new in Colorado – the Leadville 100 has been seeing tough runners dash over 100 miles at high altitude since 1983 while the Trans Rockies Run covers 120 miles of the Rocky Mountains over six days. But don't let all that intimidate you.
Kim Fuller is a Colorado native and Vail resident who has been trail running for years and finds it better for her body than road running.
"Running on trails is so much kinder to your joints than running on the road. While pounding pavement can be convenient from your home or office, the impact is hard on your body and over time you may have to stop running. Seek out the trails in and around your community to find a forgiving surface for training and exploring," says Fuller.
Whether you're an urbanite looking to make the leap from pounding pavement or a high mountain dweller seeking a new adrenaline rush at altitude, we cover the basics of trail running in Colorado and highlight some of the best trails around the state to get you started.
Before taking your run off-road, you'll need to invest in a pair of the best trail running shoes to hold up against the rockier terrain. Find out more about what kind of gear you need in your kit in our article on trail running essentials.
Is trail running harder than road running?
In short, yes, trail running is harder than road running. It features more hills and uneven terrain for a start, and in Colorado, there are the added factors of high altitude and wildlife to contend with.
Even if you're already living here and well-acclimated, making the transition from hiking to running can be tough. The higher you go, the harder your cardiovascular system has to work to get oxygen to your muscles, which means you'll experience a more elevated heart rate than you would at sea level, and get out of puff faster.
If like most of our population, you live in Denver, the trails you might want to try could be another mile higher if you're heading up to the high country, so expect a new challenge, but don't be daunted.
"Enjoy the journey! Trail running can offer quite a bit of elevation, especially in places like the Rocky Mountains in Colorado, so it's okay to hike and run as you achieve your miles," advises Fuller.
You can learn more in our article on running at high altitude, but suffice to say you'll want to adjust your pace initially, carry a hydration pack and be willing to hike the steep stuff.
Speaking of the steep stuff, another setback when it comes to trail running in Colorado is the average grade of the trails. Lots of the most popular hiking trails in the state gain elevation at a rate of about 1,000ft per mile which is tough enough on a hike. If you're transitioning from road running, you'll want to sacrifice your normal pace in return for the joys of climbing.
The final piece to consider is wildlife. If you already live in Colorado and hike regularly, you'll be no stranger to the occasional bear encounter and you should know your mountain lion and snake safety, but if you're an urban runner, it's still worth pointing out that you're likely to meet – and potentially startle – more wildlife in the backcountry than on Pearl Street, so there is some added risk.
How do I find trail running routes?
The beauty and diversity of Colorado trails make a compelling reason to give trail running a go, according to Fuller:
"There are so many amazing trails in Colorado to explore. It's rare to be able to run in the high desert, through aspen trees and up to an alpine lake, all within the same region of the same state. You can head out on a weekend adventure and find some off-the-beaten-track terrain in the Colorado wilderness, or just simply step out your door to find premier trail running opportunities that aren't far from home."
If you're ready to get into trail running in Colorado, you can run any trail that you hike, theoretically speaking, but lots of your favorite hikes might be a bit daunting to run, and busy, so we've gathered some great trails scattered throughout the state that offer stunning scenery without too much elevation gain. We're not saying they'll be easy, but these are great trails to get you started.
Best trail running near Denver: Red Rocks Trading Post Trail
Distance: 1.4 miles
Elevation gain: 357ft
The iconic red sandstone concert venue (which has hosted gigs by the Beatles, U2 and many more) is a favorite among front range runners as well as music fans. This short-but-sweet run takes you round ten of the incredible red sandstone rock formations, some of which are even taller than Niagara Falls, as well as the 9,500 seat amphitheater, which is an impressive sight in itself. If you're looking for more distance, you can do a couple of laps or try running the 380 steps from the stage to the top.
Park at the south lot and pick up the well-marked trail just south of the Colorado Music Hall of Fame museum.
Best trail running in Genesee Park: Chavez and Beaver Brook Trail Loop
Distance: 5 miles
Elevation gain: 1,120ft
This trail near Genesee Park forms a lovely shaded loop and takes you along Beaver Brook near Bald Mountain through pine forest to a lovely waterfall and stunning panoramic viewpoint.
Take exit 253 from I-70 and park in the parking lot on Stapleton Road to begin along the Beaver Brook Trail. When you reach the intersection with Chavez Trail go in either direction to do the loop.
Best trail running in Colorado Springs: The Palmer Trail (section 16)
Distance: 5.7 miles
Elevation gain: 1,290ft
Palmer Park is located right in the center of Colorado Springs and offers over 25 miles of trails. It was named Best Urban Park by Elevation Outdoors Magazine in 2017. As is often the case, there are any number of ways to connect the different trails to make your run as long or short as you like, but we suggest section 16 of the Palmer trail which forms a satisfying loop and takes you through Manitou Open Space and Bear Creek Cañon Park.
Park at the Bear Creek Cañon Park lot and pick up the route in either direction.
Best trail running in Rocky Mountain National Park: The Loch Vale via Glacier Gorge Trail
Distance: 5.4 miles
Elevation gain: 1,056ft
This stunning out-and-back trail starts from Glacier Gorge trailhead in the park and takes you by a scenic 30-foot waterfall to the beautiful subalpine lake framed by dramatic peaks like Taylor Peak, Thatchtop Mountain and the Sharkstooth.
Best trail running in Vail: the North Trail
Distance: 6.7 miles
Elevation gain: 1,774
The North Trail runs along the mountains to the north of I-70 in Vail, across the valley from the resort, and there are several trailheads or access points. The trail enters White River National Forest and switchbacks up the mountain with splendid views of Vail and the Gore Range. Drive up Red Sandstone Road for a quarter mile and park on the left.
Best trail running in Aspen: the Ute Trail
Distance: 6 miles
Elevation gain: 3,064
This challenging technical trail run takes you on a steady uphill from downtown to Ute Rock where you can turn back or keep going to the top of Aspen Mountain. From town, head down Ute Ave for 0.4 miles. Park in the parking area on the left if you're driving, and the trail begins on the right across the street.
Best trail running in Fruita: Flume Canyon Trail
Distance: 4.8 miles
Elevation gain: 557
This desert trail is in McInnis Canyons National Recreation Area. The trail begins off of the Flume Canyon trail and follows a branch of Flume Creek through a narrow canyon with lots of fun slickrock underfoot. Begin from the Pollock Canyon trailhead south out of Fruita.
Head west onto Kingsview Road after crossing the Colorado River and the Pollock Canyon trailhead is the last trailhead on the left.
Best trail running near Telluride: Bear Creek Canyon Trail
Distance: 5 miles
Elevation gain: 1,080
Our pick in gorgeous Telluride is Bear Creek Canyon, which starts from downtown and follows a 325-acre rugged mountain canyon that has been preserved by the Telluride Land Trust. This unforgettable out-and-back run offers striking scenery and ends at the cascading Bear Creek Falls.
Find the trailhead at the end of South Pine street and follow it all the way to the falls.
All the latest inspiration, tips and guides to help you plan your next Advnture!
Julia Clarke is a staff writer for Advnture.com and the author of the book Restorative Yoga for Beginners. She loves to explore mountains on foot, bike, skis and belay and then recover on the the yoga mat. Julia graduated with a degree in journalism in 2004 and spent eight years working as a radio presenter in Kansas City, Vermont, Boston and New York City before discovering the joys of the Rocky Mountains. She then detoured west to Colorado and enjoyed 11 years teaching yoga in Vail before returning to her hometown of Glasgow, Scotland in 2020 to focus on family and writing.