How to get into trail running: a beginner's guide
Our guide on how to get into trail running is an essential read for runners who are ready to discover the joys of going off-road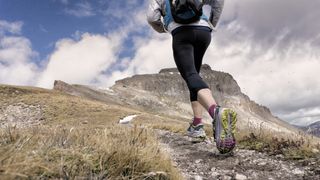 (Image credit: Getty)
If you are a road runner keen to try trail running, or simply someone who has suddenly woken up to the allure of the trails for running, this guide to how to get into trail running will be an essential read.
We'll include tips on everything from gear selection and safety kit all the way through to physical preparation and becoming part of the trail running community.
How to get into trail running: all about the kit
Regardless of your abilities and distance, there are two important items of kit to get started: a pair of the best trail running shoes and, for females, a sports bra.
Running shoes should fit well and be suited to your gait. Every brand has a range of trail running shoes so choosing can be tricky. The best advice is to head to a sports shop that offers a professional fitting service so you can be sure you have the right trail shoe from the start.
Be warned that, in the end, you may need to buy two or three pairs of trail running shoes, so you have the right soles to suit the terrain. For example, trail shoes with soles suited to forest tracks will not be ideal for muddy hill paths. Think of your trail shoes like bikes and bike tyres.
A sports bra is vital for women because trail running is high on impact.
When it comes to the rest of the trail running essentials, a lot of your kit will be similar to that for road running, except you need to wear or pack extra items because you will be further from home and likely to experience different weather and conditions.
So, you'll need running shorts or tights/leggings (see our best running leggings), depending on the season. Remember that you may end up at higher altitude if you are on hilly or mountain trails, so that will see temperatures dip.
A lightweight technical t-shirt or long-sleeved running top is another must-have.
The nature of trail running means you will also be more open to the weather and changeable conditions, which means it's a good idea to have some spare items with you.
Wear or take with you a lightweight running jacket, headwear, gloves etc depending on the season.
As a general rule, it is a good idea to wear breathable, quick-drying fabrics for running. The aim is to feel cool when the weather is hot, or warm and dry when the wear is cold.
Look for airflow mesh ventilation clothes and UV protection to shield you from the sun's rays. Avoid cotton because it not only absorbs heat but it also soaks up sweat, trapping moisture close to the skin and increasing the risk of chafing.
Also wear a pair of the best trail running socks to keep your feet cool and skin dry.
You'll need a good quality trail running backpack or running hydration pack to carry extra items.
In a backpack, add a spare base layer and/or a running jacket, wind or waterproof, or both, as well as gloves (see: best running gloves) and a hat.
Arm warmers are useful for keeping the weight of your pack low while offering the option for a bit of warmth when needed. It's also a good idea to carry a phone and a map and compass if you are heading off the beaten track.
You'll also want to pop in an emergency foil blanket or bivvy bag, plus a small first aid kit, in case you run into trouble and need to stop and stay warm.
Build up on the trails
If you are already a seasoned road runner, you will still want to build up your running miles on the trails gradually. If you are new to running, the same will apply.
The demands of uneven terrain add stress to muscles and joints. This is "good stress" and will help you to become a stronger runner but it's worth taking your time to become familiar with the range of muscles used for trail running.
Start with short runs on off-road paths, forest trails or tracks. See how different it feels. You will need to pay greater attention to what you are running on but will also soon appreciate the benefits of the uneven and low-traffic terrain. Trail running engages more muscles and calls for you to be more aware of balance, breathing and mobility. The sense of freedom that comes with running on country paths and in new areas away from the hustle and bustle of towns and cities is also very rewarding.
Build up the miles slowly over weeks of running and also aim to try different terrain.
When trail running you will find you naturally shift to a slower pace, or a walk, on rough uphills, though you can let yourself go a little – so long as you watch where you are running – when coming downhill.
Try trail running with poles
Running poles make good sense on uneven terrain. They help with balance and they are also a great aid when you need to tackle steep uphills. You'll find you tire less on longer, hillier trail runs if you use poles.
You can use the trekking poles (see: best trekking poles) you have for hiking, or invest in lightweight poles that are geared specifically towards trail and hill runners.
Make sure the poles can be folded into three parts so they are easier to stow in your running pack when not being used.
Look out for trail running obstacles
Trail running will include lots of natural obstacles such as tree roots, rocks, stones, gravel, mud (see: running in mud) and rivers, as well as some man-made barriers, like fences. You should be aware of these so you don't trip up but also think of them as a fun part of the adventure.
Think if it as a joy, not a chore, to run, jump and pick your way over and around them. On trails like these, you will also give your body more of an all-over workout than when running on roads.
Make new friends for trail runs
The best way to discover new trail running routes is to follow in the footsteps of others. There are more and more groups being formed for trail runners and a search on the internet might well help you locate a club or group in your local area.
There are hill and trail running courses and holidays that are open for booking, too. You'll learn the skills of hill and trail running, as well as discovering new places to run and making new friends.
Another good place to find new trails is to check one of various useful apps, such as Strava, RunGo, AllTrails and Viewranger. See what other people have posted as running routes.
Also think about walking routes you have done or you know of and consider whether they might make trail running routes.
Way-marked long-distance trails can be an excellent choice for a run. You will feel safe in the knowledge that you won't get lost and these routes often head through some of the best countryside.
Trail runners are usually very friendly people and you will soon find you have a regular group to run with, and running with others is the best way to find new places to run off the beaten track.
Trail running is an adventure
Sure, there are plenty of trail running and hill running races. There are also numerous challenges that you can take on, such as running a well-known long-distance route.
But for most trail runners, the sport is a chance to get out for an adventure. It could be a mid-week run in local forests finding new-to-you trails, or a local hill run to a new summit, or a longer distance run on a mix of trails and paths in a completely new location at a weekend, but they should all feel like an adventure.
For most runners, trail running is more about the journey than achieving the fastest time or staying at a set pace.
Other tips on how to get into trail running
Trail running can be more demanding physically, so remember to take snacks and water with you.
Try to re-hydrate and re-fuel at regular intervals, rather than waiting until you feel desperate. That usually means you have gone too far or too long without food and water.
Choose a comfortable trail running backpack because you will most likely end up wearing it for many hours.
Choose trail running shoes to suit the terrain, rather than thinking that one pair will do everything. Check out our best mud running shoes if you plan on hitting soggier terrain, and our best trail running shoes for men and best women's trail running shoes for everything else.
Think about whether you want more cushioning in the trail running shoes and less ground feel, or a more natural feel and, therefore less cushioning (see: best barefoot running shoes).
Always take an extra layer of clothing with you and basic safety kit because there is a greater potential for injury on the trails, and be sure to tell someone where you are planning to run and when you expect to be back.
Finally, go out and explore. Trail running is hugely enjoyable and once you get started, the chances are you will become addicted.
All the latest inspiration, tips and guides to help you plan your next Advnture!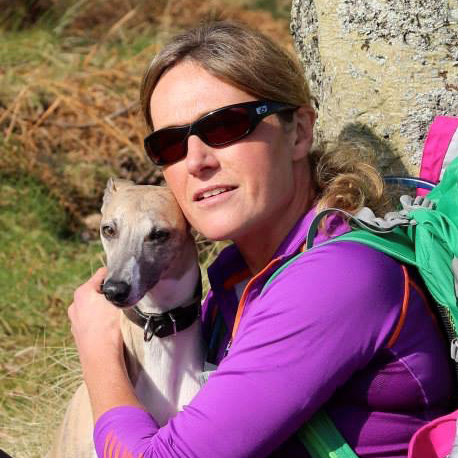 Fiona Russell is a widely published adventure journalist and blogger, better known as Fiona Outdoors. She is based in Scotland and is an all-round outdoors enthusiast with favorite activities including trail running, mountain walking, mountain biking, road cycling, triathlon and skiing (both downhill and backcountry). Aside from her own adventures, Fiona's biggest aim is to inspire others to enjoy getting outside and exploring, especially through her writing. She is also rarely seen without a running skort! Find out more at Fiona Outdoors.