9 great virtual adventure challenges to do during lockdown
Stay active and motivated this lockdown with these virtual adventure challenges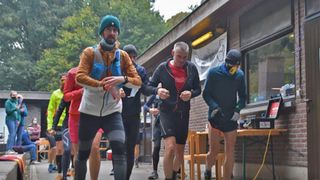 (Image credit: Brian Metzler)
Lockdown restrictions around the world have limited our ability to travel to places where we might enjoy walking or going for a run a lot more than our local, surrounding area. That doesn't mean you have to spend your time sitting in front of the television, however...
Even if you can't travel to an event, you can bring the event to you, thanks to the numerous virtual adventure challenges that have sprung up around the world. Thanks to the magic of the internet, you can visit beautiful areas around the world for walks, tracking your progress through maps that highlight your virtual location, based on the distance you've travelled. As well as helping charitable good causes and allowing you to take on habit-forming challenges, some events also provide you with events like medals.
"A daily fix of outside time is helping to keep me sane," explains Laura Kennington, a British adventure athlete whose Trail Fit Classes are one of the many activities available online. "Getting outside is vital for mental and physical health. I avoid busy areas/times and do it responsibly but, even if it's just for a walk, I make sure I get out."
The 8 virtual adventure challenges below could inspire you to walk or run, and provide you with the added motivation you need this new year to achieve your targets, even if lockdowns are restricting your opportunities to explore the outdoors for real. Belgian dentist Karel Sabbe certainly managed to achieve his targets, running 312.5 miles in a back garden over a three-day period in October 2020.
1. Laura Kennington's Trail Fit Classes
Laura Kennington is a British adventure athlete with a passion for pushing her body to the limits. Her achievements include cycling 3700 miles along North Sea facing coasts and running the length of Fuerteventura in 4 days. A strong believer in the positive impact that adventure and sport can have, Laura has created a 4-part series of Trail Fit Classes, consisting of specific exercises that help improve outdoor fitness performance. She says, "strength training is often neglected in running but is hugely important to prevent injury. I kept them to 20 minutes so they'd be easy to fit in and hopefully give people some ideas to mix things up.
"Exercise motivation consistently comes from knowing that moving my body will make me feel better," she adds. "I've often not felt like training and that's totally normal... but I've never once regretted it on the other side."
There have been 2 episodes so far which can be caught up on, with the remaining two appearing over the next Sundays at 8am (GMT), focusing on kettlebells and the outdoors.
2. Step Up & Play Your Part Challenge
Sports brands Inov-8 and COROS wearables have teamed up to launch their Step Up & Play Your Part Challenge. The aim is to amass 21 million steps of responsible exercise before the end of January 2021, in order to help raise mental health awareness in such difficult times. The challenge started on 18 January on what they called 'Blue Monday', but there is still plenty of time to get involved with the challenge and accumulate as many steps as possible to their goal. The goal is to reap the benefits that exercise brings to mental health, something both brands believe is more important than ever in these difficult times.
Each day, someone who has logged their steps that day will be randomly selected to receive a £25 gift voucher to spend at either inov-8 or COROS. The main prize, however, will be randomly chosen at the end of the two weeks, where two people who have logged their miles daily will be awarded with a COROS APEX 46mm sports watch (pictured). Also, everyone who logs miles will receive a discount code on purchases at inov-8.
"In June last year we digitally brought together a team of more than 1,000 runners globally to complete a 25,000-mile virtual lap of the world within a week," said inov-8 COO Michael Price. "The inov-8 World Run was a huge success and proved to be integral in our Play Your Part campaign, set-up at the start of the pandemic to support, motivate and inspire people through these difficult times.
"Now we're stepping things up a level and looking for people to join us in amassing 21 million steps of responsible exercise, and in doing so improve their mental health at a time when things are incredibly tough for us all."
Ben Clark, COROS Northern Europe Market Manager, added: "I'm grateful that we were able to partner with inov-8 to bring this fantastic challenge to the world.
"Together with our wider partners, we believe that the challenge will be the beginning of a very active and successful year for everyone involved!"
All you have to do to get involved is log your daily steps onto the website, and the hashtags #inov8stepup and #CorosStepUp can be used on social media to share your contribution.
3. Land's End to John O'Groats – The Conqueror Virtual Challenges
This challenge is slightly more difficult than the normal Land's End to John O'Groats route, with an extra couple of hundred miles included for good measure. The 1083-mile route spans the length of the UK, and the The Conqueror Virtual Challenges can be walked or run virtually during lockdown. Every time you complete an activity that is distance based in this virtual adventure challenge, you advance along a virtual map that displays your progress. There are also virtual postcards when you reach certain locations which can information about where you are, making the experience a lot more interactive and inclusive.
For further motivation, you can challenge friends via The Conqueror app and see who can travel the length of Britain the fastest. Whether you choose to run or walk from Land's End to John O'Groats, you will receive a medal for your efforts, as well as five trees being planted in your honour.
The Conqueror Virtual Challenges also have other routes you can interact with this lockdown.
4. Run Around Europe
Travel might not have been as accessible in 2020, but the Run Around Europe route can facilitate that jet-setting desire in your local area, as you're able to virtually pass through 30 countries across mainland Europe. Starting in Spain, there are eight major milestones along the course of the epic journey, before the route ends in Paris. Every time you reach a town along the way (there are 130 of them), information will be sent to you, which provides a brilliant way to explore the continent – and get fit at the same time.
Evidence of distances is essential for Run The World to log your journey, while "any run or walk that is considered 'structured exercise' can be included as part of your journey".
Run Down Under founder Travis Ireland states that, "the average time to complete one of our maps is many years, and the aim of Run The World is to provide a life-long platform for people to stay active and healthy, engaged and enthused". With a membership base of around 9000 people, there is a real community spirit created with Run The World, as people attempt to run (or walk) incredible distances with goals in mind.
5. CAFOD Walk For Water
This challenge has been set to commence over the period of lent this year, by CAFOD, an international development charity and the official aid agency of the Catholic Church in England and Wales. This lent (February 17 - April 3), an initiative titled Walk for Water is attempting to get as many people as possible walking 10,000 steps per day across the 40-day period, while raising money for charity in the meantime. This money is aimed at developing areas of the world that don't have water as directly accessible or available. There are also incentives, with everyone reaching the target of £200 receiving a free CAFOD neck buff.
6. Australia Marathon 2021
Virt Race have created a series of races that occur in countries all around the world, for a month at a time. For February, the marathon route will happen in Australia – but as a virtual adventure challenge. It is possible to either run or walk the 26.2 miles, meaning it can be completed at your own leisure. Therefore, the distance can be done in one go or you can accumulate the distance over the whole month, so don't worry if you're unable to run a whole marathon on one day. Breaking up the distance is allowed, as long as the distance is completed within the month, that is all that matters. Upon completing the marathon, you'll receive a medal from Virt Race. The March marathon takes place in Bali.
7. The ATW Virtual 10 + 10 Lockdown Challenge
Having just turned 10 years old, Active Training World have challenged people to undertake the Virtual 10 + 10 Lockdown Challenge. "The challenge can be anything you like; we want to make it accessible to everyone," they say. With this virtual adventure challenge, creativity is the key and focuses on any exercise that involves the number 10, so running 10km, walking 10 miles or simply doing 10 minutes of exercise a day for 10 days. They're offering people a medal and 10% off of any future 2021 event entries, as long as they're tagged on social media: @eventsatw alongside the hashtag #ATW10for10.
8. World Walking
World Walking offers over 300 potential routes to travel virtually anywhere in the world, so there is possibility for everyone to find something they enjoy. Much like other challenges previously included, progress can be tracked along a virtual map, and there are certain milestones that are also on each route, providing you with information about the area. With some challenges, such as the Icons of the World route, which literally travels across the entire world totalling more than 100 million steps, there's the potential to really test your capabilities.
9. Gymshark 66
UK brand Gymshark have created Gymshark 66 for 2021, a challenge for people to change. The belief is that it can take 66 days to form a habit, and are encouraging people to try something that they want to improve at or something new entirely for a total of 66 days, so that it can then become a habit. With lockdown offering limiting circumstances with what people can do, the best challenge that people can change throughout this 66-day period is to either run or walk as often as they possibly can. Keeping them occupied and inevitably improving themselves, this challenge will likely encourage people to form a habit of exercise.
All the latest inspiration, tips and guides to help you plan your next Advnture!