What are gaiters and why do they deserve a place in every hiker's kit?
They provide protection from ferocious flora and fauna, as well as the elements. What are gaiters? In short, they're armor for adventurers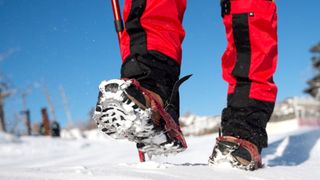 (Image credit: Getty)
If you're new to the outdoors you might have heard the term and wondered what are gaiters? Are they something along the lines of crocodile boots?
No. Of course they're not. Gaiters, rather than 'gators, are protective garments that outdoor-active types wear over their footwear and legs. Think along the lines of shin pads for hikers.
Much like the best hiking boots and the best waterproof jackets, a good pair of gaiters will help shield you against the vicissitudes of the wild: anything from water, snow, mud, scrub and the cold to deadly serpents trying to kill you.
Gaiters come in a few different styles, depending on their use, from short ankle gaiters that might be used by orienteers and runners to keep the mud out of their shoes, to fully waterproof, breathable gaiters used by mountaineers to tackle the world's highest peaks.
Who needs gaiters?
Basically, anyone active in the outdoors who wants to protect their footwear (specifically the lacing of their boots or shoes) and the lower parts of their legs.
Trail runners will sometimes wear a short gaiter to stop mud from getting in their runners. In Australia, rogainers (think 24-hour orienteering with a twist), who spend a lot of time off-track, will wear a special gaiter to protect their shins against the harsh Australian scrub.
But most commonly, gaiters are worn by hikers and mountaineers, generally to stop mud and water from getting into their boots, but also sometimes to protect legs when scrub-bashing. They're particularly useful on multiday hikes where you may not have the opportunity to dry out your socks and boots at the end of the day.
If you spend most of your time on pretty well-maintained trails, however, or tend to stick to doing day hikes in fairly dry conditions, then you may never need to resort to gaiters. Indeed, gaiters have their haters, particularly in hot climates when wearing them will make your legs very hot and sweaty.
Types of gaiters
The most common type of gaiter are those that are made for hiking. Most hiking gaiters cover the laces of the boot or shoe, and then end partway up the calf, with some being shorter, some longer. There are also very short gaiters (technically they're probably leggings) that don't cover the laces but just protect the ankle and lower calf, depending on how short they are.
Most hiking gaiters will have a stirrup that goes under the heel (holding the gaiter down) and another that wraps around the calf, fastening up on the outside of the leg. (If you end up with the opening on the inside of your leg, you've put them on wrong, and the straps will snag against one another when you walk.) They do up with either a zip, velcro or press studs (or some combination).
You can also get fully waterproof, breathable gaiters that are specifically designed for mountaineering, skiing or snowshoeing. These usually have a rubber band around the bottom of the gaiter that makes a watertight seal around the boot to which it is fitted, then typically feature some kind of waterproof zip to seal them up around the wearer's calves.
What are they made from?
The cheapest and probably the most common fabric used in gaiters is Cordura, which is made out of nylon. On the upside, Cordura is hard-wearing and waterproof, but on the negative side the waterproof coating will wear off over time and it's not breathable, so it can get hot and sweaty in warm conditions.
Canvas is another popular material, particularly in hot and rugged environments, where it's prized for its toughness and better breathability than Cordura, while still being reasonably priced. The disadvantage of canvas is that its waterproofing capability operates through the cotton fibers absorbing moisture and swelling, which also means that canvas can get very heavy when wet.
Finally, most mountaineering or alpine skiing gaiters tend to use breathable fabrics like Gore-Tex, eVent, or some other equivalent (check out our Gore-Tex vs Paramo Nikwax comparison) , which work better to combat moisture building up inside the gaiter. These gaiters perform well in snow and ice, but they are not super tough, so you're probably best using Cordura or canvas if you're planning to thrash through thick scrub, otherwise it can get very expensive.
How to fit them
Gaiters are reasonably easy to fit. The main thing you need to do check is that they fit over whatever footwear you plan to use, particularly if you're wearing boots, as they are invariably much bulkier than street shoes. Either bring your boots in-store or make sure that you can swap the product if it's not the correct size.
All the latest inspiration, tips and guides to help you plan your next Advnture!