How to keep your feet dry while hiking
Knowing how to keep your feet dry while hiking is crucial for comfort, but also for your foot health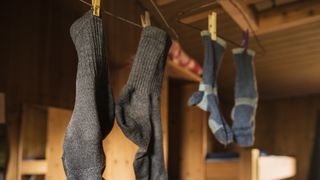 (Image credit: Cody Duncan)
How many times have you geared up in your best waterproof jacket and waterproof trousers to hit the trail on a damp day, only to totally forget about safeguarding your feet? After all, the best hiking boots are usually pretty waterproof, and you can always just change your best hiking socks when you get back to the car. But if you get it wrong, wet feet on the trail can be more than just a squelchy nuisance – they can be a bit of a health hazard too. Knowing how to keep your feet dry while hiking is crucial for comfort and foot health.
Under really extreme circumstances – hiking in leaky boots for days on end through puddles without a change of socks – you could end up with a nasty foot fungus, but most often, wet feet can increase the chance of rubbing and developing blisters, which isn't all the fun either. Use our top tips help you to avoid soggy feet and you'll be a whole lot happier hiking on wet days.
1. Wear the right socks
Even if you've managed to keep your feet safe from imposing rain drops, they're still likely to sweat once you get moving, so first off, banish cotton socks and opt for some proper hiking socks. Cotton socks act as sponges, keeping moisture next to your skin, and they don't dry out quickly. Instead, opt for hiking socks made from a moisture wicking material such as merino wool or synthetic fabrics, that will pull sweat away from your feet to cut down on friction.
2. Take care your hiking boots
Now that you've got socks to take care of sweat, it's time to make sure you keep the rain out of your boots. Clean your hiking boots after each use and regularly re-waterproof, wax or condition them to maintain their waterproof protection. Dedicated products, such as Nikwax Fabric and Leather Proof, or Granger's G-Wax and Leather Conditioner will not only extend the life of your boots, but also keep up their waterproof protection.
3. Dry out your boots
When you're tired after a long hike, it can be easy to just chick your boots in the back of your car or your garage and forget about them until your next hike – when yu discover, too late, that they're still wet. In between walks, take out the insole, relax the laces and leave your boots to dry in a well aired room. Don't place boots on a radiator or fire, as this can dry out the leather.
4. Air out your feet
When you stop for lunch or a coffee break, whip off your boots and socks and let the sun and breeze dry your feet and your socks. If there's space in your best backpack, carry spare socks and switch them over during the break, putting clean dry socks onto sun-dried feet.
5. Wear waterproof socks
It might sound odd, but if you know you're going to be wading for much of the day or you face a long trudge through wet grass, waterproof socks could be the answer. Waterproof socks by brands like Sealskinz and ArcticDry are very effective and can compensate for boots where the waterproof protection is failing. Just remember to dry them inside out after washing.
6. Choose tall boots and wear gaiters
Even if they're waterproof, when the cushioning around the ankle of your best hiking shoes and boots becomes wet, moisture can then start to seep into the foot area. The taller the boot, the less likely it is that this ankle collar will leak, making high-rise walking boots more waterproof than mid-height boots or shoes.
In addition, gaiters that protect your boot and calf will do wonders to help keep your feet dry, and can be carried in your pack until you need them.
All the latest inspiration, tips and guides to help you plan your next Advnture!
After spending a decade as editor of Country Walking, the UK's biggest-selling walking magazine, Jonathan moved to edit Outdoor Fitness magazine, adding adrenaline to his adventures and expeditions. He has hiked stages or completed all of the UK's national trails, but was once overtaken by three Smurfs, a cross-dressing Little Bo Peep, and a pair of Teletubbies on an ascent of Snowdon. (Turns out they were soldiers on a fundraising mission.)