Uses for a carabiner: meet the mainstay of rock climbing gear
We cover the three main uses for a carabiner in rock climbing as well as which type you need for each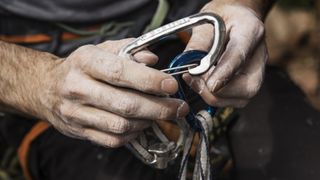 (Image credit: Robin Skjoldborg)
They might not be as exciting to shop for as your first climbing harness or picking out that new pair of climbing shoes, but the quintessential carabiner is a piece of kit that you simply can't do without at the gym or the crag. Climbing without carabiners is like hiking without hiking boots or breathing without air. If you plan to do anything other than bouldering, you'll need at least one good climbing carabiner to get started, and the more you climb, the more you'll need. In this article, we explain the three main uses for a carabiner in rock climbing, including which type of carabiner you'll need for each use.
What is a carabiner?
A carabiner – commonly referred to as a "biner" in climbing – is a D-shaped piece of safety equipment made from aluminium alloy that has a spring-loaded gate and is used to connect pieces of gear. Though you may be familiar with smaller, non-locking carabiners found on keychains and water bottles, those won't do for climbing – climbing carabiners are specially designed to withstand a lot of weight and keep you safe. In fact, all climbing carabiners are designed to hold at least 20kn of force, or around 4,500lbs of weight. That means they'll hold your Jeep Cherokee or a white rhinoceros, so they'll hold you regardless of how much you ate for breakfast.
Climbing carabiners come in three different types:
Screwgates: these require manual screwing to lock and unlock the gate and provide safety for building anchors and belaying.
Autolocking: these are't threaded and don't require any screwing, though they do take a little finesse at first, but they do lock and are as safe as screwgates.
Snapgates: these are basic, non-locking carabiners that you can use to attach gear to your harness but not for anything where safety is involved.
Uses for a carabiner
There are three primary uses for a carabiner in rock climbing, and as you'll see, the more adventurous you become in climbing, the more carabiners you'll need.
1. Belaying and rappelling
For indoor climbing, sport climbing and trad climbing, you'll need a locking carabiner for when it's your turn to belay your partner. When you're on the ground and belaying, the rope will be attached to your belay device, which is attached to your harness via a screwgate or autolocking carabiner.
When it's your turn to climb, if you want to take the express route back down, you'll want to rappel down which you'll do using your belay device which is, once again, attached to your harness via a locking carabiner.
2. Carrying gear
If you're getting into trad climbing and beginning to build out your climbing gear rack, you'll start to need more carabiners since you can't climb with bulging pockets or a backpack very easily. One of the most helpful uses of carabiners is to attach other pieces of gear to your harness so you can carry it with you up the route, and place it into the wall. You can attach gear like cams and nuts to your harness, and even your chalk bag so you can reach back for more climbing chalk any time your hands start to get a bit clammy on those crimpy holds. For this type of use, you don't need a locking carabiner and can just rely on a simple snapgate.
3. Building an anchor
If you start rock climbing outdoors, you'll need to learn how to set up a top rope anchor. There are a few ways to do this and it requires proper training, but typically you'll need to attach slings to bolts in the wall via at least on or two locking carabiners, then feed your rope through the carabiners. You can also use quickdraws for this, which are two carabiners connected by a strong piece of fabric.
All the latest inspiration, tips and guides to help you plan your next Advnture!
Julia Clarke is a staff writer for Advnture.com and the author of the book Restorative Yoga for Beginners. She loves to explore mountains on foot, bike, skis and belay and then recover on the the yoga mat. Julia graduated with a degree in journalism in 2004 and spent eight years working as a radio presenter in Kansas City, Vermont, Boston and New York City before discovering the joys of the Rocky Mountains. She then detoured west to Colorado and enjoyed 11 years teaching yoga in Vail before returning to her hometown of Glasgow, Scotland in 2020 to focus on family and writing.