What to take trail running: 7 things to pack for a long-distance run
Before you head out on your run, check out our expert guide to what to take trail running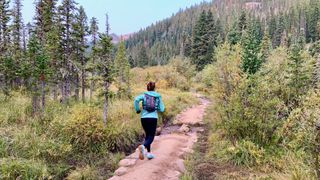 (Image credit: Brian Metzler)
As my buddy Andy Letherby and I started our run up a trail along the back side of Colorado's Mt Princeton one day last August, it felt like a hot summer day. With the temperature hovering around 80°F (27°C) and the hot sun scorching us from above, we were dripping with sweat. But an hour later, when we had reached the summit of the 14,196-foot peak, temperatures had dropped as clouds blew in and shrouded the sun. We both dug into our trail running backpacks to get out our lightweight shells, running gloves and knit caps to stay warm. As we layered up, there were spitting bits of rain hitting our faces and, believe it or not, moments later there were snow flurries.
"Weather changes quickly up high," says Letherby, a former world-class marathoner who's immersed himself in trail running in recent years, highlighted by a 20th-place finish at the 2018 Leadville 100 trail race. "No time to sit and rest when the weather is changing."
It's not just about having the best trail running shoes. When you head out for a long-distance, multi-hour adventure run on the trails, there are some essential items you just can't do without, Letherby says. (It's a different story in trail running races because you have access to additional gear, food and water at aid stations along the way.) The longer you run and the further afield your legs take you, the more gear you'll want to carry to ensure a safe, comfortable and enjoyable experience. Here's our 7-point guide to what to take trail running.
1. A lightweight trail running pack
If you've done most of your running on the roads, running with a lightweight trail-running backpack or vest might seem counterintuitive or cumbersome. But the running-specific packs and vests have evolved in recent years and typically weight less than 12 ounces (340 grams), come with two 18-ounce (0.50 liter) soft flask hydration bottles or a hydration reservoir and have a lot of pockets and cargo space for storing extra clothes, snacks, a headlamp or flashlight (check out our guide to the best headlamps you can buy), a map and your mobile phone.
2. A lightweight running shell jacket
You're bound to encounter wind or rain on long trail runs, and either one can give you a chill or leave you downright cold and uncomfortable. The quick remedy is to carry a lightweight shell jacket that is either highly water-resistant or water-repellant or entirely waterproof. Each type should do well at blocking the wind and keeping you warm in cooler temperatures. A water-resistant or water-repellant jacket will keep raindrops at bay for a while and provide a good amount of breathability so you don't get too sweaty inside the jacket, but it won't hold up during a long downpour and will eventually soak through. If you're going to be running in rainy conditions, you should consider a lightweight, seam-sealed waterproof jacket which will keep rain at bay, even at the cost of sacrificing breathability.
3. Must-have accessories
Sometimes it's the smallest things that you take trail running that make the biggest difference on a run. Four accessories that will go a long way in keeping you comfortable are a running hat, lightweight running gloves, running tights and a versatile fabric neck gaiter. The hat could be a thin, lightweight cap with a visor to keep the sun out of your eyes or a knit cap for added warmth. The gloves and tights need no explanation except that keeping your hands and legs warm are key to keeping your body warm. The neck gaiter can keep drafty winds from penetrating your core and also double as a face mask to provide wind protection and offer Covid-19 safety when encountering others out on the trail.
The other accessory Letherby suggests carrying is pair of lightweight, collapsible hiking poles (we've assembled a list of the best trekking poles on the market that can aid in climbing, descending and dispersing the weight of your pack across your arms and legs.
4. Extra fluid
Drink before you're thirsty. That's the key to staying hydrated when you're on a multi-hour trail run, Letherby says. The amount of fluid you drink during a trail run should come close to the amount of fluid you're losing during the run (either by sweating or urinating). That might vary depending on your sweat rate, the temperature and the humidity conditions of your run, but generally the range is 12 to 24 ounces (0.33 to 0.75 liters) of fluid every hour. That means you'll need to carry 50 to 65 ounces of liquid (1.5 to 2 liters) of liquid in bottles or a hydration reservoir/hydration pack on a 3- to 5-hour ultra-distance run. That can be a lot of fluid to carry on a run – and remember water is heavy – so your other alternatives are to carry a portable water-filtering system or plan places you can stop and refill your reserves midway through your run.
5. Extra fuel
Trail running is a full-body workout that requires proper fueling to maintain consistent pace and energy output. Various reports have suggested that you can burn anywhere from 600 to 1,200 calories per hour while trail running, depending on your size, pace and effort. That means you should be refueling with carbohydrate-rich trail snacks or trail mix (we've made some suggestions for the best trail mix recipes) every 45 to 60 minutes when you're out on multi-hour trail runs. While some trail runners prefer snack bars or real food (like peanut butter wrapped in a tortilla), the easiest way to stay fueled via quick-hit energy gels – made by GU, Clif Shot, Honey Stinger, Maurten, Skratch Labs, Monk, Torq, Stealth and Spring Energy, among others – and most deliver about 100 calories of carbohydrate- and sugar-rich semi-viscous fluid and some degree of electrolytes such as potassium, sodium and magnesium. Some are organic and sourced from pure fruit or cane sugar, others are a maltodextrin blend of processed sugars. No matter what you consume, be sure to consumer copious amounts of water to aid the digestion and nutrient-absorption process.
6. Your mobile phone
Believe it or not, your mobile phone can be your most valuable resource on a multi-hour trail run. If you have cellular service, you can keep track of your location on online maps, keep tabs on changing weather patterns, use the built-in compass and reach out for help if you get injured or lost. Even if you don't have cell service, you can engage GPS-enabled mapping maps or view .gpx maps that you downloaded prior to your run. If you need urgent help, you can dial 112 from a phone (even when its locked) and your call will be directed to the local emergency number (e.g. 911 in the US or 999 in the UK or 000 in Australia).
"I always take my phone, even though I don't always use it," Letherby says. "It just makes good sense to carry it." And yes, you can also send selfies back to your friends who are stuck at work or a boring family gathering. And just for safety's sake, it's always best to text or email a friend or family member before and after a long adventure run, just to let someone know where you are going and when you plan to be back.
7. Safety gear
You never know what can happen running remote trails out in the wild, so it makes sense to be prepared as best possible for some worst-case scenarios if you get lost or hurt or wind up still on the trails after the sun goes down – especially if you are running somewhere remote, where passing traffic in the form of other runners, riders or walkers are unlikely to find you if something goes wrong. Aside from your mobile phone, the three biggest safety accessories you should take trail running at all times are a headlamp (fully charged, of course), a paper map of the trail system you're running and a small first-aid kit including an elastic medical bandage that can help you mend basic wounds from a fall, and a foil 'space' blanket to help keep you warm if you end up immobilized on the trail. (Here's why you should take a first aid kit when you're out on the trails.)
Remember, besides injuring yourself, you might also encounter someone else who needs assistance. "It's always better to be safe than sorry," Letherby says. "Once it gets dark, that's when the real trouble can set in."
All the latest inspiration, tips and guides to help you plan your next Advnture!
Brian is an award-winning journalist, photographer and podcaster who has written for Runner's World, The Times, Outside, Men's Journal, Trail Runner, Triathlete and Red Bulletin. He's also the author of several books, including Kicksology: The Hype, Science, Culture and Cool of Running Shoes. He lives in Boulder, Colorado, and loves to run, bike, hike, camp, ski and climb mountains. He has wear-tested more than 1,500 pairs of running shoes, completed four Ironman triathlons, as well as numerous marathons and ultra-distance running races.