What are water shoes? And why you should get a pair!
Whether you're a kayaker, canyoner, wild swimmer, cliff-diver, or just a regular beach goer, owning a pair of water shoes for your adventures can make all the difference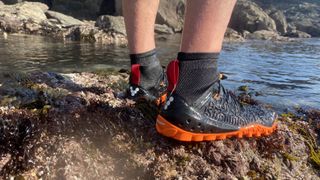 (Image credit: Vibrafoot)
What are water shoes? Well, for anyone who enjoys amphibious adventures, where you're in and out of the water like a speckled frog or the cast of jaws, they make a world of difference.
The best water shoes, you see, are the hovercrafts of the world of footwear – no, they won't allow you to float across the sea's surface but they are shoes designed to be equally at home in the wet stuff as they are on terra firma.
But what are water shoes, exactly, do you need them, and what are their benefits compared to going au naturel or wearing a pair of sandals?
In this post, we aim to answer all of these questions and provide further insights into why owning a pair of water shoes is the way to go for coasteers, canyoners, kayakers, fishermen, and anyone else who spends a lot of time in, around, or on the water.
Today's best deals
What are water shoes? A definition
Water shoes are a type of footwear typically used for activities in which you make frequent transitions between dry land and water. Most are made with mesh or neoprene uppers and use a grippy rubber sole that provides better traction on land whilst also preventing cuts and abrasions when you're walking in rocky terrain around the water.
Do I need water shoes?
If you participate in any kind of water sport – whether it's kayaking, scuba diving, snorkeling, wild swimming, canyoning, coasteering, or paddleboarding – the answer to the above is a resounding "yes!" Unlike water sandals and even most of the best hiking sandals, these shoes use a closed-toe design to provide optimal protection for the feet. They also have extra-grippy soles that adhere well to both slick natural surfaces and the plastic or fiberglass used in paddleboards, surfboards, kayaks, and boats. This means they're not only far more comfortable than your bare feet or sneakers but also capable of preventing bumps and bangs to your toes and preventing slips.
A non-exhaustive list of the activities in which water shoes can be used includes: wild swimming, tubing, waterskiing, fishing, boating, paddleboarding, hiking on wet or muddy trails, coasteering, canyoning, kayaking, canoeing, and diving.
Benefits of water shoes
The benefits of water shoes vary depending on the type of activity you're using them for. That said, there are three more general reasons to wear them that are applicable across the board: safety, comfort, and versatility.
Safety
Wet environments are almost invariably slippery environments – we've all seen the videos of canyoners, boaters, or peeps one second strolling along rocks, a boardwalk or the waterside and the next second sliding onto their backside…or worse. Water shoes mitigate this problem by using a sole that's grippier than the soles of our feet and even some of the best hiking shoes. Most water shoes also have fairly aggressive tread patterns and deep lugs that provide superior traction when walking on sand, mud, and loose dirt.
Comfort
While wearing regular running shoes or bare feet while doing sports in and around water is feasible, there are two reasons why your feet won't thank you for it. \
First up, unlike regular running shoes or sneakers, water shoes don't get waterlogged when wet and are designed to dry very quickly. This not only helps to reduce the risk of chafing and blisters, it also saves you carrying extra weight on your feet and letting your skin become so soaked that it starts thinking about developing gills, scales, and flippers.
Secondly, making the transition from water back to land is usually the worst part of any water-based adventurer's day, and not only because it means the fun's over until the following weekend, but because doing so usually entails walking on something that's far from foot-friendly, whether it be rocks, sand, pebbles, boardwalks, or plain old asphalt or concrete.
Versatility
One of the main benefits of water shoes is that some models can be worn in any environment – at home, in the car, around town, in the wet stuff, by the waterside, and even on short hikes in boggy terrain. Having a pair of water shoes, therefore, will not only save you having to constantly change your footwear throughout the day (and lug them around with you), but should also help to keep your land-specific footwear in better shape.
All the latest inspiration, tips and guides to help you plan your next Advnture!
Former Advnture editor Kieran is a climber, mountaineer, and author who divides his time between the Italian Alps, the US, and his native Scotland.
He has climbed a handful of 6000ers in the Himalayas, 4000ers in the Alps, 14ers in the US, and loves nothing more than a good long-distance wander in the wilderness. He climbs when he should be writing, writes when he should be sleeping, has fun always.
Kieran is the author of 'Climbing the Walls', an exploration of the mental health benefits of climbing, mountaineering, and the great outdoors.