The world's weirdest running races: from donuts and wine to running with donkeys
Tobias Mews, author of 50 Races to Run Before You Die, showcases five extremely unconventional events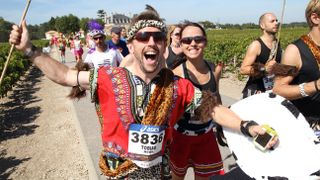 (Image credit: Tobias Mews)
"Vous êtes prêtes?" ("Are you ready?") the excited commentator shouts over the microphone to the assembled 8,000 fancy dress–clad marathon runners in front of him.
"Yes!" "Oui!" "¡Sí!" we reply, in an assortment of languages. The vast majority of us are lying, of course, both to ourselves and the MC.
How can you possibly say you're ready to run a marathon in 95-degree heat (35°C), dressed as a Roman senator, with 26 aid stations ahead of you, stocked to the gills with wine? Don't they say somewhere that you should never try anything new on race day? Nor drink alcohol before a race, let alone during one?
Because, when it comes to the world's weirdest running races, the rulebook seems to get casually thrown aside as organisers come up with ever more balmy ideas to entertain and challenge us running folk. As an adventure journalist, I've been fortunate to have run hundreds of races, from breath-stealingly steep one-milers up to 300km ultra marathons. I even wrote a 50 Races to Run Before You Die about some of my favourite events.
But the ones that stick in my mind most are those that were veritably different. And ultimately, those that made me smile. If you're in need of inspiration, here are five of the world's weirdest running races to get you started.
Marathon du Medoc – Pauillac, France (Next edition: September 11, 2021)
If you like running, fancy dress and fine wine, then this is the one for you. With 35 editions under its belt, the Marathon du Medoc is a bit of a classic and often falls into the 'Have you heard about that crazy marathon in France where you drink wine as you run?' category. I've done this race twice (both times with my long-suffering wife) and although the idea of swaffing down a glass of red wine or 26 during a marathon may sound bonkers (and of course optional), it is perhaps the most fun (and booze) I've had while running.
Pack Burro-Racing – Colorado, USA (Next season: May–September 2021)
If you're under the opinion that donkeys are kind of docile, lazy animals, then think again. They apparently love to run, which for the past 72 years has been the basis for the sport of pack burro-racing in Colorado, which celebrates the mining history of the state. Finding a suitable burro (the Spanish word for donkey) willing to take part is only half the battle. Because you also need to be able to run anywhere between 8 and 30 miles, up and down a mountain, all while leading by rope your burro, which will be carrying a 15kg pack containing 'essential mining equipment' such as a pick, gold pan and a shovel.
To be clear, animal welfare is paramount, and any semblance of cruelty is strictly forbidden (veterinarians oversee events and can impose harsh penalties on any runner deemed to be treating their animal badly). And you're absolutely not allowed to ride the donkey – in fact, technically, the runner may carry the burro, but the burro may not carry the runner. It might sound pretty niche but burro racing is the official state sport of Colorado, and it has a loyal following, including esteemed author of Born to Run, Christopher McDougall, who in his latest book, Running with Sherman gives a vivid picture of what it's like run with a donkey. It also has attracted the likes of elite trail runners, Max King and Ryan Sandes. A series of pack-burro races takes place between May and September each year.
Wife Carrying World Championship – Finland (Next event: July 2021)
If ever there was a crazy idea for a running race, it's the Wife Carrying Championship. Although it's not necessary to run with your actual wife, organizers are on the look out for entrants attempting to game the system – if your 'wife' weighs any less than 49kg, they add additional weight. When picking a non-running, comfortable-to-be-cargo partner, you might also want to check that they don't mind being accidentally dropped on their head. The course is around 250 meters long, and involves a few obstacles, including wading through a water-filled ditch. Whoever can complete the course in the shortest amount of time is the winner.
The original event is held in Finland, where wife carrying is something of a national sport, thanks to a 19th century legend about an outlaw called Herkko Rosvo-Ronkainen, or 'Ronkainen the Robber' to his mates, whose gang was notorious for stealing women from villages by literally carrying them off. But you if you don't want to go that far, you could take part in the North American wife-carrying championship, or the spouse-carting race in England, where I had my competitive wife-carrying baptism. Oh and it's much harder than it looks, especially when your wife is squeezing your head so hard in fear, you can't see where you're going.
Man Against Horse – Llanwrtyd Wells, Wales (Next race: June 12, 2021)
If you're a little bored of your standard ultra marathon (if not, check out our guide to ultra running), where you compete against other runners for the win, then about racing against a horse? The concept for the Man Against Horse race originated in Wales, in a pub, during an argument about whether a human runner could be quicker across mountainous terrain than a horse. A £1,000 prize was placed on the table for any man (or woman) or could achieve such a fleet-footed feat, and a race was born. Forty years after that drunken discussion, the Man Against Horse event remains an annual contest. The goal of the race is simple: to try and run a very hilly 22 miles (complete with river crossings) quicker than your equine counterparts. And believe me, even without the distraction of horses galloping past you, it's hard. It took 25 years for a man to first beat the horses outright (marathon-runner Huw Lobb won in 2004, and collected the wager, which had accumulated to £25,000 by the time he pocketed it), making the odds of you doing the same fairly low. But there is, nevertheless, something thrilling about competing not only against nature, but humans and horses to boot. If travelling to Wales is a tricky, then you could try the Man Against Horse in Prescott Arizona, which takes competitors along a rugged route (for 12, 25 or 50 miles) through the trees and along the mountainous trails of the Mingus Mountains every October.
Krispy Kreme Challenge – North Carolina, USA (Next race: February 2021)
Many people take up running to lose weight. If that's you, the Krispy Kreme Challenge (race mantra: '2400 calories, 12 donuts, 5 miles, 1 hour') might not be your cup of tea. Although, having said that, there is a 'no donut' option, but the main event involves running 2.5 miles to the Krispy Kreme donut shop, devouring 12 doughnuts and then running the 2.5 miles back to the start – all in under an hour. As you can imagine, the return journey might cause a little indigestion. To make matters even more challenging, it's held in the chilly month of February, so you might want to bring gloves (that you don't mind getting smeared with cream and sugar). Naturally, it's all for a good cause – no, not the Heart Foundation (conflict of interest there), but the North Carolina Children's Hospital. And with over 5,000 runners taking part in the 2020 edition, you'll unlikely to be alone in your gastrointestinal discomfort in 2021.
All the latest inspiration, tips and guides to help you plan your next Advnture!