How to avoid stitches when running
Plagued by pain in your side? We dish up some tips on how to avoid stitches when running and investigate the possible causes of the mysterious, dreaded stitch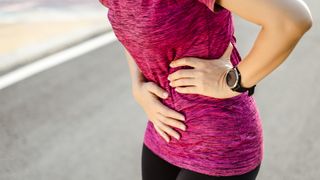 (Image credit: Suriyawut Suriya)
Honestly, what is more annoying than getting a stitch while running? There you are, the wind in your face as you fly down the trail in your best trail running shoes, feeling fitter than you've ever felt in your entire life, when suddenly you're doubled over by a sharp pain in your side. You know it's nothing serious, and certainly no cause for concern the way running injuries such as plantar fasciitis or stress fractures are, but that doesn't stop it from stopping you in your tracks. You basically can't take another step until it's passed. But what is a stitch anyway? And should you run through a stitch? In this article, we take a look at some possible causes of the mysterious, dreaded stitch, and dish up some tips on how to avoid stitches when running.
What is a stitch?
A stitch, or side stitch, is better known in the medical community as exercise-related transient abdominal pain (ETAP) and according to an article in Sports Medicine is characterized by pain in the abdomen that can be sharp or stabbing when severe, or more crampy or achey when less intense. ETAP commonly affects people when doing activity that involves repetitive torso movement when your torso is extended, and affects about 70% of runners at least once per year. ETAP is more common among young people, and tends to affect well-trained athletes less frequently.
Almost as annoying as the stitch itself is the fact that – a lot like it's equally annoying cousin, the hiccups – no really knows exactly what causes it, but there are lots of theories around the sources of ETAP, including:
Running after eating and drinking (especially hypertonic beverages, which are high in sugar and salt)
Restricted blood flow to the diaphragm
Stress on the ligaments that attach the abdominal organs to your diaphragm
Gastrointestinal distention
Cramping of your abdominal muscles
Aggravation of the spinal nerves
Aggravation of the internal lining of your abdominal wall, known as the parietal peritoneum
Shallow breathing
Should you run through stitches?
Because so little is really known about stitches, so far there's no conclusive advice about whether or not you should run through a stitch, and there certainly isn't any evidence as of this writing that doing so will cause you any harm. That said, you've no doubt learned by now that sometimes you can run through a stitch until it disappears and sometimes you can't. When you can't, it's time to slow down to a walk until you're able to run again. Annoying, yes, but not the end of the world unless you're in a race.
How to avoid stitches when running
Regardless of whether you're in a race or simply out enjoying your daily trot, you no doubt want to avoid a stitch whenever possible. After all, they can be pretty intolerable. Again, because we don't definitively know what causes stitches, there isn't a guidebook available for avoiding them but if you're experiencing stitches regularly, here are a few anecdotal remedies to consider:
1. Eating and drinking before running
As you now know, eating and drinking before a run has been identified as a likely factor in developing a stitch. Some people swear by fuelling up before a run, while others insist that fasted running is the way to go, but basically, if you usually eat before a run and you're getting stitches frequently, you'll want to rethink your approach. Either don't eat before you run, eat a lighter meal, or leave longer between your meal and your run.
2. Pay attention to posture
Because blood flow, ligament stress and spinal nerves have all been implicated as possible culprits, it's a good idea to check your posture. In fact, it's a good idea to check your posture when you're running even if you're not experiencing stitches. Have your running partner or a coach watch your running form and make sure you're not hunching over. Run with your spine up straight, your shoulders back, and your arms a little relaxed.
3. Strengthen your core
There's not much in the way of activity that having a strong core isn't recommended for, but if stitches are indeed caused by stress on the ligaments, it's an especially good idea. You might be one of those runners who logs an impressive tally of miles every week, but tends to skip the weights. If so, in addition to all that cardio, get to work on some strength training, particularly surrounding your abdominal muscles, to support your organs and spine while you're in motion.
4. Breathe better
Stitches are also commonly attributed to poor breathing, with shallow breathing and incomplete exhales often identified as the source of your pain. Much like core strength, you won't do yourself any harm by training yourself to breathe deeply and rhythmically on the trail. If you tend to struggle with your breath on a run anyway, start with our article on how to not lose your breath while running for some tips on how to develop better breathing practices.
5. Warm up
If your stitch tends to come on towards the beginning of your run and you don't give a lot of thought to easing in, your problem might be that you're doing too much, too soon. Even if you're very fit, if you're hitting the trail first thing or after sitting all day at your computer, you need to give your muscles and cardiovascular system a chance to adapt to the switch in gears. Start with some warm up exercises for running, begin with a brisk walk, then slowly increase the speed to a gentle jog before you get to any all-out sprinting.
6. Slow down
Speaking of sprinting, if you experience stitches when you're running fast, you may just have to slow down. It could be that you're going too fast to breathe properly and this is causing the issue, or maybe it's a combination of going fast without engaging your core muscles – we just don't know. But if you have the need for speed and are plagued by pain in your side, slow down a bit and learn how to pace yourself when running.
All the latest inspiration, tips and guides to help you plan your next Advnture!
Julia Clarke is a staff writer for Advnture.com and the author of the book Restorative Yoga for Beginners. She loves to explore mountains on foot, bike, skis and belay and then recover on the the yoga mat. Julia graduated with a degree in journalism in 2004 and spent eight years working as a radio presenter in Kansas City, Vermont, Boston and New York City before discovering the joys of the Rocky Mountains. She then detoured west to Colorado and enjoyed 11 years teaching yoga in Vail before returning to her hometown of Glasgow, Scotland in 2020 to focus on family and writing.