How to not lose your breath when running
Follow our tips for how to not lose your breath when running to make sure your breath is your fuel – not your foe – when you get your running shoes on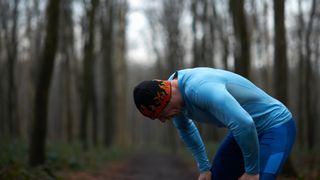 (Image credit: Getty)
When you're new to trail running, all those hills can really take your breath away – and not always in the way you intended or hoped for. Sure, running is a cardiovascular activity and it's designed to get your heart pumping and have you breathing deeply, but if you're unable to catch enough breath to continue and you're wheezing, it can be discouraging, downright uncomfortable and even impact your efficiency. If this sounds like you, follow our tips for how to not lose your breath when running to make sure your breath is your fuel – not your foe – when you get your trail running shoes on.
How to not lose your breath when running
When you're running, you need to be able to breathe properly to make sure your muscles and brain are getting all the oxygen they need to perform. Though claims that you should time your breath with your foot strike have been debunked, there are definitely some techniques that you can incorporate to help you keep your breath steady on a run. There are different reasons why you might losing your breath while running, from doing too much too soon, to posture and technique, so we run through various approaches and suggest you give each of them a try.
1. Ease in
If you're sprinting from a standing start, you might be losing your breath because you're not giving your body a chance to adapt to the demands of the activity you're doing. Start out any run with a few minutes of brisk walking, then run your first half mile or so at a slow, leisurely jog. Once you feel warm and comfortable and are breathing deeply, you can slowly increase your pace.
Further, if you're going for a run after you've been sitting at a computer for hours, consider down some warm up exercises first to open up your shoulders and chest.
2. Slow down
Another reason you could be losing your breath is simply that you're going too fast. This might be intentional, if you want to get a good workout in or are trying to increase your pace, but it's better to learn how to pace yourself when running to give your cardiovascular system and muscles time to adapt. If you're new to running, slow everything way down and see if you can maintain a conversation while you run. Don't be afraid to walk for a few minutes here and there and slow down on uphills to help conserve your energy too. If you're working on increasing your pace, try interval training to increase your stamina instead of just trying to do your whole run at a faster clip.
3. Try mouth breathing
So far, there's no evidence that breathing through your nose or mouth is better for running, but if you're breathing through your nose and not getting enough air, an easy fix is just to breathe through your mouth, which will get more oxygen to your body, faster.
4. Breath deeply and rhythmically
In addition to breathing through your mouth, how you breathe matters. It may not be something you've given much thought to before, but increasingly, we tend to breathe a shallow breath because we spend so much time sitting in front of computers. Try slouching over right now and breathe deeply. You can't do it, can you?
None of this bodes well for running, which challenges your respiratory system as it is, so practice breathing all the way down into the bottom of your lungs, known as diaphragmatic breathing, and find a good, steady rhythm to your breath. There is no correct length for your inhales and exhales, known as breath threshold, but try to make your inhale at least two seconds long and your exhale a bit longer, since your heart slows down when you exhale and prolonging that will help keep your cardiovascular system regulated.
5. Check your posture
Posture has a lot to do with how you breathe, since your diaphragm needs room to expand and slouching inhibits it. Whether you've adopted poor posture patterns from daily life or just assume them when you're running, it's common to round your back and shoulders once you're moving. Instead, stay upright through your spine, draw your shoulders back and try to keep your weight centered over your feet. Use our pilates for running advice for more help with this.
6. Refine your running technique
If you've tried all of the above and you're still having trouble breathing, the issue could be your running technique. This is an area where working with a coach could be really helpful, but for starters, consider relaxing your arms a bit so you're not too tense and and make sure your movements are coordinated – your left arm should swing forward with your right leg and vice versa.
7. Practice breathwork
Finally, if you have never given much thought to how you breathe, it may be that you just need to train yourself to breathe better, and this is something you can work on even when you're not running. Use our yoga stretches for runners sequence as a warm up, then lie down on your back, place a folded blanket on your abdomen, and try breathing so deeply as to move the blanket. Aim to inhale for five seconds and exhale for five seconds, and practice this for several minutes regularly to train yourself how to breathe deeply.
All the latest inspiration, tips and guides to help you plan your next Advnture!
Julia Clarke is a staff writer for Advnture.com and the author of the book Restorative Yoga for Beginners. She loves to explore mountains on foot, bike, skis and belay and then recover on the the yoga mat. Julia graduated with a degree in journalism in 2004 and spent eight years working as a radio presenter in Kansas City, Vermont, Boston and New York City before discovering the joys of the Rocky Mountains. She then detoured west to Colorado and enjoyed 11 years teaching yoga in Vail before returning to her hometown of Glasgow, Scotland in 2020 to focus on family and writing.