How to increase running distance: expert advice for road runners and trail runners
Running coach Arj Thiruchelvam's tips for building up running distances – and how to avoid getting injured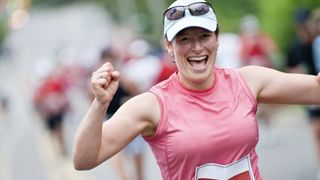 (Image credit: Getty)
There are plenty of reasons for building up how far you run, but it's important to understand how to increase running distance sensibly and safely. Whether your focus is a longer race, a personal challenge or simply to become fitter or lose weight, building up your running distance too quickly – or without adequate recovery – increases the chances you will end up with an injury.
Each runner is different and can cope with different running loads but a general rule, according to Performance Physique running coach Arj Thiruchelvam, is to increase your running volume by no more than five to 10 per cent per week.
However, Thiruchelvam says that runners who want to increase running distances can do so in different ways. He explains: "The increases don't have to be consistent, so you might spend a few weeks increasing at a lower value and then plateau, or build up.
"Alternatively, you might find that you want to increase your running distance every four weeks, so you have four weeks at a set distance and then you increase that volume ever so slightly for another four weeks at that set distance, and so on.
"Another method involves working at just one mile increments every week, or every few weeks if you're a beginner."
Thiruchelvam, who lectures in sports science at postgraduate level, adds: "These are all variations but the main principle is not to overwhelm your body with too much stress that will lead to injury."
How to manage load when increasing running distance
When coaching, Thiruchelvam considers a runner's level of experience when considering how to increase running distance. For example, a runner with less than 12 months of consistent running experience is classed as a novice.
He says: "These runners haven't necessarily got the bone density or the tendon strength to allow for substantial changes in their training volume and intensity and, therefore, are more vulnerable to injury.
"I set limits on the amount of high intensity work, repetitions and intervals that my athletes complete in a week, as a percentage of their running volume.
"It's largely recommended that long runs amount to only 25 per cent of your weekly volume. However, we're all different and sometimes you'll need to drop a particular day or reduce the total volume.
"Runners shouldn't feel guilty if that's the case. Every now and again, I reduce the long run distance for my athletes if they're not feeling up to it. Science and data underpin all of my methods, but a good coach takes into account how the athlete feels because this should be a factor in decision-making."
Intensity v duration
Thiruchelvam makes the point that you should not focus on both intensity and duration at the same time, so runners and coaches should make sure this is controlled carefully to avoid injury.
He says: "If you're looking to improve speed, you need to address intensity more than running mileage.
"When training for a marathon, for example, most of your runs should consist of 'easy' pace, which most of us run too quickly, followed by marathon pace and threshold running. This is a pace that is quite uncomfortable but we can maintain for an extended period of time, and is the zone which really makes you a better endurance runner.
"If you're looking to improve your speed then you really should begin your programme with faster paces, such as intervals and repetitions. The latter are intensities that sit around your VO2 max and heart rate max."
Thiruchelvam recommends that runners who want to increase running distance should invest in a bespoke running plan. He says: "If you have a running plan customised to suit you it allows you to build up mileage and speed appropriately for your individual needs. Essentially, you'll become a better runner more quickly by investing in a programme or coach."
How to build up to a marathon
For many runners, especially road runners, a big goal will be to run a marathon. Thiruchelvam, who has experience of coaching novices up to Team GB Olympians and is also a UK Athletics sprint and jumps coach, says that each person's journey to the marathon distance is different, but there are some key components to increasing your running volume.
He starts with five principles runners should follow when training for a marathon:
If you're already a runner, you'll need 12 to 18 weeks to build up to 26.2 miles
You'll need to run at least four times a week
You should plan to run at different paces, so a mix of quality runs and easier, slower runs. Also focus on intervals and repetitions
You must incorporate strength training into your programme, which will benefit your stamina when running
Gradually build up weekly mileage, otherwise you'll get injured.
Recovery is also an important part of a careful plan for increase running distance. There are many rewards of being able to run longer distances if you follow the expert tips.
All the latest inspiration, tips and guides to help you plan your next Advnture!
Fiona Russell is a widely published adventure journalist and blogger, who is better known as Fiona Outdoors. She is based in Scotland and is an all-round outdoors enthusiast with favourite activities including trail running, mountain walking, mountain biking, road cycling, triathlon and skiing, both downhill and back country. Her target for 2021 is to finish the final nine summits in her first round of all 282 Munros, the Scottish mountains of more than 3,000ft high. Aside from being outdoors, Fiona's biggest aim is to inspire others to enjoy the great outdoors, especially through her writing. She is also rarely seen without a running skort! Find out more at Fiona Outdoors.