Return to running program: how to get back after injury
A guide to getting back to running following an injury or a break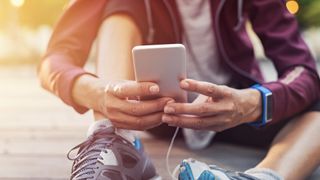 (Image credit: Getty )
There are a number of reasons why people might be coming back to running after time away. It could be that you have been suffering with a running related niggle or injury, or perhaps you have taken a break from your program due to an increased work schedule, a long holiday or simply because you got out of the habit of running.
Here we reveal some important dos and don'ts when you put together a return to running program.
Return to running program after injury
Do seek expert advice from a sports medic, physiotherapist or podiatrist for a running injury.
Do follow the advice of the expert for proper rehab and recovery.
Don't be in a rush to embark on your return to running program. You might feel like you will lose your fitness or become behind in the build up to a race, but carrying on while injured will leave you further behind in the long-term.
Do ask yourself if it's better to get to the root of the injury and recover rather than pushing on regardless.
Don't return to running if you still feel acute or deep pain.
Do assess your pain level from an injury on a scale of one to 10. If the pain is 1/10 or 2/10 you can try to go for a short and easy run and then see how you feel afterwards.
Don't go for a run if the pain is anywhere higher than 6/10. You need to allow you body to recover from an injury.
Do return to your running programme slowly and carefully. If your pain is at 1/10 or 2/10, you should start to build up gently, allowing plenty of time for recovery in between running sessions.
Don't throw yourself back into the running programme right where you left off.
Do return to a place a few weeks or a month before the injury in the running programme and resume from there.
Do rethink your goals for your running programme. If you were aiming for a race and it feels like that event is now too soon, you should look for another race to enter.
Do consider whether you might need new running footwear. Worn shoes can cause issues with running gait and dynamics and it is import to know when you should replace running shoes.
Do think about injury prevention – for example, learning how to avoid trail running injuries, or consider strength and conditioning sessions, yoga and/or pilates.
Return to running program after a break
Don't try to return to the running program where you left off, especially if you have had a long break.
Do start the running program again, or join the programme well within your current fitness comfort zone.
Do build up slowly when you restart the running training. There are plenty of tips for success with a trail running program. It is better to begin slowly and gently and build up gradually, than start with a full- steam-ahead approach and end up with a niggle, injury or feeling too tired, too quickly.
Do seek the advice of a running coach if you are not sure how to restart your training programme.
Don't expect to be able to restart your running routine after a break and then have the same goals.
Do reset your running goals so that they are realistic.
Do consider the mnemonic acronym SMART when returning to running. Your running goals should be: Specific, Measurable, Achievable, Realistic and Timely.
Don't compare yourself to other runners. Trying to keep up with others, or catch up with running friends, is likely to end with you feeling too tired or, worse still, injured. It is easy to lose motivation when you feel you are being left behind by other runners.
Do follow your own personalised return to running program, especially after a break from training.
Returning to running after time away can feel frustrating, especially if you were making good progress before the injury or break. But remind yourself that with a careful build up and sensible progression you will be back there again before too long.
All the latest inspiration, tips and guides to help you plan your next Advnture!
Fiona Russell is a widely published adventure journalist and blogger, who is better known as Fiona Outdoors. She is based in Scotland and is an all-round outdoors enthusiast with favourite activities including trail running, mountain walking, mountain biking, road cycling, triathlon and skiing, both downhill and back country. Her target for 2021 is to finish the final nine summits in her first round of all 282 Munros, the Scottish mountains of more than 3,000ft high. Aside from being outdoors, Fiona's biggest aim is to inspire others to enjoy the great outdoors, especially through her writing. She is also rarely seen without a running skort! Find out more at Fiona Outdoors.