How to stop ski goggles from fogging
By Julia Clarke
Foggy ski goggles ruining your powder day? We explain how to stop ski goggles from fogging, so you can enjoy uninterrupted laps on the hill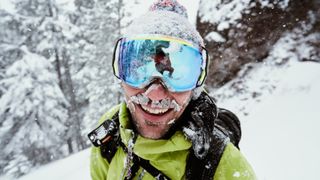 (Image credit: Cavan Images)
Foggy ski goggles can honestly ruin an otherwise perfect powder day. Fog on your goggles can come from moisture from sweat and snow as well as the differential between your body heat on the inside and the cold temperatures on the outside. It makes it impossible to see where you're going so you keep pulling them up over your helmet between runs so you can see, or worse, wiping them with wet ski gloves, – then when you pull them back down they're even foggier. Buying new goggles is an expensive and unnecessary fix, so we set out to uncover how to stop ski goggles from fogging, so you can enjoy uninterrupted laps on the hill.
1. Start with a good pair of goggles
It turns out that when it comes to foggy ski goggles, an ounce of prevention is worth a pound of cure. Start with a decent pair of goggles. You're looking for goggles that have a dual-pane lens – one to keep the cold air out and one to hold the warm air in. You also want to make sure your lenses have been pre-treated with an anti-fog coating on the inside.
2. Adjust your goggles so they fit properly
Gaps between your goggles and your face allow moisture and cold air in, so you want to adjust your goggles to sit flush to your face without gaps – just not so tight as to be uncomfortable.
3. Let your goggles dry out after using them
Most of the time, goggles fog up because you stash them away wet after using them and they don't get the chance to dry out before you hit the hill again. After using them, wipe them gently with a soft, dry cloth but don't use any chemical treatments or home remedies on them – you want to preserve that anti-fog coating they came with. You can even use the bag they came in, as long as it's dry. Then, let them dry out somewhere safe after using them before you pack them away – not inside your car where they might freeze.
4. Don't pull them up over your wet helmet
Any time you're taking a break or riding the lift, the obvious place to put your goggles is up over your damp, sweaty head or wet helmet where they're out of the way and your hands are still free, but the problem is they'll get wet here since your helmet will be wet. Basically, keep them on your face when you're skiing and when you stop for lunch, take them off and set them on the table.
5. Brush snow off the vents frequently
Your goggles have vents on top that let air out while you're using them but this is also a handy shelf for snow to land on. Each time you hop on the lift, brush the snow off them so it doesn't melt and leak into the gap between the lenses.
6. Regulate your body temperature
If you're wearing a lot of layers, skiing hard or the temperatures are mild, it will help to regulate your own heat so you're not sweating a lot, which will fog up your glasses fast. The best approach is to dress in a base layer with a hardshell on top. When you start to feel warm, take your face mask off, unzip the thigh vents of your ski pants and your jacket on the ski lifts, and make sure you're using a helmet that has ventilation.
7. Don't wear your goggles for uphilling
There are lots of different types of skiing and some don't involve lifts. If you're an uphill skier, cross country skier or even a snowshoer, you may want your goggles for the way down, but again, don't wear them up over your head or on your face while you hike or they'll be too steamy to use once you've taken your skins off. Instead, store them in the dry bag they came in inside your pack until you're ready to head down hill.
Julia Clarke is a staff writer for Adventure.com. She is an author, mountain enthusiast and yoga teacher who loves heading uphill on foot, ski, bike and belay. She recently returned to her hometown of Glasgow, Scotland after 20 years living in the USA, 11 of which were spent in the rocky mountains of Vail, Colorado where she owned a boutique yoga studio and explored the west's famous peaks and rivers. She is a champion for enjoying the outdoors sustainably as well as maintaining balance through rest and meditation, which she explores in her book Restorative Yoga for Beginners, a beginner's path to healing with deep relaxation. She enjoys writing about the outdoors, yoga, wellness and travel. In her previous lives, she has also been a radio presenter, music promoter, university teacher and winemaker.
All the latest inspiration, tips and guides to help you plan your next Advnture!
Thank you for signing up to Advnture. You will receive a verification email shortly.
There was a problem. Please refresh the page and try again.