Breathable waterproof fabrics: 6 Gore-Tex alternatives for damp days on the trail
Our guide to breathable waterproof fabrics discusses several alternatives to Gore-Tex for keeping dry on the trail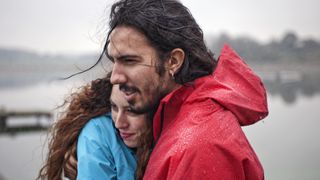 (Image credit: Howard Kingsnorth)
Gore-Tex is a bit like the Kleenex of outdoor gear – a brand name that has become an interchangeable term used for almost any breathable waterproof fabric. These days, however, there are plenty of alternatives to Gore-Tex that are worth a second look when it comes to outdoor gear.
When you're camping, running or hiking in the rain, you want the best out of your waterproof gear like your waterproof jacket, rain pants, hiking boots and tent. Breathable waterproof fabrics are those that repel moisture from coming in, while drawing moisture like sweat away from your body, so they're perfect for any activity when you're exerting yourself in humid conditions.
The best-known such fabric is Gore-Tex, a breathable waterproof fabric invented and trademarked by the Gore family in 1969 that replaced the typical inner layer of waterproof clothing, usually made from polyurethane, with a thin, porous fabric. The resulting garment repels liquid water but allows water vapor to pass through, meaning it keeps rain out but allows sweat to leave. Many outdoor brands use Gore-Tex technology in everything from hiking boots to rain jackets.
There are lots of upsides to Gore-Tex: it's extremely waterproof and breathable, they require that any garment made using its fabric has taped seams and they offer a lifetime guarantee for their products regardless of who made them.
However, there are downsides too: since it only allows vaporized water vapor through, if you end up with liquid water inside your Gore-Tex clothing, it will stay there which is why your Gore-Tex gear can sometimes feel slick and clammy. Gore-Tex is expensive, known for making an annoying swooshing sound when you're moving and is made using a group of chemicals called perfluorochemicals which, according to the Centers for Disease Control and Prevention (CDC), are a concern because they do not break down and therefore build up in our landfills and water sources. Though there is not yet conclusive evidence that these chemicals are harmful to human health, Gore-Tex has committed to phasing these chemicals out of their production to become more environmentally friendly.
We decided to tackle the task of finding out whether any other fabrics stand up against the waterproof giant. Whether you're looking for more sustainable, cheaper or better-performing alternatives to Gore-Tex, check out our guide to breathable waterproof fabrics that help keep you dry during damp days on the trail.
eVent
One of the earliest and best known alternatives to Gore-Tex, eVent technology is a waterproof membrane that is paired with other fabrics and features billions of tiny pores that 'vent' moisture away from your body but don't let droplets in. The difference between eVent and other similar technologies is that eVent is a 'dry system' that doesn't need to get wet or require excessive body heat to work. Because of this, it claims to keep your body in a more steady state of temperature and humidity when you're exerting yourself. eVent does away with the polyurethane layer used in Gore-Tex which makes it more breathable and lighter, however this means that the sweat wicked off your body remains in the fabric, meaning it becomes more dirty, faster.
eVent vs Gore-Tex
Pros
Lightweight
Slightly more waterproof
Comparable or better breathability
Cons
Requires more washing
Can be less durable than Gore-Tex, depending on on the fabric it is paired with
Páramo Nikwax Analogy
Developed in the early 1990s, Páramo Nikwax Analogy also utilises a 2-layer approach that consists of an outer layer, usually ripstop polyester, treated to deflect wind and rain, and an inner layer that they term a 'pump liner'. The outer layer is water-repellent, while the pump liner is designed to mimic animal fur, 'pumping' moisture away from your body, with the end result of the two layers being a waterproof fabric. An air gap between the two materials also provides insulation, which is great for cold weather. You can read more in our article on Gore-Tex vs Páramo Nikwax.
Paramo Nikwax Analogy vs Gore-Tex
Pros
More environmentally friendly
Cheaper
More breathable
Pertex Shield
The initial incarnation of Pertex was as a breathable, moisture-wicking fabric that allowed moisture to escape through capillary action. Later, they added waterproofing capacity and the modern versions feature 2, 2.5 and 3-layer constructions. Pertex rivals Gore-Tex in breathability and is very lightweight, making it easy to fit in your backpack, while Gore-Tex wins in the waterproofing and durability categories.
Pertex Shield vs Gore-Tex
Pros
Breathable
Packable
Lightweight
The North Face FutureLight
One of the newer challengers to Gore-Tex's dominion, The North Face's in-house breathable waterproof fabric, FutureLight, uses what they call "nano spinning" to build micro threads, which they promise offers double the breathability, equal waterproofing and durability, and "whisper-quiet softness" compared with Gore-Tex's. The price, however, is comparable to Gore-Tex.
The North Face FutureLight vs Gore-Tex
Pros
Breathable
Durable
Quieter when moving
Patagonia's H2No
With H2No, Patagonia set out to create a breathable waterproof fabric that is also durable while using recycled materials. They use a 3-layer construction with a 'laminated scrim' which helps disperse moisture build-up by decreasing drying time and minimizing the risk of incoming water droplets. The result is not as waterproof or breathable as Gore-Tex, but it's more comfortable and probably better for the environment.
Patagonia's H2No vs Gore-Tex
Pros
High comfort
More environmentally friendly
Cons
Less waterproof
Less breathable
Polartex Neoshell
While many breathable waterproof fabrics have claimed to be the most breathable around, Portex Neoshell might just stake this claim. They claim to have engineered optimal pore size and placement to release heat and sweat without high pressure build up, meaning you don't have to get very hot and sweaty for it to start working and you maintain natural thermoregulation. It's also very stretchy fabric so it's ideal for dynamic pursuits where you're likely to perspire a lot.
Polartex Neoshell vs Gore-Tex
Pros
Extremely breathable
Allows greater freedom of movement
Cons
Less waterproof
Expensive
All the latest inspiration, tips and guides to help you plan your next Advnture!
Julia Clarke is a staff writer for Advnture.com and the author of the book Restorative Yoga for Beginners. She loves to explore mountains on foot, bike, skis and belay and then recover on the the yoga mat. Julia graduated with a degree in journalism in 2004 and spent eight years working as a radio presenter in Kansas City, Vermont, Boston and New York City before discovering the joys of the Rocky Mountains. She then detoured west to Colorado and enjoyed 11 years teaching yoga in Vail before returning to her hometown of Glasgow, Scotland in 2020 to focus on family and writing.