How to use an avalanche beacon
If disaster strikes, your avalanche beacon might save your life, or the life of a friend. But you can help your transceiver do its job better with these tips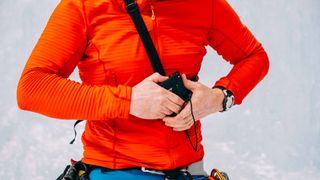 (Image credit: Getty Images / Alex Ratson)
There's absolutely no doubt about it: when things go wrong in the mountains, avalanche beacons save lives. But it helps to understand how they work, how to wear them and how to look after them.
1. What is an avalanche beacon?
Ingenious pieces of kit, avalanche beacons – also called transceivers or "avy beacons'" – are emergency locators carried by sensible skiers, snowboarders and climbers when they venture up into the peaks and out onto the slopes, crags and icy backcountry during the winter months. While adventuring, the wearer should have their beacon set to "Send", which means that it's transmitting radio waves at 457 kHz. In the event of avalanche, rescuers or companions can find anyone buried under the snow whose transceiver is transmitting, by switching their own beacons to "Receive" mode and following the signal.
Some beacons have a "Group Check" mode. This is intended for snow sports professionals, advanced users and people acting as de facto group leaders for friends, allowing you to easily check that everyone in your party has their beacon on and in "Send" mode as they set out for their day in the snow. Some avy beacons also have an analog mode that increases the range of the beacon and directs you towards a buried victim with auditory cues.
Avy beacons are "active" devices (in contrast to the "passive" RECCO devices that are sometimes incorporated in some of the best ski packs, pants and jackets). This gives you a better chance of surviving if you're ever buried in the snow, but also avalanche beacons are more expensive and require more love and attention.
How do you wear an avalanche beacon?
How you wear your beacon is extremely important. Doug Workman, ski guide and Avalanche Safety Program Manager for Mammut, says that to minimize electrical interference, which compromises beacon performance, your beacon needs to be 20cm away from any other electronics in any configuration you could get buried in.
Bearing that in mind, Workman recommends wearing your beacon in the harness that most beacons come with. Alternatively, you can wear your beacon in a designated beacon pocket with a sturdy attachment point. If you do wear your beacon in a pocket, make sure it's the only thing in there, and that the pocket is as close to your groin (an area that everyone inherently protects) as possible. "For the average person, wearing a beacon in a harness is the most protected and sturdy [method]," says Workman.
Some beacons have an analog mode that can help cut through electronic interference caused by everything from smartphones to smartwatches. Every beacon has a proclaimed range, and a larger range is better. "Range makes you a more efficient searcher," said Workman. "It can increase your search speed because the beacon can cover more terrain when you're searching."
How to look after your avalanche beacon
It's also super important to pay attention to your beacon, check for firmware updates, and visually check the beacon for damage, whether that's a cracked case or screen, or leaky batteries that have corroded the battery compartment. If your battery compartment door breaks, don't tape it – ask the manufacturer to repair it. If your screen gets cracked, have it replaced by the manufacturer.
"Even people who know better make rookie mistakes," said Workman. "And a mistake with your beacon can cost you or someone else their life."
All the latest inspiration, tips and guides to help you plan your next Advnture!
Vermont-based writer, photographer and adventurer, Berne reports on hiking, biking, skiing, overlanding, travel, climbing and kayaking for category-leading publications in the U.S., Europe and beyond. In the field, she's been asked to deliver a herd of llamas to a Bolivian mountaintop corral, had first fat-biking descents in Alaska, helped establish East Greenland's first sport climbing and biked the length of Jordan. She's worked to help brands clean up their materials and manufacturing, and has had guns pulled on her in at least three continents.