The best avalanche beacons 2023: emergency transceivers that save lives
If disaster strikes, the best avalanche beacons will vastly improve your chances of survival and help you save others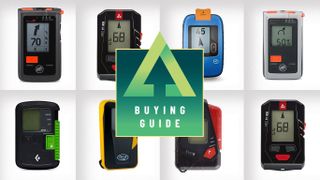 (Image credit: Future)
The best avalanche beacons are literal lifesavers. Avalanche transceivers – often referred to as "avy beacons" – have two functions: to locate victims buried in an avalanche and to make you findable if you're the one buried.
The best avalanche beacons use three antennas to help you be accurate and efficient in a search. Time is of the essence in an avalanche rescue. If a victim is buried for more than 20-30 minutes their chance of survival drops exponentially (see also: Your friend just got buried in an avalanche – you've got 15 minutes to save them and Avalanche safety). Use an older beacon, or one that hasn't been updated, and searching transceivers may not be able to find you quickly, and you may not be able to help search effectively.
When it comes to avalanche beacons, the most important thing is that you're wearing one when you head into avalanche terrain, and one that's fully functional, has modern features and updated firmware. The next most important thing is that you know how to use your avy beacon – you can have the best avalanche transceiver in the world, but it's no good if you don't know how to operate it. While we all hope to never be in – or responding to – an avalanche, if you travel in potential avalanche terrain, you need to be prepared (wearing one of the best airbag-compatible ski backpacks is also a vital part of your avalanche survival kit).
Best avalanche beacons for pros and experienced skiers
A massively capable beacon with multiple features
Specifications
Weight (including batteries, but not harness):
210g / 7.4oz
Battery life:
300 hours in send; 350 hours with lithium-ion batteries
Reasons to buy
+
Self-tests on startup
+
Big range
+
Built-in motion sensor and additional frequency make this beacon easier to find in a search
Reasons to avoid
-
More features than most people need
-
Software updates aren't user friendly
-
Relatively expensive
With a sturdy switch, shockproof housing, a 2.2in (5.59cm) screen and animated icons, Mammut's Barryvox S is one of the most highly functional beacons you can buy. Most users will turn it on and go. More advanced users will take advantage of all of this beacon's amazing features.
You can scroll between signals, check the group and operate in digital or analog mode. The fully graphic display shows the distance, direction and number of targets. An intuitive interface guides you quickly and reliably from the signal search through the coarse and fine searches to the buried subject.
If you're searching for a victim with a Barryvox S, the beacon, which has a motion sensor, lets you know if the buried victim is moving, which should also indicate if that victim is breathing. This beacon lets searchers know if the beacon is experiencing electrical interference so that you can address the issue, and if you do a group check and forget to put your beacon back into Send mode, and the Barryvox S will do it for you.
The Barryvox S is the only beacon that lets you use analog and digital to search at the same time. And, if there's high electrical interference, it'll tell you to switch to analog for more precise results. It also has one of the largest search strips of any beacon, a whopping 70m that can be extended in analog to 95m-100m, and which auto reverts to digital full-screen mode once the beacon picks up a signal.
Read our full Mammut Barryvox S review
A highly advanced and very capable beacon with a huge range of features
Specifications
Weight (including batteries, but not harness):
213g / 7.5oz
Range:
80m / 263ft (digital), 90m / 295ft (analog)
Reasons to buy
+
Runs lithium and alkaline batteries
+
Customizable
+
Easy to use with gloves
+
Use it for route planning with ARVA's app
Reasons to avoid
-
Lots of buttons
-
Bigger and heavier than other similarly featured beacons
-
Case isn't ergonomic
ARVA's most advanced beacon, the Neo BT Pro has all the features that a ski guide or a mountain guide needs, but like the Barryvox S, it's a beacon anyone can use.
The Neo BT Pro has both digital and analog modes, and long and longer ranges depending on which mode you're in. When there's electrical interference, the beacon shows that. It also graphically represents any buried victims and allows you to flag them as you locate them.
The Neo BT Pro reverts to Transmit from Search if it detects a secondary avalanche. It also has a standby mode for rescuers who are probing or shoveling. It self-tests when you turn it on, so you always know your beacon is ready for use. And it has a group check function that's simple to use.
This beacon has more buttons than most other beacons, but with a little practice they became second nature. In addition to a Flagging button, the beacon has plus and minus buttons on the face for scrolling. The Neo BT can be conveniently updated with ARVA's app and it comes with a five-year warranty.
Read our full ARVA Neo BT Pro Beacon review
Best avalanche beacons for search and rescue
An innovative transceiver that delivers directions both aurally and visually
Specifications
Weight (including batteries, but not harness):
210g / 7.4oz (harness is 80g / 2.8oz)
Reasons to buy
+
Rechargeable, low-temp battery
+
Large screen
+
RECCO reflector inside
+
Great harness
+
Provides spoken instructions, which can reduce stress in a rescue
Reasons to avoid
-
Smaller range than other beacons
-
No analog mode
In the world of beacons, Ortovox's Diract Voice distinguishes itself. This beacon talks to you through a search in any of nine different languages. By talking you through a search, this beacon lowers the stress of a rescue (according to Ortovox). You're receiving direction both aurally and visually, which covers the bases regardless of how you best learn.
Ortovox Diract Voice's integrated voice navigation reliably and quickly guides you to a buried victim in an avalanche rescue. If you're buried and wearing this beacon, the three-antenna device analyzes the device's location in the avalanche and automatically switches to the best-transmitting antenna, which Ortovox says helps you be found more quickly.
Diract Voice uses slightly different controls than other beacons. A flip-up switch on top toggles between Search and Send modes. The power button is tucked behind. A Flagging feature lets you mark buried victims or switch to Standby mode. The beacon has secondary avalanche protection that switches automatically from Search to Send in case of another slide.
It's updatable through Ortovox's app. Sign on, and not only do you get automatic updates, but a five-year warranty extension and video tutorials. The Diract Voice also has the largest screen on test.
Read our full Ortovox Diract Voice review
Best budget avalanche beacons
An excellent avalanche beacon for a good price
Specifications
Weight (including batteries, but not harness):
205g / 7.4oz
Reasons to buy
+
Affordable
+
Auto self-test and function test runs when you turn the beacon on
+
Advanced features for the price
Reasons to avoid
-
Uses alkaline batteries only
-
Software updates aren't user friendly
Mammut's Barryvox looks and feels a lot like the Barryvox S, with a stripped-down set of features that makes it a great choice for many users, including those new to wearing a beacon.
This shock-proof, break-proof beacon is easy to read, easy to use with ski gloves and has all the functionality most users need to respond in an avalanche search. It has a wide sending and receiving range, with much of the same tech as the Barryvox S. And importantly, it provides simple navigation and clear instructions during a search.
For a "basic" device, the Barryvox has a lot of features. The group search function is effective and comes with on-device instructions for users new to the process. The background-lit screen was easy to read even with polarized glasses. And, like the Barryvox S, the beacon shows the distance, direction and number of buried subjects.
Aside from the standard signal frequency used by all avalanche transceivers, the Barryvox operates on an additional communication channel called W-Link that can help it be found more quickly and reliably in a search.
Read our full Mammut Barryvox review
An affordable (although a bit big and heavy) beacon, ideal for beginners
Specifications
Weight (including batteries):
217g / 7.68 oz
Reasons to buy
+
Bluetooth connected for software updates
+
Compatible with iProbe
+
Has a training mode
Reasons to avoid
-
Smaller range
-
PIEPS / Black Diamond have had a number of beacon recalls recently
-
Smaller screen
If price is your number one driver, Black Diamond's entry-level Recon X is a great choice. Made for users who are new to avalanche beacon use, the Recon X wirelessly connects to the PIEPS app and your phone for diagnostic updates, to manage settings and to access a mode that lets you train your beacon-search skills.
The Recon X is compatible with the PIEPS iProbe for added search capabilities. While the Recon X doesn't have the range that other beacons do, it does have a lot of things going for it: it self-checks when you turn it on, boasts interference protection and it has a Flagging button to mark multiple burials. The Velcro-close harness makes the beacon easy to get to even with gloves on (but Velcro can become ineffective if it gets packed with snow).
Read our full Black Diamond Recon X review
Best lightweight avalanche beacons
A super-light, easy-to-carry beacon with a great set of features
Specifications
Weight (including batteries, but not harness):
165g / 5.8oz
Battery life:
200 hours transmit, 1 hour search
Reasons to buy
+
Light
+
Compact
+
ARVA provides CO2 impact and single-use plastic calculation for its beacons and takes older beacons back
Reasons to avoid
-
Harness sold separately
-
Smaller range
-
Off / Send / Search button not as intentionally separated as in other beacons
For fast-and-light travelers, every ounce counts. This beacon is lightweight with a broad suite of features to keep you safe in avalanche terrain. While the beacon has a smaller range than some others, it has a group check and an auto-test diagnostic to verify that it is working properly.
The marking function and a multiple burial indicator are similar to those found in this beacon's big brother, the Neo BT Pro. So is the Return To Transmit function, which puts the beacon back in Send if it senses a secondary slide based on info from a timer and also a motion sensor.
The Evo5 has interference management, which ARVA says maximizes the device's performance in Search mode when there's electromagnetic interference by honing in on a single beacon. It's a feature you can deactivate if you're skiing with a posse.
Read our full ARVA Evo5 review
The latest version of the most popular avalanche beacon sold in North America is basic but easy to use
Specifications
Weight (including batteries, but not harness):
215g / 7.6oz
Battery life:
Minimum 1 hour in search mode after 200 hours in transmit mode (approximately 250 hours in transmit only or 50 hours in search only)
Reasons to buy
+
USA-made
+
Easy to carry and use
+
Firmware updatable via USB-C
+
Brightly colored and easy to find if dropped
Reasons to avoid
-
No marking function
-
Small screen
-
Range isn't brilliant
-
Software updates can be confusing
Rugged and easy to hold, Back Country Access's Tracker4 Transceiver is the latest iteration of America's best-selling avy beacon. The US-made Tracker4 has a rubber overmolded case that's easy to hold and a slightly recessed screen that BCA says protects the screen from potential backcountry bashings.
Upgrades from the Tracker3 include a brighter screen and louder mic. That makes visible and audible cues clearer when you're searching. In the event of a multiple-victim burial the Tracker4 has Signal Suppression (SS), which allows users to turn off a beacon signal once they've located it so they can move on with fewer distractions.
A Big Picture (BP) mode lets a searcher see all buried victims at the same time instead of locking onto the closest signal, which is what the beacon normally does. In a secondary slide, the Tracker4's motion-sensing auto Revert-To-Transmit mode kicks in to protect you. The beacon doesn't update wirelessly, but it can be updated by plugging it in.
There are some frustrations with this beacon, but the Tracker series is very popular because it's easy to use.
Read our full BCA Tracker4 Avalanche Transceiver review
Avalanche beacons comparison table
Swipe to scroll horizontally
Best avalanche beacons comparison table

| | | | | |
| --- | --- | --- | --- | --- |
| Avalanche beacon | List price | Weight (w/ batteries) | Range | Battery life |
| Mammut Barryvox S | $550 (US) / £380 | 210g / 7.4oz | 70m / 230ft | 300-350hrs |
| ARVA Neo BT Pro Beacon | $420 / €329.90 (EU) | 213g / 7.5oz | 80m / 263ft (digital), 90m / 295ft (analog) | 350hrs |
| Ortovox Diract Voice | $450 (US) / £349 | 210g / 7.4oz | 50m / 164ft | 200hrs |
| Mammut Barryvox | $385 (US) / £290 | 205g / 7.4oz | 70m / 230ft | 300hrs |
| Black Diamond Recon X | $300 (US) / £280 (UK) | 217g / 7.68 oz | 60m / 197ft | 400hrs |
| ARVA Evo5 | $350 (US) / €264.90 (EU) | 165g / 5.8oz | 50m / 164ft | 200hrs |
| BCA Tracker4 Avalanche Transceiver | $400 (US) / £340 (UK) | 215g / 7.6oz | 55m / 180ft | 250hrs |
How we tested the best avalanche beacons
Thankfully, our writers were not caught up in any real avalanche situations during the testing process, but all the of the transceivers reviewed above were thoroughly examined and worn into the mountains of Vermont during skiiing escapades. They were then reviewed against a set of criteria including functionality, ease of use, weight and wearability.
What to look for in the best avalanche beacon
A real avalanche is an extremely stressful situation, one where you want operating your beacon and executing search-and-rescue protocol to be second nature. So buy a beacon that makes sense to you, and then spend the time to really get to know it.
Range
Some beacons have an analog mode that can help cut through electronic interference caused by everything from smartphones to smartwatches. The analog mode also increases the range of the beacon, and some direct you toward a burial with auditory cues.
Group check mode
Some beacons have group check modes that allow users to easily ascertain that everyone in their party has their beacon on, and in Send mode, before setting out into the snow hills.
Batteries
Whatever beacon you buy, be sure to always use good batteries. Leaky alkaline batteries can damage a beacon in a single season. Remove beacon batteries for storage in the green season, or keep a close eye on them.
All the latest inspiration, tips and guides to help you plan your next Advnture!
Vermont-based writer, photographer and adventurer, Berne reports on hiking, biking, skiing, overlanding, travel, climbing and kayaking for category-leading publications in the U.S., Europe and beyond. In the field, she's been asked to deliver a herd of llamas to a Bolivian mountaintop corral, had first fat-biking descents in Alaska, helped establish East Greenland's first sport climbing and biked the length of Jordan. She's worked to help brands clean up their materials and manufacturing, and has had guns pulled on her in at least three continents.