BAM! The bamboo vs B.O. battle is about to begin
Bamboo-clothing brand BAM is challenging outdoor-active people to 'dare to wear' the same t-shirt for a week in August, and then take the stink test. We're in…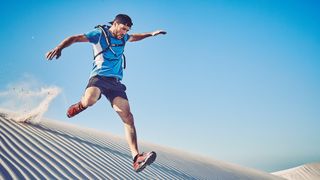 (Image credit: BAM)
Now that we're all meeting up with mates and trail buddies, and no longer obliged to keep two-metres apart, we're going to have to get used to the sensory experiences that go along with that. And since we're going to be within aroma-whiffing range of our adventure amigos, we might even have to think about changing our clothes a bit more often… or perhaps not.
Smells like extreme spirit
An inherent problem with being active in the outdoors is that you regularly work up a sweat, and over time that hard-earned and honest perspiration can turn into a nasty pong that lingers on your running top or hiking base layer as a nose-crinkling and unwelcome reminder of what was otherwise an awesome adventure.
But it doesn't have to be like that. The worst offenders for hanging on to horrible smells are garments made from synthetic poly-type fabrics, which are often billed as 'performance-orientated' or 'technical' tops because they wick moisture away from your body, don't absorb water and become heavy, retain their thermal properties even when wet, and then dry out super quick. All of these things are true, and they are cheap to produce, which is why most free-with-entry race Ts and the like are made with such material – but after a few high intensity wears, they will start to stink, and no amount of washing will expel the pong.
And, more to the point, these garments are terrible for the environment – they are essentially plastic, made from raw materials sourced through the fossil-fuel chomping petrochemical industry, and because they take millennia to degrade they will outlive us all, ending up in landfill or worse when you dispose of them (which you will want to do when they start to stink).
Materials made from natural fibres however, such as wool and plant-based products like bamboo, are not only much better for the environment (being biodegradable and grown instead of artificially produced), they also boast an inherent ability to combat bad smells. As a result, you don't need to wash them anywhere nearly as often – and laundering of clothes is a major contributing factor to wasteful water consumption and pollution – and their carbon footprint shrinks even further. And you can stand close to your friends without knocking them out with the stench of your previous adventures.
Dare to wear
To highlight all of this, British brand BAM is challenging outdoor-active types to don their bamboo t-shirts for longer between washes this August. In fact, the dare is to wear the same T-shirt for a full week, starting on Monday 2 August, at the height of summer.
BAM has a declared goal to be impact positive by 2030, and the brand has spent over two years measuring and offsetting the carbon emissions created through every process in its clothing's lifetime. As a result, BAM claims that every garment is now climate positive, from forest to fabric to 50 washes. They also say that their studies have revealed that an amazing 26% of the carbon emissions from their clothing come from customer laundering habits, so the less washes, the better. But how long could they reasonably ask people to go between washes?
You wash clothes to keep them fresh and hygienic, especially if you enjoy an active lifestyle. A t-shirt that you wear for a walk, run, ride or climbing session will start to smell when air hits the moisture (sweat). In a garment made from synthetic fabrics, moisture sits on the surface so odour-making bacteria is easily and rapidly created, and the T-shirt will start to stink really quickly. Cotton can cope a bit better, but bamboo is the big B.O. basher.
Bamboo viscose is three times more absorbent than organic cotton, and massive more so than any synthetic fabric. It has a fibre structure that absorbs moisture away from the skin and into the fabric really effectively, making it more difficult for air to reach, and this means bamboo garments stay fresh for longer, reducing the need for frequent washing.
At Advnture we have put our hand up to take part in the Dare to Wear experiment – the question is, if we put our hand up again at the end of the week, will several people in our immediate proximity keel over with the fumes. We'll see.
Anyone can take part. Just grab a bamboo t-shirt (it doesn't have to be BAM) and see how long it can be worn before washing. Join the campaign on social – using the hashtag #daretowearlonger – from August 2.
All the latest inspiration, tips and guides to help you plan your next Advnture!
Writer, editor and enthusiast of anything involving boots, bikes, boats, beers and bruises, Pat has spent 20 years pursuing adventure stories. En route he's canoed Canada's Yukon River, climbed Mont Blanc and Kilimanjaro, skied and mountain biked through the Norwegian Alps, run an ultra across the roof of Mauritius, and set short-lived records for trail-running Australia's highest peaks and New Zealand's Great Walks. He's authored walking guides to Devon and Dorset, and once wrote a whole book about Toilets for Lonely Planet. Follow Pat's escapades here.